Pumpkin, any time of the year veggie wasn't my good friend at all. This was the fact in my life back in India when I wasn't so fond of this pretty pumpkin. I don't even know the reason guys. Probably then, I didn't explore the veggie much in my cooking except sweet pumpkin curry. This wholesome veggie pops up with gorgeous golden color and has natural zing of sweetness. Which is why, an adorable sense of pumpkin love has born in me recently. And in the journey of food blogging this kind of food-love (read: veggie-love) is essentially desirable. Hence, I chose a big half of mature sweet pumpkin from a local vegetable shop here to embrace this awesome pumpkin idli in my kitchen.
Friends, you just a take moment right now and get yourself in the virtual smells of sweet pumpkin idli because it is that AWESOME. The golden yellow shreds of pumpkin profoundly bind with semolina carrying the sun shine color to it as well. Desiccated coconut, jaggery and sesame seeds rock in making the idli extra delicious plus overwhelmingly tasty.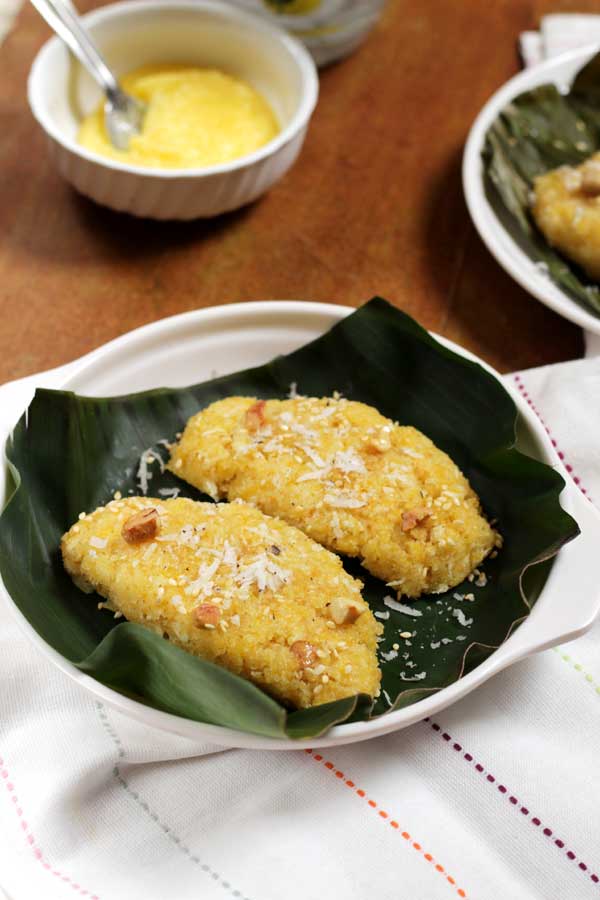 The most incredible part of this recipe is steaming the idli in plantain leaves. Wrapping the idli batter in a piece of plantain leaves for steaming is a traditional method. As I had few plantain leaves in the refrigerator, I could replicate the same age-old technique. I am happy I did because the leaf has induced it's authentic and rustic flavor. But never mind, if you don't get hands on the leaf, you can pretty well steam in regular idli mould.
My kids who are holidaying right now, enjoyed the grab-and-go pumpkin idli. It was total WIN-WIN food as breakfast as well as after meal snack for kids. Go get this magic recreated in your kitchen guys.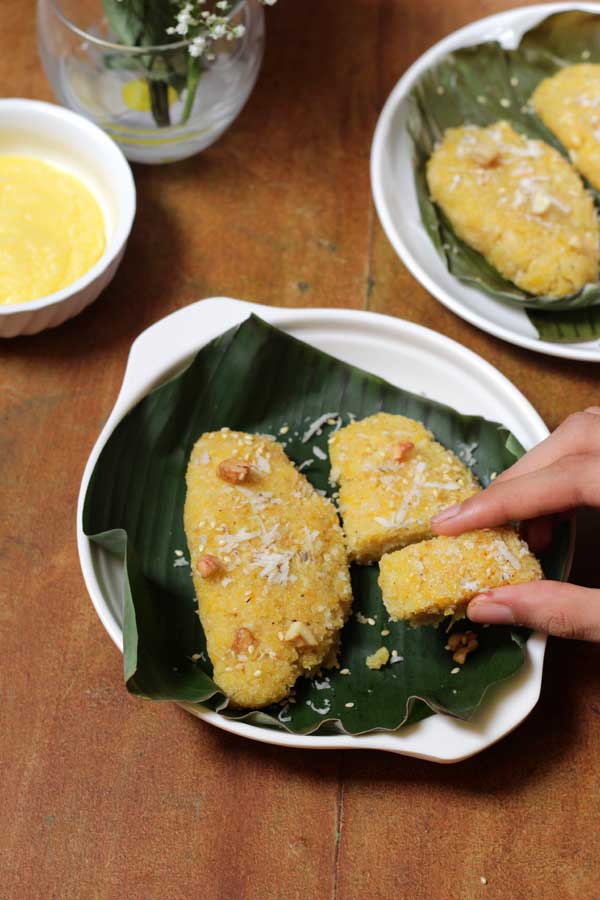 Pumpkin Idli | Sweet Pumpkin Kadubu Recipe
Ingredients
Pumpkin- A small piece
Medium rava(Fine semolina)- 1 cup
Jaggery powder- 3/4 cup
Desiccated coconut- 1/4 cup
Roasted sesame seeds- 2 tsp
Salt- A pinch
Ghee- 1 tsp
Cashews- Few
Instructions
Preparation

Peel off the skin from pumpkin and scoop out the seeds from it. Grate it using a good grater and keep aside two cups of grated pumpkin. Next roast the broken cashews in a tsp of ghee. Keep aside till use.

Method

Take the medium rava in a pan. In medium flame roast it with constant stirring for about 5 minutes. Let it cool down. Then transfer it to a bowl along with jaggery powder, desiccated coconut, cashews, salt and roasted sesame seeds. Give a quick mix.
Next add grated pumpkin to the same bowl and combine everything well. Now this mixture comes together like a loose dough. In a small plantain leaf, put a handful of this mixture and fold to steam cook.
In a idli stand arrange these folded plantain leaves and steam for around 15 to 20 minutes.
Golden colored delicious pumpkin idli is ready to devour as snack or breakfast.

Notes

Roasting rava is very important otherwise the idli turns sticky.
Additional water isn't required for the rava and pumpkin mixture. The moisture in the pumpkin itself is enough to form loose dough.
The sweetness was mild in my case, you can raise the jaggery quantity to 1 cup for real sweet taste.
If you don't have plantain leaves, you can steam cook them in idli moulds too.
https://udupi-recipes.com/2017/03/pumpkin-idli-sweet-pumpkin-kadubu-recipe.html
All the content in this website are © Copyrighted to – Udupi-Recipes