I guess we all get little excited buzz through our body when the festival is around. After all we Indians are festive people who look for celebrations in every event of life. And it is actually a need of the day as festival connects every one in the family through rituals. So lets welcome this festival vibes and enjoy the warmth of YUGADI through FOOD. What say? Because we are twins when it comes to food and this incredible peanuts poli (Shenga holige) is undoubtedly apt recipe for the occasion.
I had plans to post this recipe ahead of this BIG DAY so that all wonderful women out there can plan their cooking accordingly. But due to some weird twist of events, I am posting the recipe late by a day. But you are awesome on that part of the story and surely overlook the issue. Isn't it?
Let me define peanuts poli (Shenga holige) in simpe terms. It's a flatbread that tastes sweet having peanuts plus jaggery as it's stuffing. Cute little peanuts when roasted and skinned off, become flavorful. And when you are in the process of roasting, your home smells in a good way. Kids who are out in the living room and hardly have any interest in cooking, do peep in to check what's being cooked. And it happened with me. Their eagerness of eating this awesome sweet thing kept me on my toes.  And I loved the process totally.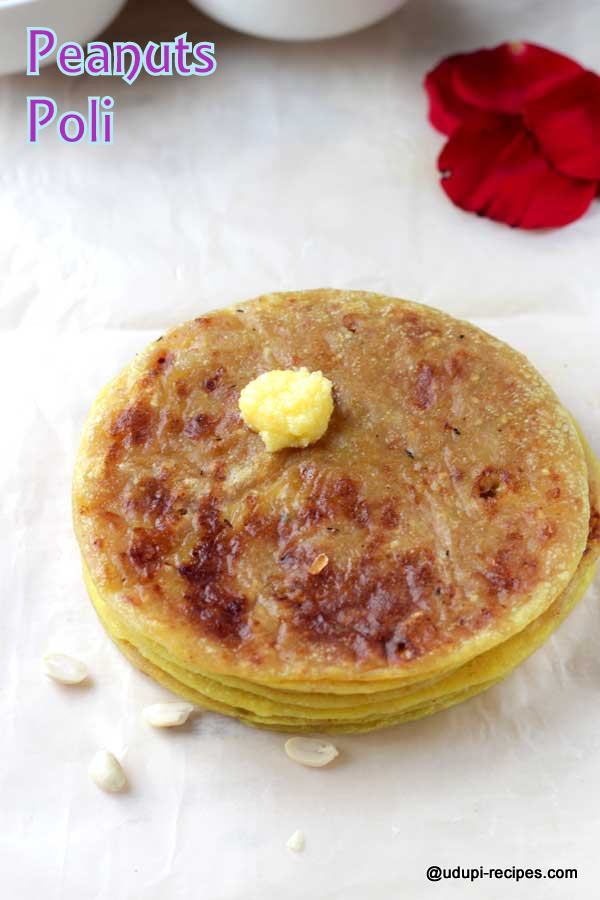 The best part of peanuts poli is it's shelf life. You can make these flatbread before hand and store for a week also. The left overs taste way more tastier too. When you have to travel for few days and you prefer eating home made food, then this poli can come handy. Love, love this yumminess!!
Check the video: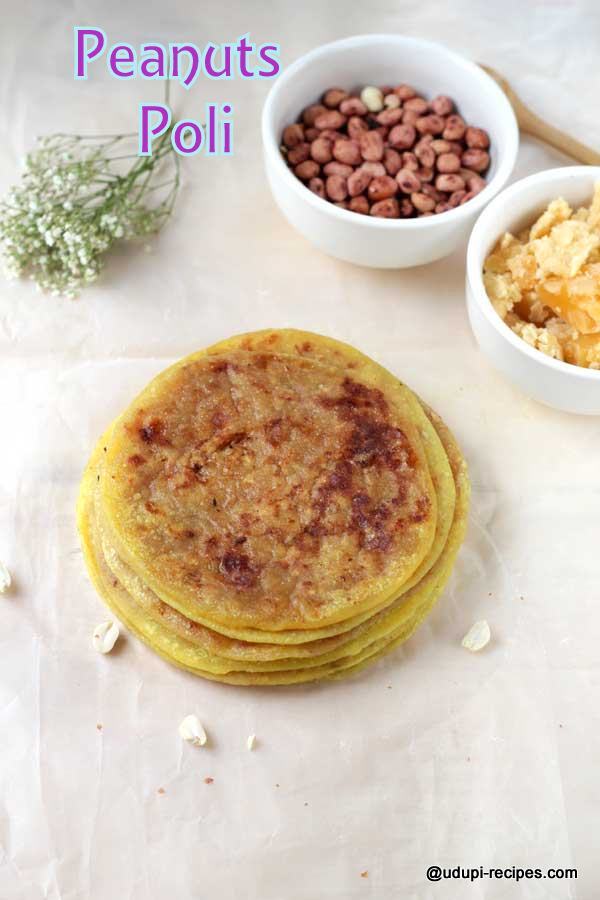 Peanuts Poli | Shenga Holige Recipe
Ingredients
For stuffing

Peanuts- 1 cup
Jaggery powder- 3/4 cup
Roasted sesame seeds- 2 tsp
Cardamom powder- 1/4 tsp

For dough

Chiroti rava- 1 cup
Maida- 1/4 cup
Salt- 1/2 tsp
Turmeric powder- A pinch
Oil- 1/8 cup
Water- 1/3 cup
Instructions
Preparation

Take chiroti rava, maida, salt and turmeric powder in a bowl. Give a quick stir to combine everything well.
Then adding water in parts make a soft pliable dough. At last add some oil and knead it well with your hand. Sprinkle 2 tsp of water and cover it with a damp cloth or lid and let it rest for about half an hour. After the resting time, knead once again with some more oil till you get really soft and loose dough.

Method

To make stuffing for this poli, roast the peanuts in a pan with constant stirring. Some brown spots appear over peanuts and start shedding their skin off. Switch off the flame. Let it cool down and peel off their skin.
Take the roasted peanuts in a mixer and powder it finely. Include jaggery with the peanut powder and grind it again. Now the mixture becomes like dough absorbing the moisture from jaggery. If it's not, then add a teaspoon of water and grind again so that you can easily make ball out of it.
Take this mixture in a wide bowl, add sesame seeds, cardamom powder and mix thoroughly.
Divide this peanuts stuffing in to 10 lemon sized balls.
Similarly divide the dough also in to 10 lemon sized balls to proceed with peanuts poli. Next take a dough ball in your palm, widen a bit with your fingers and then keep a peanuts puran ball.
Carefully cover the stuffing with dough and seal on top. Next dust enough maida over rolling board and roll the peanuts stuffed dough in to medium thin discs of 4 to 5" radius.
Meanwhile heat a non-stick skillet. Carefully lift the rolled poli on your palm and transfer it over heated skillet. In medium flame let it cook. When bubble start appearing, apply some ghee over it, flip and cook till few brown spots show up. Remove it from skillet and continue the process with rest of the dough and puran.
Divine tasting dates puran poli is ready to serve topping a dollop of ghee.

Notes

You can make dough using only maida itself. I tried adding chiroti rava to make it bit more healthier.
Remember while making dough, add water in parts. Let the dough be little more loose than chapati dough.
After powdering peanuts with jaggery, if it doesn't turn in to moist dough then you have to include a teaspoon of water. So that the stuffing holds shape and can be easily roll-able.
Peanuts poli has longer shelf life. You can be a good travel food as well.
https://udupi-recipes.com/2017/03/peanuts-poli-shenga-holige-recipe.html
All the content in this website are © Copyrighted to – Udupi-Recipes