It was all fantastic to be with kids and their naughtiness for the past 15 days. They were at home and I was out of my routine regime. The blog cooking had taken quite slow pace during those days and I felt slowing down a bit would benefit me personally. And it did. I enjoyed little more sleep in the morning, some mid day naps and leisure in the evenings. And today, when kids are back school I am feeling so energetic and rejuvenated towards the blog cooking. So I can admit the fact that small BREAK between your regular job really helps a lot. Today as I woke up in the morning with gratitude towards life for all the blessings, it's the mysore masala dosa that took shape in my kitchen as blog food.
You know very well about my breakfast addictions => they  always revolve around dosa and idli. When I posted a detailed recipe about how to make masala dosa batter last month, I had plans of this too. Like an extension of masala dosa, this particular dosa has an additional red chutney which is smeared all over it. Spicy and gorgeous red chutney takes the deliciousness of this breakfast to the next level.
The milky white dosa dressed up with drooling red chutney coating is just too yummy. You never require to have plenty of time to whip this adorable mysore masala dosa up. One additional chutney that has some red chillies, chickpea lentils, onion plus ginger can make it taste soo good. You can even have the chutney ready the previous day itself to reduce the chaos in the morning.
Mysore masala dosa is a good spice-kick to normal dosa and I can welcome it as my breakfast every day. Give it a try some day and you'll addicted to cook the same.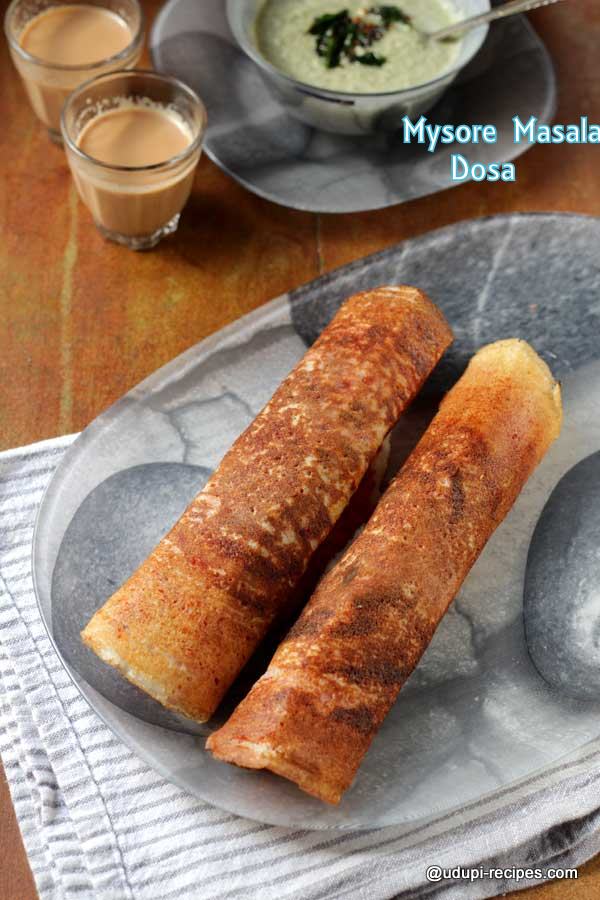 Mysore Masala Dosa Recipe
Ingredients
For dosa batter

Dosa rice - 1 cup
Split black gram lentils (urad dal)- 1/4 cup
Fenugreek seeds- 1 tsp
Thin rice flakes- 1/2 cup
Rice flour- 1/8 cup
Salt- 1 tsp
Sugar- 1 tsp
Butter- As needed

For red chutney

Chickpea lentils- 3 tsp
Red chillies- 4 nos.
Ginger- 1/2" piece
Onion- 1 small
Oil- 1 tsp

For masala

Cooked Potatoes- 3 medium sized
Green chillies- 3 nos.
Onion- 1 small
Salt- 1.5 tsp
Turmeric powder- 1/2 tsp
Ginger (finely chopped)- 1/2 tsp
Lemon juice- 1.5 tsp

To temper

Cooking oil- 3 tsp
Mustard seeds- 1/2 tsp
Split black gram lentils- 1/2 tsp
Chickpea lentils- 1 tsp
Curry leaves- Few
Instructions
Preparation

Rinse and soak dosa rice, black gram lentils, fenugreek together for about 3 to 4 hours. Then drain water completely and grind them together to fine batter. Include soaked rice flakes as well and whirl it once again.
Let this batter ferment for about 8-10 hours at a warm place. After the fermentation, the batter would have raised. Now add rice flour and give quick mix. Next add salt and sugar to the batter. Dosa batter is ready now.

Method

Before proceeding with mysore masala dosa, lets prepare red chutney. Heat a pan with little oil and chickpea lentils. Roast them for a while, then include red chillies, ginger and chopped onion. Continue roasting for few more minutes. Switch off. Transfer it to a mixer and grind together to fine puree along with salt and water. Red chutney is ready.
For potato masala, heat a pan with all the ingredients under "To temper" list. Saute till the mustard seeds crackle. Then include chopped onion, slit green chillies, ginger and turmeric powder. Continue sauteing till onions turn translucent. Then include mashed potato, salt and water. Mix it thoroughly. Masala is ready.
Next heat a dosa griddle with oil smeared over the surface. Add a ladle full of batter at the center and spread it in circular fashion with the back of ladle. Cook it covered for few seconds. Next apply butter generously over the dosa and let it continue cooking towards crispiness.
Add a big spoon full of red chuntey over the dosa and spread it evenly over it. And finally add some potato masala at the center of the dosa. Fold the dosa and serve immediately along with coconut chutney.
Mysore masala dosa is ready to serve as breakfast.

Notes

Refer dosa batter preparation post for complete guide lines.
Cooking the dosa with enough butter helps in browning and turns it crisp. Alternatively you can cook with oil too.
Do not add much water to grind red chutney. Let it be little thick so that it can be spread over dosa.
https://udupi-recipes.com/2017/04/mysore-masala-dosa-recipe.html
All the content in this website are © Copyrighted to – Udupi-Recipes