This is not some thing new guys, I mean, today I am not posting a brand new recipe. In a true sense the hero of today's post is * Dosa batter * which cannot taste delicious as is. It cannot be a stand alone recipe in a true self.  But I cannot say enough about it's significance in my food life or cooking life. Thrice every week I create this wonder of breakfast base and rest of my meals for the day would just go with zero efforts from my side. When the perfect batter is religiously sitting in the fridge, it's no DEAL filling four of our tummy for dinner.
Having said all this, it's my part of duty to tell you about the other side of the coin. That is, if dosa batter isn't perfect from all perspective then it never going rejoice our food feelings. Home made dosa batter does cost some tricks and tips so that it can wonderfully relish you every single time. The ultimate goal of this post is to help you in terms of whipping up that PERFECT batter which yields an AWESOME masala dosa like this below picture.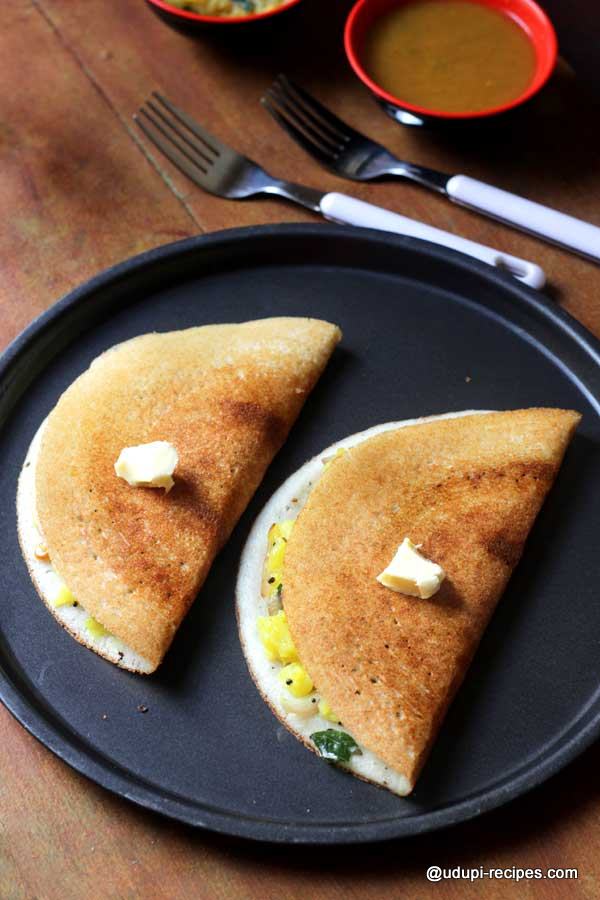 If you are like me, a TRUE dosa lover then you are my best friend. As a novice cook, one must be having the quest to know the actual tricks and tips to get the masala dosa to the perfection. The crispy crust with the glowing brown color is what one expects from masala dosa. The tricks to get the same are:
It's the properly fermented batter that yields wonderful, tasty dosa. So good 8-10 hours of fermentation is mandatory at ideal weather.
Appealing color of masala dosa is due to rice flakes, fenugreek and sugar.
It's the rice flour  and oil that ultimately turns dosa CRISP
I have put together detailed recipe of dosa batter in the recipe card. Hope it helps.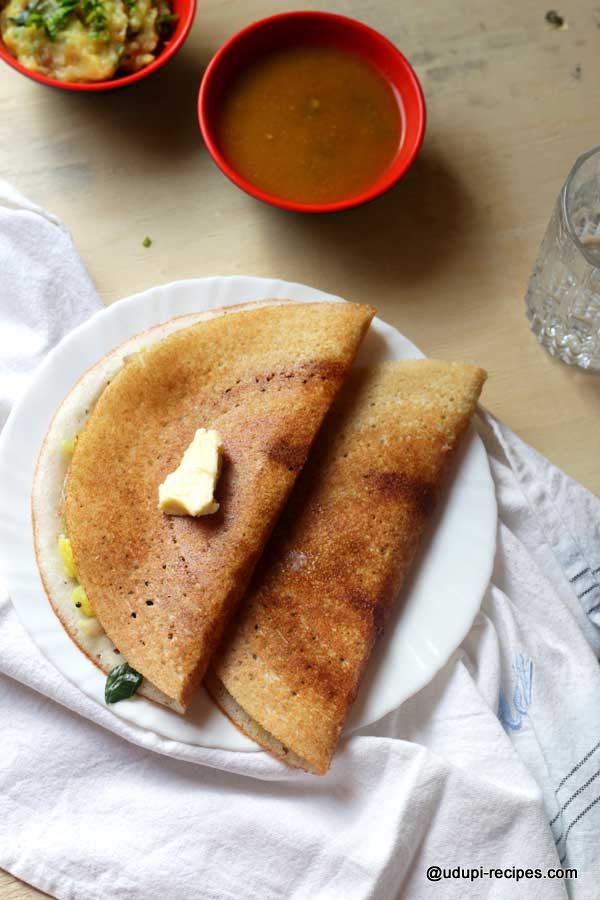 Masala Dosa Batter | Dosa Batter Preparation using Mixer
Ingredients
Raw rice or dosa rice- 1 cup
Split black gram lentils- 1/4 cup
Fenugreek seeds- 1 tsp
Rice flakes- 1/2 cup
Rice flour- 1/8 cup
Salt- 1 tsp
Sugar- 1 tsp
Instructions
Method

In a wide bowl take rice, lentils and fenugreek seeds. Using enough water rinse them well twice.
Add enough fresh water to the bowl so that they get soaked up. Covering the bowl with a lid, keep it soaked for about 2-4 hours.
Just before grinding the batter, soak rice flakes for just 15-20 minutes.
After few hours of good soaking time, rice and lentils would have turned soft now. Take them in a mixer jar and grind for few seconds. Next include soaked rice flakes also to the jar and grind together to fine batter.
Transfer the batter to a clean wide bowl covering with a lid. Let this batter rest undisturbed in a warm place and ferment for 10-12 hours. Fermentation time may very depending upon the weather (See my notes). After fermentation the batter would have raised.
30 minutes before the dosa preparation, add rice flour to the batter and combine it well. Just before spreading dosa, add salt and sugar to the batter. Now the batter is absolutely ready for making crispy masala dosa.
Next heat a griddle and pour a ladle full of dosa batter and spread like dosa. Drizzle 3 tsp of oil or ghee and cook in medium flame. When dosa gets cooked till crisp, loosen the edges and remove it carefully from the griddle using flat spatula.
Very crispy and appealing colored masala dosa is ready. Serve it with coconut chutney, potato masala and sambar.

Notes

The ratio of rice and split black gram lentils is 1:4.
The rice and lentils need to be soaked for at least 2 hours. It can extend up to 4 hours too.
The batter should be ground to very fine consistency.
Fermentation of the batter depends upon weather conditions and temperature of your place. In warm places less hours are needed for fermentation like if temperature is >= 30C, then just 7 hours are enough for proper fermentation.
During winter season I keep the batter for long where as in summer it is less.
If batter gets over fermented, the dosa turns sour. So it's absolutely essential to get the batter fermented perfectly.
Adding rice flour 30 minutes before the dosa preparation helps in turning the masala dosa crisp.
Drizzling enough oil over dosa is also important in turning the masala dosa crisp.
Sugar helps in giving dark brown color to dosa.
https://udupi-recipes.com/2017/02/masala-dosa-batter-preparation.html
All the content in this website are © Copyrighted to – Udupi-Recipes