A soothing beverage which is age-old recipe but still sounds delicious in SUMMER is none other than spiced buttermilk. On any sunny day when you feel you are almost burning under the SUN, this incredible drink can cool you. It can even help your body cells to regain the energy and power to continue the work that you are in to.  In simple terms we call this awesomeness as "Neeru Majjige". And during the summer festival "Rama Navami", neeru majjige has utmost importance. Our ancestors have left us with extensively useful food and beverage recipes that are inline with season. Hence,  it is a custom in South India to distribute neeru majjige, panaka and Kosambari during Rama Navami.
This spiced buttermilk is quite easy and simple to prepare. On top of that it is very healthy and low calorie beverage when compared to sugar-rich fruit juices. All that is needed to whip up this spiced buttermilk is sour yogurt. A cup of thick yogurt is whisked and beaten well so that it is thin, flowing consistency. You can include few glasses of water in order to make the beverage to be slurp-able. The spices that ease digestion like ginger and asafoetida would play high in making the drink truly delicious. The tempered drink with curry and coriander leaves is just soothing to your soul and body.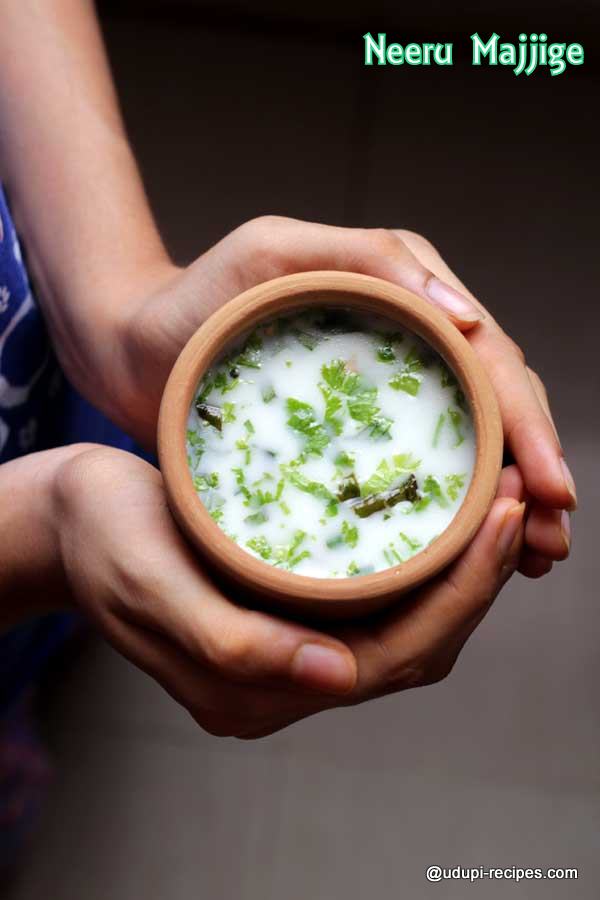 In Udupi, this neeru majjige is served in all the feasts at the end of meals. Not only as drink, it serves the purpose of rice side dish there. We always end our meal with rice and buttermilk, combining and consuming together with a piece of pickle. These customs that are laid from our ancestors are too beneficial even today. Buttermilk aids in digestion and if digestive system is fine, diseases don't affect us much. What say?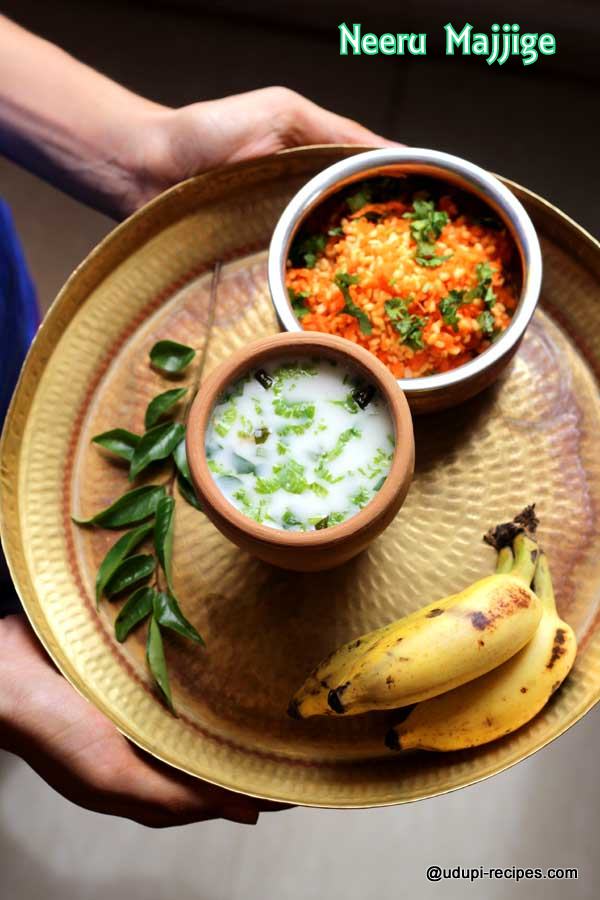 Neeru Majjige Recipe | Spiced Buttermilk
Ingredients
Yogurt / Curds- 1 cup
Water- 4 cups
Ginger- 1" piece
Green chillies- 2 nos.
Curry leaves- Few
Coriander leaves- Handful
Salt- 2 tsp
Lemon- 1 small (optional)

To temper

Cooking oil- 1 tsp
Mustard seeds- 1/2 tsp
Curry leaves- Few
Asafoetida- 1/4 tsp
Instructions
Preparation

Finely chop cleaned ginger, green chillies, curry leaves and coriander leaves and keep them aside.

Method

Take the yogurt in a wide bowl and whisk it well so that it becomes thin. Next add salt,curry leaves, ginger, green chillies and coriander leaves.
Combine everything evenly. Include 3 to 4 cups of water and whisk well until it froths. If your yogurt isn't sour, then squeeze a lemon. Finally heat a tempering pan with little oil, mustard seeds, asaofetida and curry leaves. As the mustard seeds crackle, pour it over the spiced butter milk.
Soothing beverage for rama navami is ready to serve along with lentil salad (kosambari).

Notes

Adjust the water according to the sourness of yogurt and consistency desired.
If you don't like biting chillies when you drink, you can even strain it before drinking. The flavors still exists.
Use some ice cubes to serve the spiced buttermilk and relish as chilled.
Do not skip asafoetida because it enhances the taste. Also do not overuse it.
https://udupi-recipes.com/2017/04/neeru-majjige-recipe-spiced-buttermilk.html
All the content in this website are © Copyrighted to – Udupi-Recipes