Is there anything better than fresh, homemade chocolate?? Chocolate lovers of the world, say YES along with me. Because these sweet things can be real, feel-yummy condiment of your own home using just 4 ingredients.
Day before the weekend, I had plans to make these incredible chocolates anticipating it could delight the kids on holidays. It really could have become a worth surprise to my kids as they never imagined making chocolates at home is actually possible. I was excited too and it all started very well. I assembled the ingredients, sieving, cooking and freezing the chocolate was absolutely successful.
But as I moved to styling my chocolates, compose and photograph it, it was all dark outside. No light was entering in through the window.  SAD!!!  It's because UAE has terribly hit by winter with temperature falling down to 12 degree Celsius, chilly wind and rain followed making the weather worse. Some of the peak mountains here were even covered themselves with snow. It was all awesome weather for middle-eastern people but I wasn't happy. I had to postpone clicking part of chocolates to next day.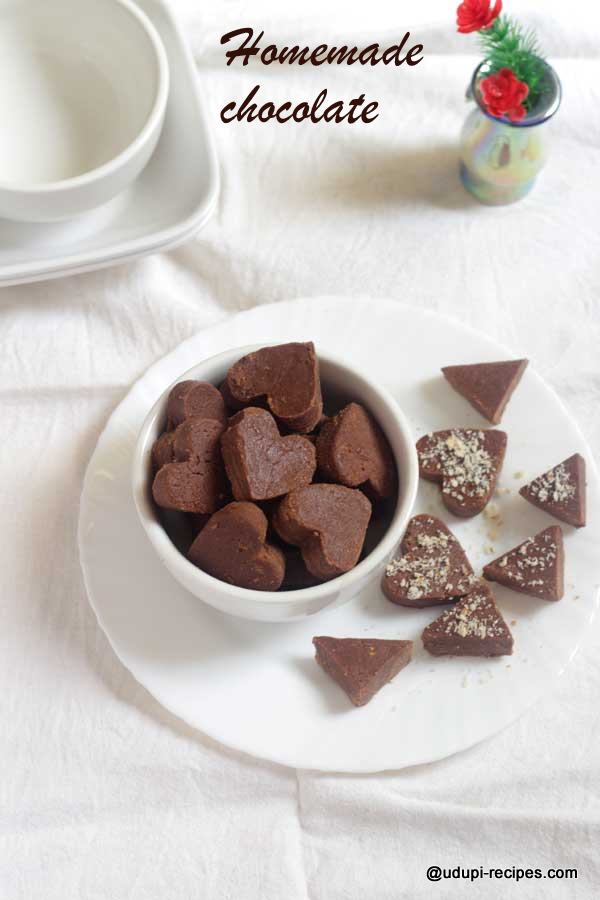 The next part of the story is hiding the chocolates from kids in order to protect it for photographing.  You all wonderful women in the world know how hard it is. Keeping such a addictive homemade chocolate out of sight from children was quite challenging.  But, my sensible kids bore with me and understood the priorities of food-blogger mom. Finally I could click  few decent shots in modest light in the early afternoon today. Though the pictures are not up to my level of expectation, I freed up my box of homemade chocolates for eating.
Kids have indulged in these condiments since morning and appreciated the taste, the texture and glossy chocolaty-color. I guess I should be ready with my next batch of chocolates soon.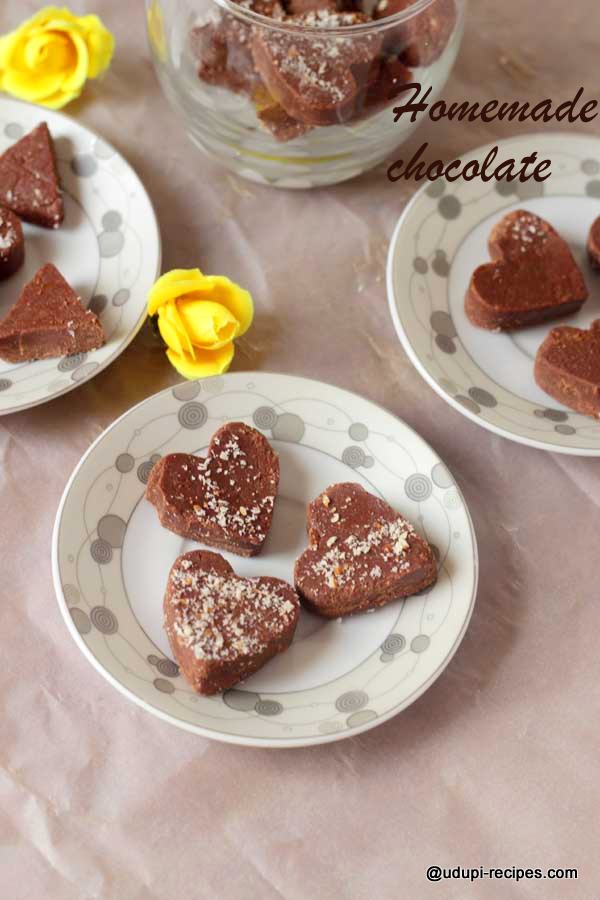 Homemade Chocolate Recipe with 4 Ingredients
Ingredients
Milk powder- 1.25 cups
Cocoa powder- 1/4 cup
Sugar - 3/4 cup
Butter- 1/4 cup
Water- 1/2 cup
Instructions
Preparation

Sieve the milk powder followed by cocoa powder over a wide tray and keep them aside.

Method

Take sugar in a pan and heat it up. Add 1/2 cup of water and let the sugar dissolve in medium flame. Keep stirring the mixture, as it boils for few minutes check the consistency.
When the sugar syrup reaches single string consistency, add butter to it. In couple of minutes the butter gets integrated with sugar syrup. Mix well and switch off the heat.
Next add cocoa powder plus milk powder mixture (few tbsp at a time) to the sugar syrup. Mix well till glossy. Repeat this process till you finish all the mixture of milk powder and cocoa powder.
Now the chocolate mixture is ready which is glossy and thick. Transfer it over a ghee greased tray and level it with flat spatula. Keep it in the freezer for about 15 minutes. After the freezing time cut the desired shape using cookie cutter.
Very delcious home made chocolate is ready to enjoy.

Notes

Sieving milk powder along with cocoa powder ensures the powder is lump free. Do not skip this step.
When you check a drop of sugar syrup between your fingers, it should form a single string. That is single string consistency. If it's not, continue cooking for few more minutes.
You need to switch off the stove before adding milk powder plus cocoa powder. If you continue cooking the chocolate will be very hard.
Do not add all the milk powder and cocoa powder at once, instead do it in steps. Few tbsp at a time. This helps the powder to combine evenly.
You can cut the chocolates in desired shape and even sprinkle some nut powder too.
https://udupi-recipes.com/2017/02/homemade-chocolate-recipe-4-ingredients.html
All the content in this website are © Copyrighted to – Udupi-Recipes