A food journey through the streets of North Karnataka would definitely take you to some amazing side dishes. Do you remember stuffed brinjal recipe that appeared here few months back? Stuffing the vegetables with a delicious, spicy coconut sauce and cooking them unbroken is a wonderful way of food preparation. I have come across such a innovative, skillful and tasty side dishes in my early childhood when I had zero knowledge of cooking. As an adult when I started my baby steps with cooking, I wasn't residing there any more. Perhaps, my food brain still remembers the authentic taste, in fact it lingers in my mouth. The tender and sweet ridge gourd in my refrigerator took me back to those old days, I ended up making stuffed ridge gourd.
Unlike brinjal, ridge gourd cannot be cooked in it's entirety because it's too long and not mouth fitting size. In order to make the veggie really cook-able with the stuffing, it's cut in to 1.5″ to 2″ sized parts. Each of these parts is then slit so that it can infuse the spicy coconut sauce and become amazingly palatable.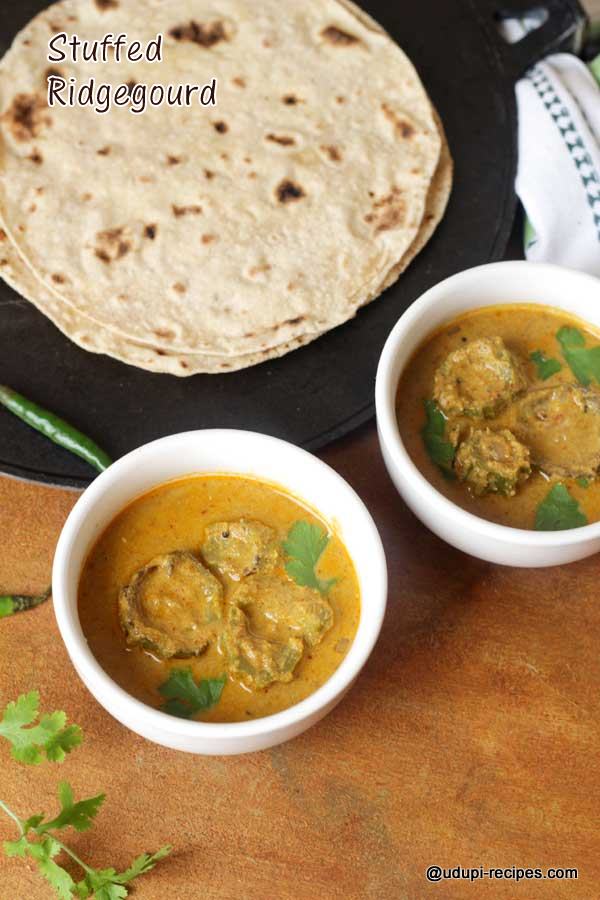 Ridge gourd, being a humble and soft veggie cooks to perfection within few minutes. But some times I fail to choose right ridge gourd meaning it turns bitter as I set to cook. Does it happen with you too? The outer looks and appearance of the veggie doesn't exactly reflect the way it tastes. Obviously my anticipation would go wrong. But if you happened to get an immature, sweet ridge gourd, then this stuffed ridge gourd can never go wrong. It's absolutely tasty with chapati and jolada rotti.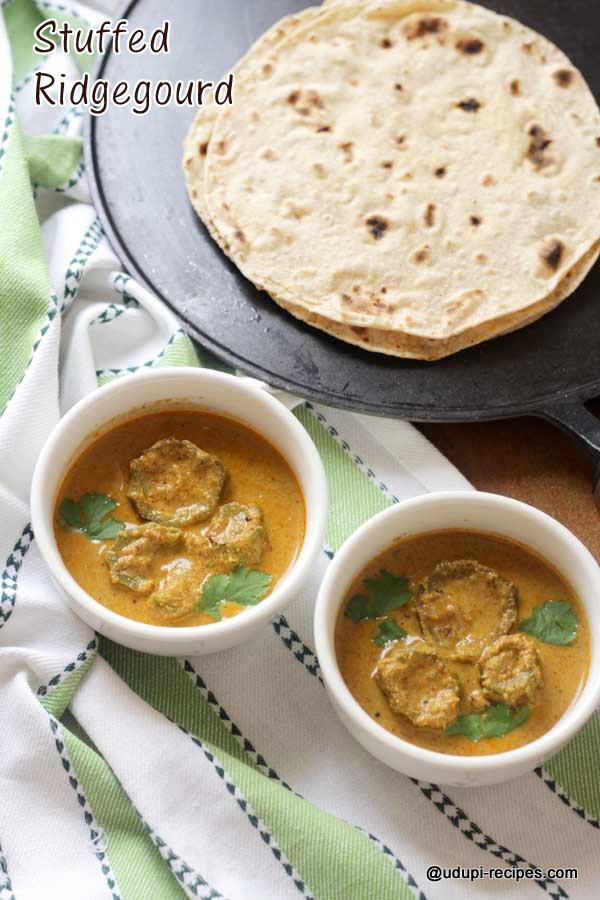 Stuffed Ridge gourd Recipe | Easy Chapati Sidedish
Ingredients
Peanuts- 1/8 cup
White sesame seeds- 2 tsp
Tamarind paste- 1 tsp
Jaggery powder- 1 tsp
Salt- 1 tsp
Turmeric powder- 1/2 tsp
Sambar powder- 3 tsp
Coriander leaves- 4 tsp
Ginger-1/2 tsp
Fresh grated coconut- 1/2 cup
Green chillies- 2 nos.
Cumin seeds- 1/2 tsp
Onion- 1 no.
Tender ridge gourd- 2 nos.

Seasoning ingredients

Cooking oil- 6 tsp
Mustard seeds- 1 tsp
Garlic cloves- 2 to 3
Curry leaves- Few
Instructions
Preparation

Peel off the onion and chop it in to fine cubes. Similarly peel off the garlic cloves and crush it. Keep them ready.

Method

Dry roast peanuts and sesame seeds separately till the nutty aroma wafts out. You can use small seasoning pan for this purpose.
Next transfer the roasted ingredients to the mixer and get them coarsely powdered. Also soak the tamarind in half cup of water for about 10 mins.
Next step is to grind the coconut, coriander leaves, cumin, ginger and green chillies together to fine puree including water as needed. Take this puree in a wide bowl along with powdered peanut plus sesame, salt, onion, turmeric powder, tamarind water, jaggery and sambar powder. Combine everything together. Stuffing mixture is ready.
Wash the ridge gourd well with enough water. Trim the edges and remove the hard ridges using a sharp knife. Next cut the ridge gourd at every 1.5" length and slit each part in to half and quarter as shown below. Keep the base intact and do not cut them in to pieces. Now carefully fill the stuffing masala in to slit ridgegourd and keep them ready.
Next heat a pan adding oil, mustard seeds and crushed garlic. When mustard seeds sizzle, add all the stuffed ridgegourds and let it cook for 2 to 3 minutes. Pour the remaining stuffing mixture and a cup of water. Cover it with lid and cook in simmer until ridge gourds are soft. Stir and flip in between for even cooking.
Very very delicious stuffed ridgegourd is ready to serve with chapati or jolada rotti.

Notes

Choose the ridgegourd such that they are tender with less or no seeds.
As you cut a ridgegourd, taste it before using in cooking. Sometimes the veggie tends to be bitter and you can discard it it is.
As the stuffing mixture gets ready, you can taste it adjust the spice as per your taste buds.
You can skip using onion and garlic if you don't prefer them.
https://udupi-recipes.com/2017/02/stuffed-ridge-gourd-recipe.html
All the content in this website are © Copyrighted to – Udupi-Recipes