Let me define what a food-blogger job basically involves in simpler terms. First thing: Creating recipes that are fun and unique, different and inspiring to all you lovely friends who read my blog. Sounds very simple, straight forward and easy. But it's not the case in reality. You have to be a lover of food preparation, food presentation, food photography which is the HEART of this job. Unless you love making food, you cannot enjoy the journey of food blogging and it is most likely that you end up giving it up.  I love all the delicious food across India, so experimenting with new ingredients, new tastes is all fun for me. At the same time simple and familiar is really my favorite. Basic dishes with fresh ingredients that people feel comfortable making?  I feel so good when that is what comes across through this little internet space. This green gram rasam is that, in a nutshell.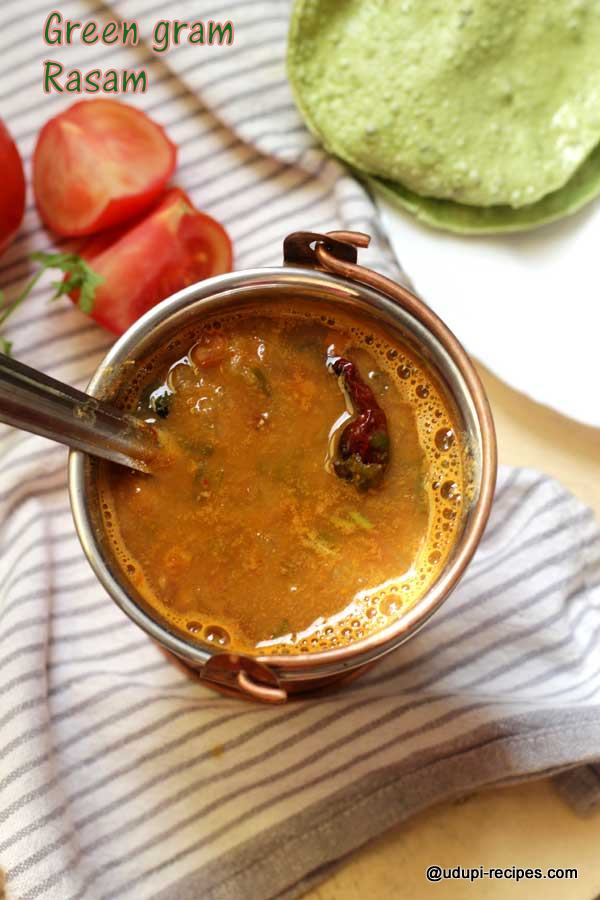 Next important thing essentially is about how tech savy are you in presenting your food online. Lot of technical aspects have to be learned, practiced and refined along the way for a successful blog. The tit-bits of WordPress, Photoshop, Google analytics, SEO, more about GOOGLE and other search engines play a vital role. On top of these, recent trend is creating pretty good videos of food which again calls for realization of video capturing and editing. These two themselves are a wide-area of study.
More said about food-blogging today than green gram rasam which is suppose to be hero of this post. It's the basic dish rasam or saaru prepared using an awesome legume green gram. Green gram enhances the flavor and aroma of basic rasam to the next level though it fails to leave the trails of green color. It's the rasam powder that over-powers in rendering the gorgeous orange color to this wonderfulness.
Healthy Green Gram Rasam Recipe
Ingredients
Green gram- 1/4 cup
Tomato- 1 no.
Tamarind- Small lemon sized
Jaggery- 1 tsp
Green chillies- 1 or 2 nos.
Salt- 1.5 tsp
Rasam powder- 2.5 tsp
Turmeric powder- 1/4 tsp
Asafoetida- A Pinch
Chopped coriander leaves- Handful

To tamper

Cooking oil- 2 tsp
Mustard seeds- 1/2 tsp
Cumin seeds- 1/2 tsp
Red chilly- 1 no.
Curry leaves- Few
Instructions
Preparation

Pressure cook green gram with enough water till it turns soft. I cooked it for 3 whistles and 5 minutes in simmer. Once cooked, let it cool down to room temperature and mash it or blend it using blender.

Method

Chop the tomatoes to fine cubes and slit green chillies. Also soak tamarind in 1/4 cup water for about 10 minutes. Next heat a cooking pan with oil. As oil gets heated up add mustard seeds, red chilly and cumin. As they crackle include curry leaves and saute.
Next throw in chopped tomatoes, slit green chillies and turmeric powder. Continue sauteing till tomatoes get cooked. Then include tamarind extract discarding the residue. Let it boil for few minutes.
Next add jaggery and mashed green gram along with enough water. Let the rasam boil.
Finally add salt, rasam powder, asafoetida and bring it boil for few more minutes. Garnish with coriander leaves.

Notes

Balance the tamarind and jaggery quantity for the authentic rasam taste.
I have used Udupi rasam powder, you can use either home made or store bought one.
Be generous with coriander leaves that enhances the taste of rasam.
https://udupi-recipes.com/2017/02/healthy-green-gram-rasam-recipe.html
All the content in this website are © Copyrighted to – Udupi-Recipes