If there is one thing which is common in my family regarding food is, I should say it is tomato saaru. There is no "NO" to this deliciousness. Sometimes on weekends, before I begin my lunch preparation my question would be "What would you all like to have for lunch?" Then probably I would know the answer. It would be surely Rice, tomato saaru and some veggie stirfry. No fancy orders !! No new cravings!! What a simple meal demand after all. All simple right?
My son who is a fussy eater, also loves to eat the meal when I prepare tomato saaru. Otherwise, it is very difficult to please him with curries and stir-fries. He is so reluctant to all such stuff and prefers to eat plain curd rice on such days. But Udupi saaru does all the magic, he adores and loves it to his hearts content.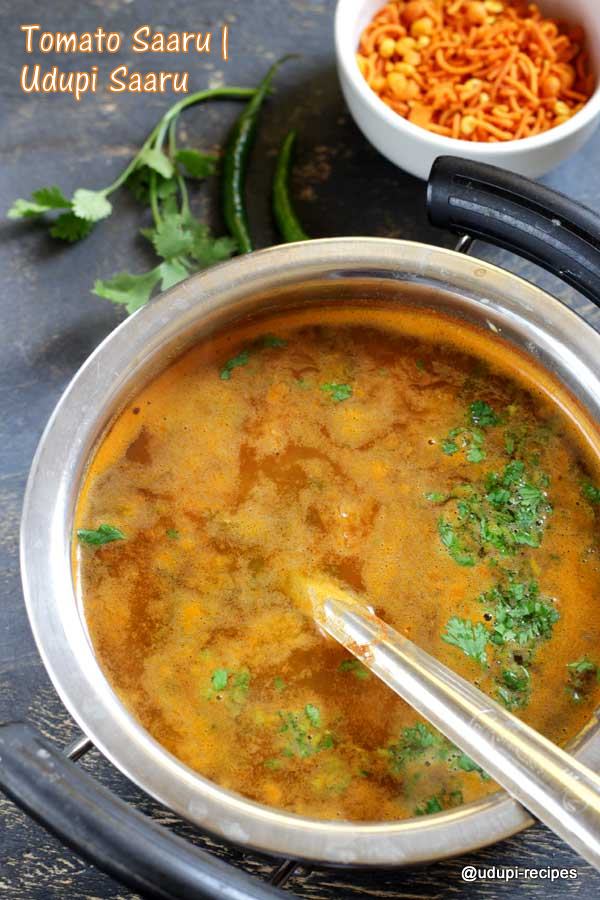 The perfect taste of this rice side dish is due to the spice powder (saarina pudi), tamarind and jaggery. When these three things are put together in right proportion in to this Saaru, then absolutely delicious rice – combo will be ready.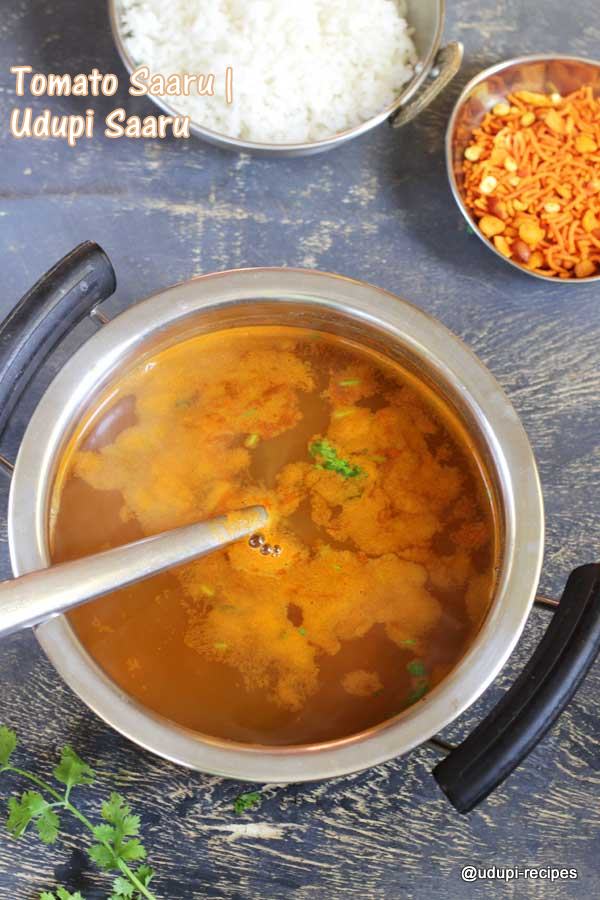 In Udupi Shri Krishna Temple, every day feast is served for lunch to all the visiting devotees. And the divine tasting Udupi Saaru is to be tasted there in the temple. It's amazingly super but unlike explained here there will be no tomatoes. Tomatoes are prohibited  in all food prepared in Udupi temple. Surprising but it's true. There are many veggies in this list which are forbidden in the temple though used in many households. If you ever visit this temple, don't miss the feast served there. It's scrumptious enough to be remembered for life time. So Udupi saaru for you guys to try at your home! Just get in friends!
Watch Video:
Udupi Rasam/Tomato Saaru Recipe-How to prepare rasam in Udupi style
Ingredients
Split chickpea lentils(toor dal)- 1/2 cup
Tamarind- Lemon sized
Tomato (medium sized)- 2 nos.
Jaggery- 1 tsp
Green chilly- 1 no.
Turmeric powder- 1/2 tsp
Saarina pudi (rasam powder)- 1 tbsp + 2 tsp
Salt- 1 tbsp
Curry leaves- 1 strand
Coriander leaves- Handful
Asafoetida(hing)- 1/4 tsp
Coconut oil - 2 tsp
Instructions
Preparation

Soak tamarind in 1/2 cup of water for about 15 minutes. Extract it's juice and discard the residue.
Chop the coriander leaves finely and tomato in to bite sized pieces.

Method

Rinse the lentils with enough water and pressure cook with enough water till it turns mushy. Keep aside till use.
Next heat a cooking vessel adding chopped tomatoes and tamarind water.
Add curry leaves, slit green chilly, turmeric powder, jaggery and tbsp of rasam powder(saarina pudi).
Let it cook for few minutes till the tomato bites turn soft. Then include cooked, mashed lentils.
Add enough water and salt now. Continue cooking.
Finally add remaining 2 tsp of rasam powder, asafoetida and chopped coriander leaves. Bring it to nice boil and switch off.
Delicious tomato saaru (Udupi saaru) is ready to serve with steamed rice along with some papad or fryum.

Notes

In Udupi temples, tomatoes are not added to the saaru. Rest of the method remains same.
Udupi rasam powder (saaru pudi) isn't much spicy. So I have added 3.5 tbsp. You can adjust as per your taste.
The tamarind, jaggery and rasam powder should be added proportionately to get the perfect taste of this tomato saaru.
Do not skip adding coconut oil at the end. It gives nice flavor.
https://udupi-recipes.com/2012/08/udupi-rasamtomato-saaru-recipe-how-to-prepare-rasam-in-udupi-style.html
All the content in this website are © Copyrighted to – Udupi-Recipes