" Mangalore – Udupi " these names are often referred together, so they are just like siblings. Earlier both these places were in the same district but now they are segregated as Dakshina Kannada and Udupi districts respectively. Today I am posting "Buns" recipe which is popular as "Mangalore Buns" though it is the dish of both Udupi and Mangalore. It is another evening tea time snack prepared with overripe bananas and all purpose flour. Unlike crispy puris these Mangalore Buns or Banana Puris are spongy and sweet.
              Today I thought of this recipe just because I had many overripe bananas at home otherwise I am not fond of sweet snacks.
Goli baje
is prepared more often at my home than this!!. Give a try for this recipe.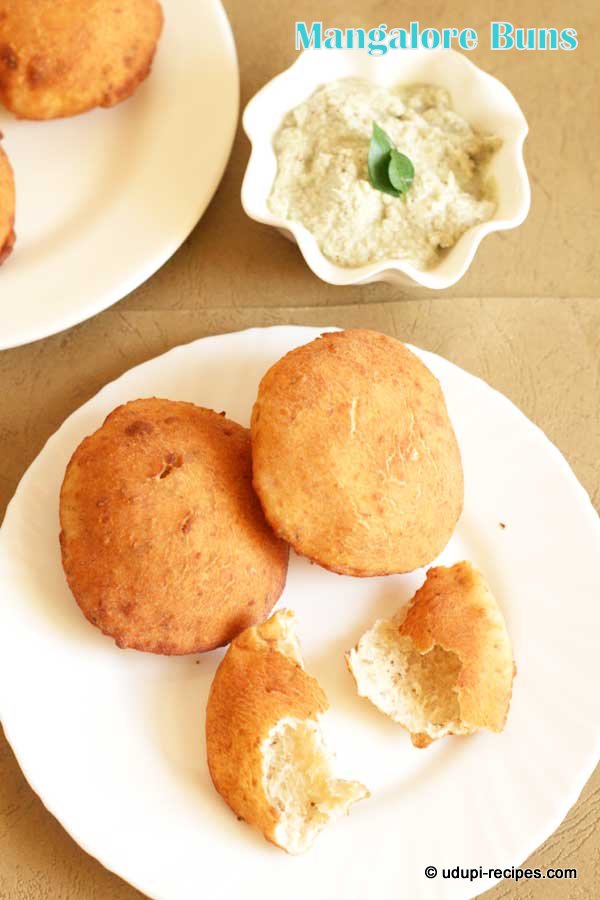 Mangalore Buns Recipe | Fried Banana Buns | Banana Puris
Ingredients
Overripe Bananas-1
Maida-1 cup
Sugar-3 tsp
Baking soda-1/2 tsp
Yoghurt- 5 tsp
Salt to taste
Cumin seeds-3/4 tsp
Instructions
Preparation

Peel bananas and squeeze it in to paste in a vessel. Do not attempt to grind bananas instead use your hand and make smooth banana paste. Add salt, cumin seeds, yoghurt, sugar, baking soda and mix it well so that sugar gets dissolved in it.
Now add maida spoon by spoon as the maida gets absorbed by the paste and you will obtain pliable dough like chapati/puri. The dough should be of consistency as shown in below picture.
Keep it aside for 4 to 5 hours so that the dough gets fermented. If possible you can keep it overnight.

Method

Once the fermented maida dough is ready, make small balls (golf ball sized) from the maida dough and roll out each one in to small puri using chapati roll. The rolled out puri shaped dough should be thick, do not roll it out too thin. The thickness should be twice as that of puri.
Heat oil in a frying pan and deep fry the rolled out buns dough.Fry out until buns turns brown in color both sides.
Now Mangalore Buns/Banana puris are ready to be served with chutney. These can also be consumed without chutney.

Notes

If you feel the consistency of the dough is thin, not possible to roll then add some more maida.
Depending on the banana quality it may absorb more all purpose flour.
3 to 4 hours of fermentation of dough is recommended, do not skip the hours. The buns may not be soft and spongy in that case.
While rolling you can use the lid of any bottle to mark perfect round shaped buns.
They taste awesome with vegetable sagu too.
https://udupi-recipes.com/2012/08/mangalore-buns-recipe-fried-banana-buns-banana-puris.html
All the content in this website are © Copyrighted to – Udupi-Recipes