Tambuli is a cooling curry served in the beginning before the main course and is taken along with rice. In Udupi Tambuli is prepared using most greens, vegetables and spices. As summer season is intolerable here, tambuli is one of the menu items for lunch to keep our body cool. Tambuli can be prepared with the spices like Ginger, Sesame seeds and Fenugreek, greens like palak, Brahmi, Dodda patre, fenugreek leaves, curry leaves, coriander leaves and many more.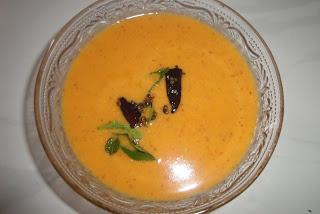 Today I am posting Ash Gourd bondu tambuli. "Bondu" means the thin flesh surrounding the seeds of ash gourd. While preparing main curry from ash gourd,  the left over "bondu" can be used for tambuli as one more accompaniment for rice. Here is the image of ash gourd bondu.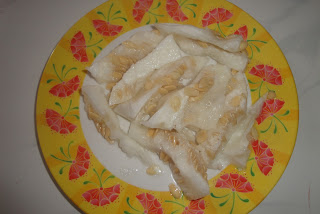 Tambli | Tambuli Recipe-Ash Gourd Bondu Tambli
Ingredients
Cleaned Ash gourd bondu- a handful
Grated coconut- 4 tsp
Cumin seeds- 1/2 tsp
Red chilly - 1
Curds/Butter milk-1/2 cup
Salt to taste
Mustard seeds-1/2 tsp
Urad dal-1/2 tsp
Red chilly-1
Curry leaves-1 strand
Oil- 1 tsp
Instructions
Preparation

Remove all the seeds and clean the ash gourd bondu.

Method

Cook ash gourd bondu along with cumin seeds, red chilly and little water.
Add cooked bondu mixture, grated coconut and salt in a blender and grind it to fine paste adding water as needed.
Now put this in a bowl, add curds and mix it well. The consistency of tambuli should be thinner than chutney. So adjust the consistency by adding water.
Now in a small pan heat oil, add mustard seeds, urad dal, red chilly and curry leaves. When mustard seeds splutter add it to tambuli.
Now ash gourd bondu tambuli is ready to be served with hot rice.

Note:

Instead of red chilly 4 to 5 pepper seeds or green chilly can also be used.
https://udupi-recipes.com/2012/08/tamblitambuli-recipe-ash-gourd-bondu-tambli.html
All the content in this website are © Copyrighted to – Udupi-Recipes
 Meet you all with one more Udupi recipe, till then bye.