Look at this glory: stuffed brinjal, whole brinjal goodness in a spicy, saucy thick coconut gravy. This is the best ever accompaniment with sorghum flatbread (jolada rotti) that I posted a week ago.
Lately I am looking at the world through North Karnataka flavored glasses and so are the recipes appearing here. I cannot deny the fact that my food soul absolutely loves and adores such food and I can't even deprive off. When you look back at the posts of November month (bottle gourd gravy and jolada rotti) this fact is quite justifying to you too. Isn't it?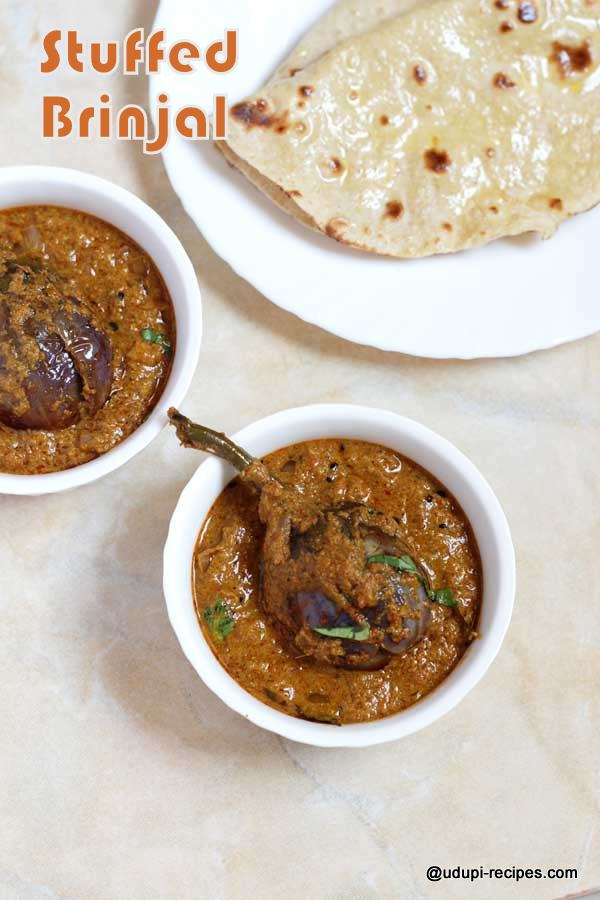 Stuffed brinjal, a food hero of North Karnataka is quite unique and interesting where in the brinjal is cooked in it's entirety in generous oil. The thick coconut sauce is what makes the gravy stand out. It has overpowering flavors of roasted peanuts and white sesame seeds with the hint of coriander leaves. The spice kickers are usual green chillies and home made sambar powder or curry powder.
Let me tell you the truth here: you got to use almost all the spices that you store in your kitchen to make the coconut sauce overwhelmingly delicious. The baby brinjals float and cook in this sauce and infuse all the exotic flavors in them.  A bite of sorghum flatbread with spicy stuffed brinjal in your mouth would actually bring food heaven to earth. This is true in my case at least.
Also before wrapping up, a word of caution is to choose the brinjals that are small in size with glossy surface having no dark spots on them. As they are cooked after making 2 slits vertically, keeping the crown intact, the veggie needs to be worms-free.  So why are we waiting? Let's assemble all the ingredients and head towards kitchen for an exotic dinner.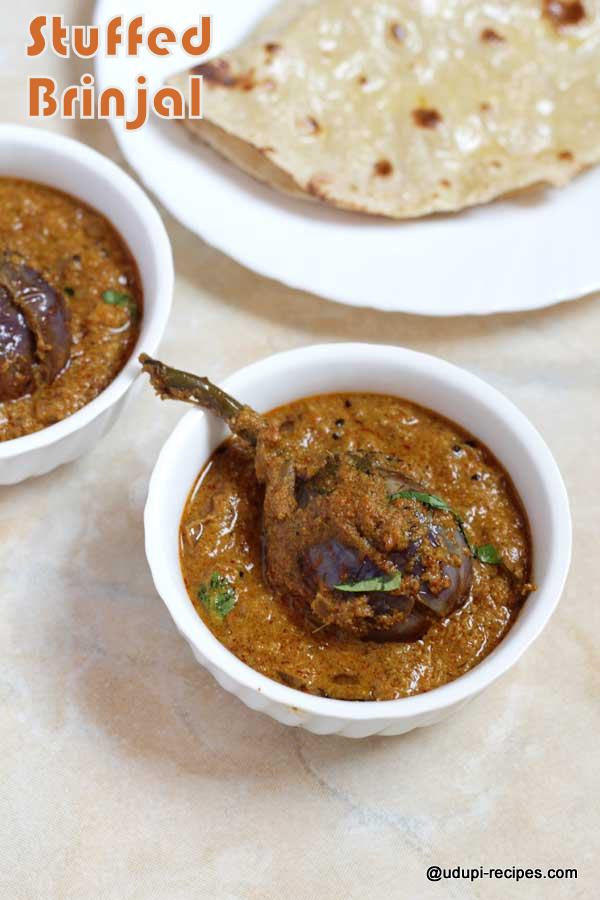 Stuffed Brinjal Recipe | Chapati, Rotti Side dish
Ingredients
Peanuts- 1/8 cup
White sesame seeds- 2 tsp
Tamarind paste- 1 tsp
Jaggery powder- 1 tsp
Salt- 1 tsp
Turmeric powder- 1/2 tsp
Sambar powder- 3 tsp
Coriander leaves- 4 tsp
Ginger-1/2 tsp
Fresh grated coconut- 1/2 cup
Green chillies- 2 nos.
Cumin seeds- 1/2 tsp
Onion- 1 no.
Very small brinjal (eggplants)- 4 to 5 nos.

Seasoning ingredients

Cooking oil- 6 tsp
Mustard seeds- 1 tsp
Garlic cloves- 2 to 3
Curry leaves- Few
Instructions
Preparation

Peel off the onion and chop it in to fine cubes. Similarly peel off the garlic cloves and crush it. Keep them ready.

Method

Dry roast peanuts and sesame seeds separately till the nutty aroma wafts out. You can use small seasoning pan for this purpose.
Next transfer the roasted ingredients to the mixer and get them coarsely powdered. Also soak the tamarind in half cup of water for about 10 mins.
Next step is to grind the coconut, coriander leaves, cumin and green chillies together to fine puree including water as needed. Take this puree in a wide bowl along with powdered peanut plus sesame, salt, onion, turmeric powder, tamarind water, jaggery and sambar powder. Combine everything together. Stuffing mixture is ready.
Wash the brinjals well with enough water and pat dry them using kitchen towel. Using sharp knife slit the brinjals lengthwise keeping it's stem intact as shown below.
Now carefully fill the stuffing masala in to slit brinjals and keep them ready.
Next heat a pan adding oil, mustard seeds and crushed garlic. When mustard seeds sizzle, add all the stuffed brinjals and let it cook for 2 to 3 minutes. Pour the remaining stuffing mixture and a cup of water. Cover it with lid and cook in simmer until brinjals are soft. Stir and flip in between for even cooking.
Very very delicious stuffed brinjal is ready to serve with chapati or jolada rotti.

Notes

Choose the brinjals such that they are round, small and tender.
Do not compromise with oil, stuffed brinjal needs little more oil than normal.
As the stuffing mixture gets ready, you can taste and adjust the spices as per your taste-buds.
You can skip using onion and garlic if you don't prefer them.
https://udupi-recipes.com/2016/11/stuffed-brinjal-recipe-chapati-rotti-side-dish.html
All the content in this website are © Copyrighted to – Udupi-Recipes