This dahi poha (Mosaru avalakki) is like real food meets comfort food situation. The simple good-for-you ingredients from scratch to finish make this food much more than what it actually is. Neither fancy ingredients nor fancy process, but this simple food can soothe you and your feelings.
You know my everyday meal either it's lunch or dinner would end with either yogurt(or it's counterpart butter milk) based rice. Meaning pour some yogurt over a heap of rice, top it with some salt and pickle and it's done.  In some remote cases like sickness, this itself makes up the whole meal. The story doesn't end there. Even party, marriage and receptions have the curd rice or mosaranna towards the end of main course. So in a nutshell, yogurt should end the South Indian meal giving the comfort and contentment of food. And today I have replaced rice by RICE FLAKES, calling it as dahi poha which is equally good in soothing your tummy.
Creamy dahi poha has yogurt and milk in good amount making it dairy rich. The thick rice flakes, when rinsed in water become soft, but if they are too thick soak them in water for about 5 to 10 minutes. I didn't have to do it, as the rice flakes I get here are not very thick and hard. The flakes actually get drenched in yogurt plus milk creaminess and infuse the spice from green chillies and ginger of the seasoning. I would say, be generous in adding chillies and ginger otherwise dahi poha tastes very mild.
Finally you are the boss to make mosaravalakki, a delicious affair. What I mean to say is, top it with pomegranate seeds, grapes, raisins and cashews which would not only double up the taste but also makes it super nutritious.
If you make it, you'll definitely adore it…Go check.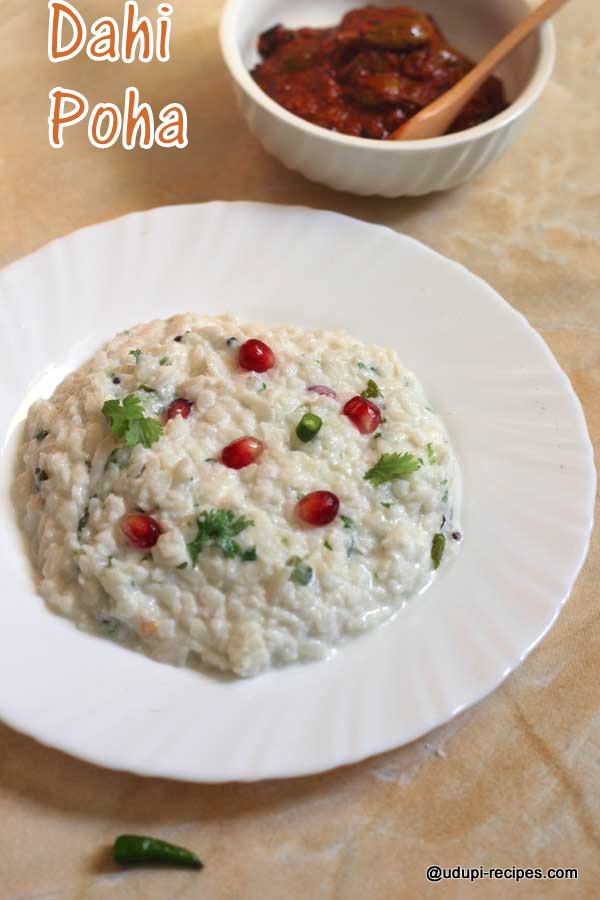 Dahi Poha | Mosaru Avalakki Recipe
Ingredients
Thick rice flakes(poha)- 1/2 cup
Yogurt- 1/2 cup
Milk- 1/4 cup
Salt- 1/2 tsp
Grated ginger-1/2 tsp
Green chillies-2 nos.
Chopped coriander leaves- 1 tsp
Pomegranate seeds- Few (optional)

Seasoning ingredients

Cooking oil- 2 tsp
Mustard seeds- 1/2 tsp
Split blackgram lentils- 1/2 tsp
Split chickpea lentils- 1 tsp
Curry leaves- Few
Instructions
Preparation

Finely chop the green chillies, beat the yogurt with little water and keep it aside.

Method

Rinse thick rice flakes using enough water and drain off the water. Let it rest for 5 minutes and then squeeze water from poha and keep it ready.
Next in a seasoning pan add all the seasoning ingredients in the order mentioned, as the mustard seeds start sizzling add chopped green chillies and grated ginger. Saute for a while and switch off. Let the seasoning cool down to room temperature.
Finally it is mixing everything, so in a wide bowl add thick poha, yogurt, milk, salt, coriander leaves and green chilly seasoning prepared above. Mix everything well. Add additional yogurt if required. Garnish with pomegranate seeds and serve.

Notes

If the rice flakes are too thick and hard, soak them in water for about 5 minutes before draining it off.
Dahi poha thickens with time. So let it be of running consistency initially.
You can top it with grapes and raisins to enhance the taste.
Also you can use cashews in the seasoning to make it rich and flavorful.
https://udupi-recipes.com/2016/11/dahi-poha-mosaru-avalakki-recipe.html
All the content in this website are © Copyrighted to – Udupi-Recipes