Today it's 14th November, Oh my gosh, it's children's day and I guess there would be no ideal time to post this gorgeous poori masala on my blog, if it's not today. Because my little son who is pretty fuzzy and choosy about his food, loves and adores poori masala like anything. Though his likes and dislikes keep changing over a period of time, poori has been in his favorites list since several months. In my normal breakfast life I usually opt for some healthy, filling and wholesome food and poori gets it's place at the end. Meaning it shows up on breakfast table only once or probably twice in a month.
My little kindergartner who was longing for his affectionate and delicious poori with potato masala ordered (!! Yes you read it right ORDERED) me to cook it for lunch last week.  Also, one of my valuable reader has humbly requested poori masala recipe since a while. So for me it's a win-win situation where I get accolades from my son and a food for this awesome internet space.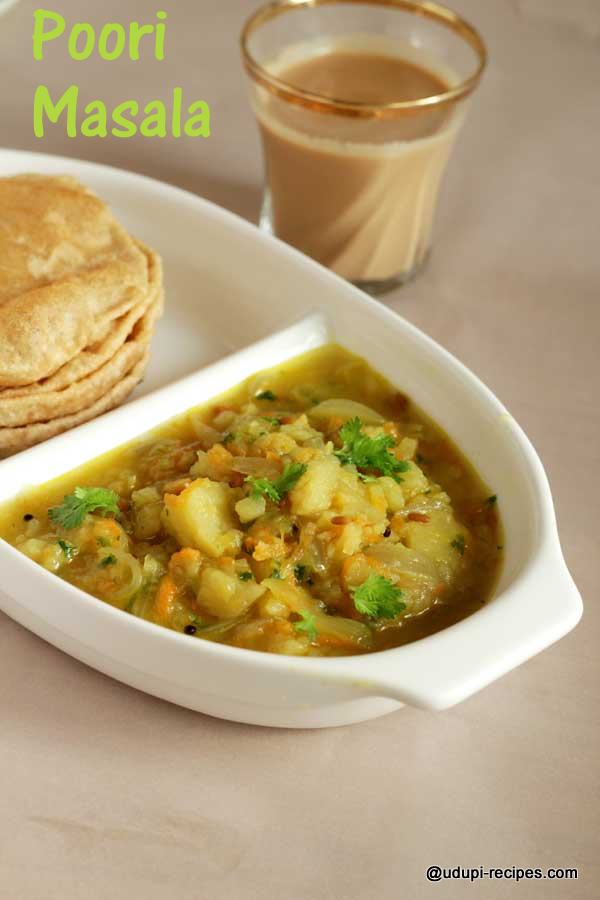 There are bunch of things that I love in this poori masala, but at the top of this list is it's saucy look. Unlike dry version of poori bhaji, it's saucy and thick. The grated carrot, onion, green chillies work in a big way to make the dish gorgeous visually and flavor-fully. I like to mash up half of the potatoes so that masala gets nice consistency and rest of it would go like big chunks. Depending upon the seasonal availability you can add handful of green peas or dill leaves which enhances the taste and it looks damn colorful.
My boy, my little bundle of joy was jumping with happiness and had his servings of poori to the full and it made my cooking self satisfied. 🙂 🙂
Poori Masala Recipe | Excellent Breakfast
Ingredients
Potato (medium sized)- 3 nos.
Onion- 1 no.
Grated carrot- 3 tsp
Turmeric powder- 1/4 tsp
Salt- 1 tsp
Chopped ginger- 1 tsp
Sugar- 1/2 tsp
Green chillies- 2 nos.

Seasoning ingredients

Cooking oil- 3 tsp
Mustard seeds- 1/2 tsp
Split black gram lentils- 1/2 tsp
Split chickpea lentils- 1 tsp
Curry leaves- Few
Instructions
Preparation

Wash the potatoes using enough water and pressure cook the potatoes till soft. I cooked for 3 whistles and in simmer for 5 minutes.

Method

When the potatoes are getting cooked, prepare green chillies and ginger paste. I used mortar and pestle to coarsely mince them. Also peel off the onion and chop it in to thin slices. Similarly get the coriander leaves chopped finely.
Next heat a pan adding oil, mustard seeds, split black gram lentils, chickpea lentils and curry leaves. Saute till the mustard sizzle and lentils turn slightly brown. Then include onion slices and continue sauteeing. When the onions turn translucent add grated carrot and ginger-chilly paste.
Continue sauteeing for a minute and add a cup of water. Meanwhile peel the skin off from cooked potatoes and break them in to chunks with your hand.
When water is boiling, add turmeric powder, salt, sugar and potato chunks. Combine everything well. You can mash few potato chunks for the masala to be thick. Finally garnish with chopped coriander leaves.
Wonderful poori masala breakfast is ready to kick-start your day.

Notes

The potatoes should be cooked well and do not mash them together, let some of them be in chunks.
The ginger and green chillies give the dish nice spice kick. So use them according your taste buds.
You can also add cooked green peas to this masala.
https://udupi-recipes.com/2016/11/poori-masala-recipe-excellent-breakfast.html
All the content in this website are © Copyrighted to – Udupi-Recipes