Have you ever been to northern region of Karnataka where you can witness the beauty of plain, leveled land in acres that can literally grow any sort of lentils, legumes and cereals? Have you seen those amazingly strong women who walk miles together to their fields and work there like men?  Have you ever tasted their staple food Jolada rotti with spicy lentil curry and chutney powders? If not, You must do it once in your life at least. I can see you nodding your head as you read this post because you are like me who love this super food of North Karnataka. We both are twins on this food train right??
Today, in fact right now, I am over excited and over enthusiastic to share my ever favorite lunch which lives at the surface of my food dreams always. Is it sounding weird and strange to you? Obviously it can seem so because basically I belong to coastal region and my taste-buds actually should revolve around rice or rice based lunch. But, but, but this sorghum flatbread or jolada rotti tops my all other favorite food just because 10+ years of my childhood was amazingly spent in northern Karnataka eating all such wonderful, healthy, natural food.
I would say the difficulty level of jolada rotti preparation is not easy meaning you got to know the trick of patting and sliding. The flour is mixed with hot water and kneaded to very soft, crack-less dough. Remember, unlike wheat flour this sorghum flour is not high in gluten, so dough is not so glutenous. But as you pat the dough over flat surface with enough dusting, it expands. Also  as you pat, you need to slide it, so that the flatbread freely moves while being expanded to thin circle. Otherwise it sticks to the surface itself making the whole process worthless. I have included a video below to make the process easier for you.
Jolada rotti is enjoyed much with authentic side dishes from North Karnataka like stuffed brinjal or blackeyed peas gravy and chutney powder with yogurt.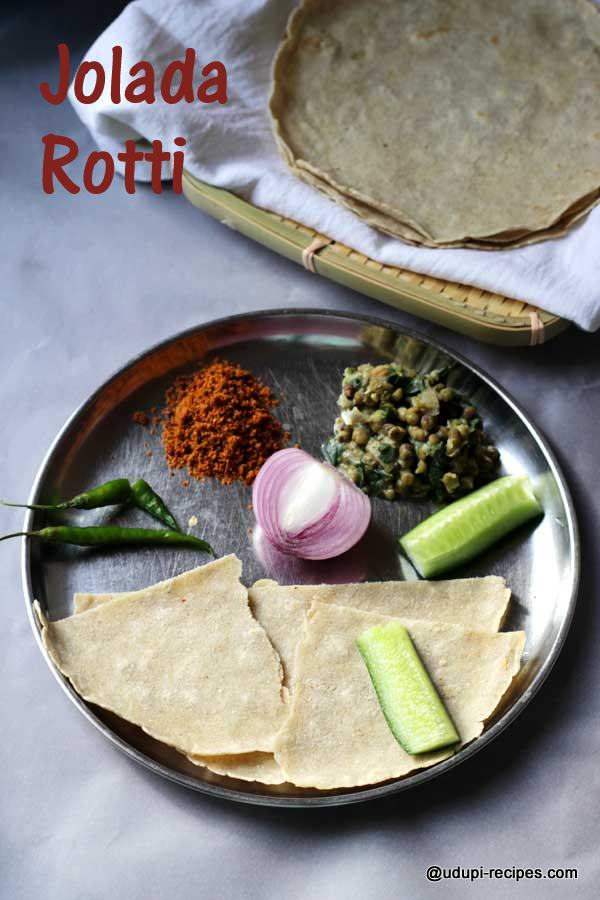 Jolada Rotti | Jowar Roti | Sorghum Flatbread
Ingredients
Sorghum flour (Jowar atta)- 1 cup + 1/4 cup for dusting
Salt- 1/2 tsp
Water- 1 to 1.5 cups
Instructions
Preparation

Heat 1.5 cups of water in a vessel and bring it to boil.

Method

In a wide bowl add the sorghum flour and salt. Give a quick mix. Then add hot water to the flour in parts.
Slowly mix the flour with water and start kneading a soft and crack-less dough.
You can add water as needed to make the dough moist, soft with zero cracks. Next, take a lemon sized dough and knead again. Roll the dough between your palms like a ball.
Place it on a flat surface dusting enough flour. And pat the dough using your palm and fingers such that it flattens to thin circle. As you pat, you need to ensure that flatbread slides over the surface and doesn't stick to it. Patting and sliding the dough should be done till you get thin circle.
Once you finish, lift the flatbread carefully and transfer it over hot griddle. Damp a small cotton cloth in some water, and apply it over the rotti to remove the excess flour. Let it cook in medium flame for few minutes. When you see the top surface being dried up, flip it to other side.
Continue cooking for few more minutes and flip again. Now take a dry cotton cloth and press the edges and let it puff up.
Overwhelmingly delicious jolada rotti or sorghum flat bread is ready to serve with a spicy legume curry and chutney powder.

Notes

Initially when you add hot water to the flour, use ladle to mix it. After that when it is still warm knead with your hand.
Depending upon the quality of flour, you need little more or less water to knead the soft dough.
The dough should be moist, soft and crack-less but not loose.
Resting the dough is not required.
Patting thin rotti is a process that comes by practice. You need to pat with your palm simultaneously sliding it over the dusted surface. Otherwise the rotti sticks over the surface itself.
If you cannot pat the rotti, you can try rolling it like chapati but this dough don't have gluten like wheat flour so do it carefully.
Applying water using a cotton cloth helps to remove excess dry flour.
As the flour gets older, it loses gluten and you cannot pat it like a flatbread. It easily breaks apart and doesn't hold the shape.
Always cook in medium flame for perfect rotti.
https://udupi-recipes.com/2016/11/jolada-rotti-jowar-roti.html
All the content in this website are © Copyrighted to – Udupi-Recipes