Friends..Let me introduce you to my new vermicelli based breakfast thing: Tamarind vermicelli upma which is damn good and delicious with most basic ingredients of your kitchen. It has tamarind, jaggery and rasam powder as the most primary elements but it can absolutely, totally win your taste-buds in amazing way.
Let me be honest with you, vermicelli is not a cooking thing that happens again and again in my kitchen, like not even once in a fortnight. It doesn't really mean that I am not a big fan of it or so. But when it comes to packing food for school-going-kids, vermicelli is not a good fit. At least at my home it cannot surely match the varying demands with respect to the way the food is actually consumed. My little son loves to hold food in his small hand to eat, and never likes to eat something with a spoon during lunch break in school. Which is why I rely on dosa and chapati on weekdays which can conveniently be wrapped with spice-less potato for him to enjoy the food the way he loves.
End of the day, vermicelli comes over our dinner table with lots of variations as a quick fix. Tamarind vermicelli upma is one such variation that I cooked last week.  I have used rava vermicelli which is quite easy to cook as it doesn't require any pre-roasting. Meaning total cooking time is reduced considerably but ensures absolute fluffy, grain separated upma. Though there are plenty of brands and varieties in vermicelli like rice vermicelli, wheat vermicelli etc, I am a big fan of this variety because of it's ease of cooking.
On top of all this, you can play around and use some cashews while tempering the upma and it can crunchify your breakfast all together. Also if you replace rasam powder by pulioyogare powder, it's a total bliss for your food self. Try yourself to know this fact.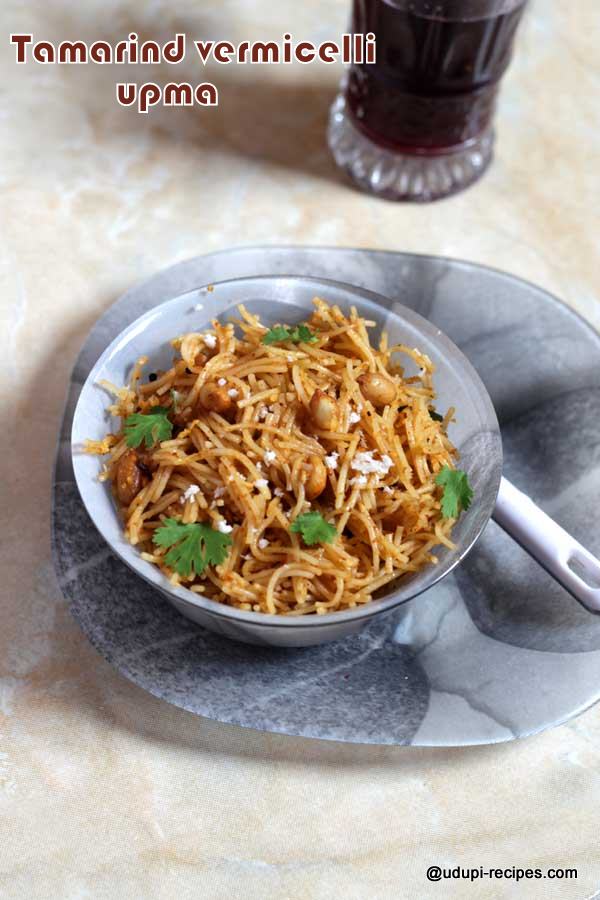 Tamarind Vermicelli Upma Recipe
Ingredients
Rava vermicelli- 1 cup
Grated coconut- 1/8 cup
Peanuts- 2 tsp
Salt- 3/4 tsp
Rasam powder- 1 tsp
Jaggery powder- 1/2 tsp
Tamarind paste- 1 tsp

Seasoning ingredients

Cooking oil- 3 tsp
Mustard seeds- 1 tsp
Split black gram lentils- 1/2 tsp
Split chickpea lentils- 1/2 tsp
Curry leaves- Few
Instructions
Preparation

Soak tamarind in 1/4 cup of warm water for about 10 minutes. Extract it's thick juice and discard the residue.

Method

Heat a wide pan with all the seasoning ingredients added in the order mentioned. Keep sauteing, as the mustard seeds pop add peanuts. As you continue sauteing, the peanuts get roasted and you can proceed adding thick tamarind juice, jaggery and salt. Let it cook for few minutes.
Next add a cup of water and rasam powder. Bring it to boil in medium flame.
Include the vermicelli now and cook it covered till the vermicelli is soft and easily mash-able. It would have absorbed all water by now. Finally garnish tamarind vermicelli with fresh grated coconut.
Easy and delicious tamarind vermicelli upma is ready to serve on breakfast table.

Notes

I have used rava vermicelli which doesn't need roasting. Also it cooks fluffy and not mushy.
If this vermicelli is not available in your place, try using your regular one. But roast them before using.
I have used home made rasam powder, you can use anything in your stock.
You can also use puliyogare powder instead of rasam powder. It would enhance the taste.
The water to vermicelli ratio is 1:1 for my brand of vermicelli. You can check cooking instructions on your vermicelli packet for this info.
https://udupi-recipes.com/2016/11/tamarind-vermicelli-upma-recipe.html
All the content in this website are © Copyrighted to – Udupi-Recipes