I was fascinated by the taste of tamarind rice(puliyogare) since my childhood, but got a chance to cook it only after some years of my marriage. Initially I used to make puliyogare gojju which is ready to go instant mix. But shelf life of such mix is very very limited that just after two days it starts deteriorating. Soon I realized that the dry version of pulioyogare mix that is puliyogare powder would be great alternative and come very handy to prepare instant tamarind rice.  Since then I have made many trials and hooked on to this recipe. I usually prepare tamarind rice powder from scratch and stock it in refrigerator and use it as and when required. If you have already prepared the spice powder, then it is a matter of few minutes to whip up this delicious, spicy rice.
Fancy weekend brunch at my home usually includes a rice dish(one pot meal), rasam, stirfry, cucumber salad and a dessert like moong dal payasam.  Pulav, bisi bele bath, lemon rice or tamarind rice are the few common one pot meals that we relish on weekends.  Since the day I posted Puliyogare recipe in this space, I am receiving requests from my readers for puliyogare powder recipe.  Though puliyogare makes it's appearance once in a fortnight at my home, I had not taken photos of powder preparation.  So today I prepared a fresh batch of puliyogare powder with clicks. Step in to the recipe …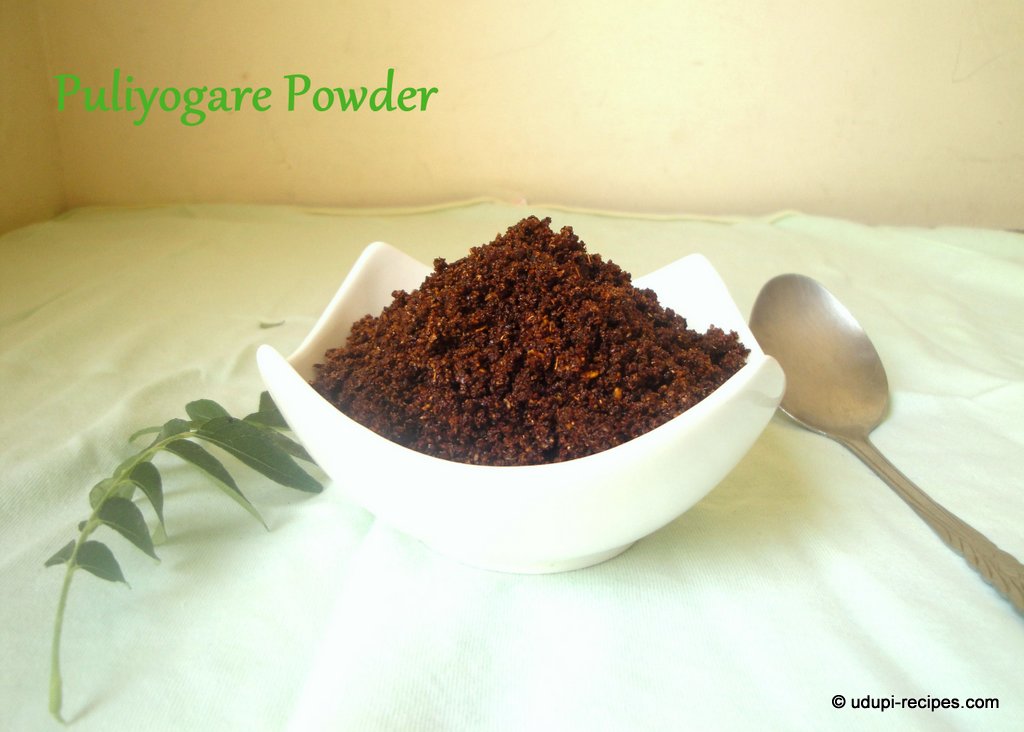 How to make pulioyogare powder
Ingredients
Coriander seeds- 8 tsp
Sesame seeds- 8 tsp
Fenugreek seeds- 2 tsp
Cumin seeds- 2 tsp
Dessicated copra- 4 tsp
Red chillies(Byadagi)- 10 to 12 no.
Curry leaves- 1 strand
Cooking oil- 4 tsp
Instructions
Method

Heat a wok/kadai and dry roast sesame seeds followed by dessicated coconut. Sesame seeds puff up once roasted and dessicated coconut changes color slightly. Transfer it to a plate.
Then add some oil and roast red chillies, coriander seeds, fenugreek seeds, cumin seeds and curry leaves one after the other. Roast all the ingredients evenly.
Transfer all the roasted ingredients to a plate. Let it cool.
Once cooled, grind the roasted puliyogare powder ingredients in to coarse powder.
Let the puliyogare powder cool down to room temperature and store in air tight container. You can store the powder for 15 days and can enjoy the goodness of instant pulioyogare.

Note

Sesame seeds used in this powder can be either black or white. I have used black ones.
Adding pepper corns to puliyogare powder is common practice. But I don't like puliyogare to be spicy side. So I didn't add them. You can add a teaspoon of pepper corns if you like.
Instead of powdering roasted dessicated coconut, you can add it to the powder itself that also gives unique taste.
https://udupi-recipes.com/2014/04/how-to-make-pulioyogare-powder.html
All the content in this website are © Copyrighted to – Udupi-Recipes
Meet you all with one more interesting recipe. Till then bye.