My father is a kind of person who would never sit idle or relax with a book and coffee. When he was running Udupi Hotel in northern part of Karnataka, he had hectic schedule and was occupied 24×7 through out the year.  In my childhood I have never seen him enjoying holidays or vacation. Now though he is retired from his business, he has kept himself occupied and active all the time.
One of the activity that keeps him energetic now is gardening.  At any time of day you can find him watering plants, fertilizing, composting, seeding and/or cleaning  the weeds. He nurtures the plants and trees carefully just like his kids. My mother gets most vegetables for her day-to-day cooking from this backyard vegetable garden itself.  Whenever I visit home, I get to taste homegrown, organic vegetables available in that season.  It's heaven to taste dishes that are lovingly cooked by mother using such homegrown vegetables that are passionately nurtured by father. Truly I am blessed to relish them.
I too have few pots on the terrace growing few herbs and flowers.  As I add kitchen waste to the pots to make the soil fertile, sometimes those seeds themselves tend to raise. Such a tomato plant yielded around 10 to 15 tomatoes yesterday,  my joy knew no bounds  and I enthusiastically  prepared green tomato chutney.  Tangy, creamy green tomato chutney with a hint of spice from green chilly was really superb. Paired it with steamed rice and relished to our heart's content. Read on the recipe and feel the perfect taste.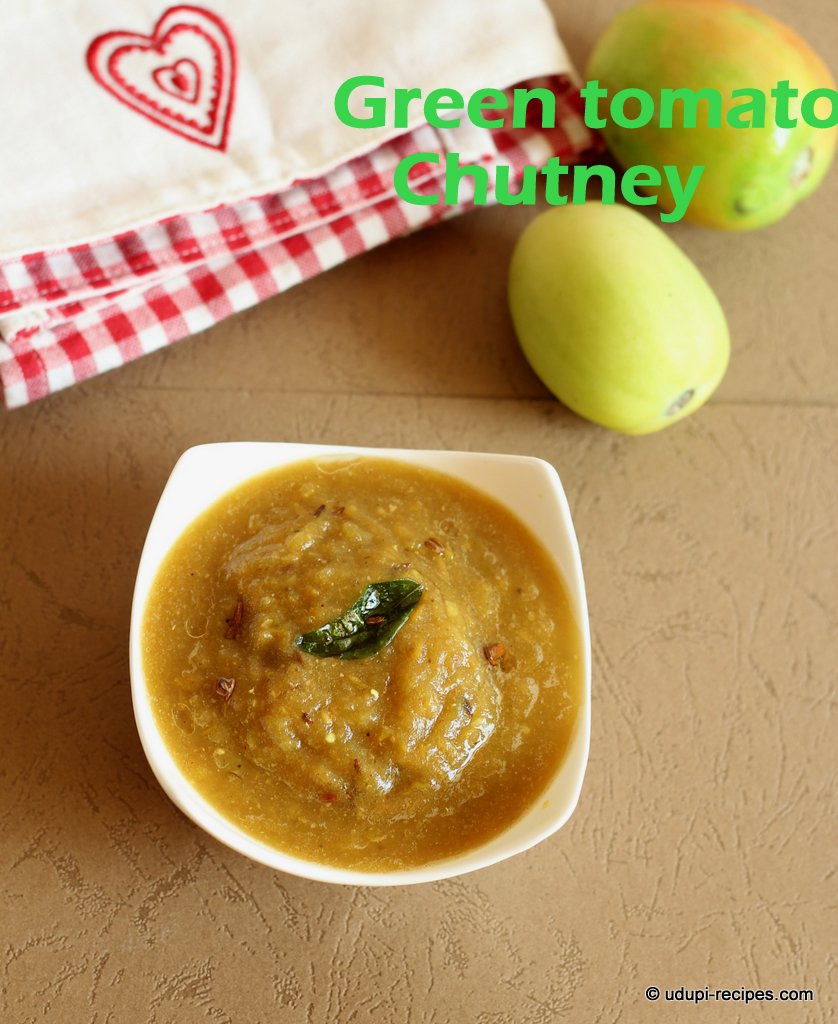 Green Tomato Chutney Recipe
Ingredients
Unripe green tomatoes- 5 to 6
Green chillies- 1 no.
Tamarind- Small gooseberry sized
Jaggery- Big gooseberry sized
Salt- 1 tsp
Turmeric powder- 1/2 tsp
White sesame seeds- 1 tsp

Seasoning ingredients

Cooking oil- 2 tsp
Mustard seeds- 1/4 tsp
Cumin seeds- 1/2 tsp
Split black gram lentil- 1/4 tsp
Fenugreek seeds- 1/4 tsp
Curry leaves- few
Red chilly- 1 no.
Instructions
Preparation

Wash and pat dry the green tomatoes and chop them in to small pieces.

Method

Cook the chopped green tomatoes in half cup of water along with tamarind, turmeric powder, jaggery and green chillies. These unripe tomatoes will get cooked very fast. Switch off flame once tomatoes are soft.
Once the cooked tomatoes return to room temperature, transfer them to mixer or blender and grind it to fine paste with salt.
Meanwhile dry roast the sesame seeds and powder it coarsely. Add this to ground

green tomato chutney

. Give a quick stir.
Heat a seasoning pan and add the following ingredients: cooking oil, mustard seeds, black gram lentil, cumin seeds and fenugreek seeds. Let the mustard seeds pop while still stirring the ingredients add curry leaves and broken red chilly too.
Pour thus prepared seasoning to green tomato chutney.
Colorful creamy

green tomato chutney

is ready. Pair it with rice and relish.

Note:

Half teaspoon of black pepper powder can also be included to make the chutney more spicy. I have not added as kids can't tolerate the spice.
Adjust tamarind based on the sourness of tomatoes.
Do not skip fenugreek and cumin seeds from the seasoning, they will enhance the flavor.
https://udupi-recipes.com/2014/04/green-tomato-chutney-recipe.html
All the content in this website are © Copyrighted to – Udupi-Recipes