Udupi cuisine is associated with mass scale feeding (feasts) on the occasions of marriages and similar celebration. Crispy coconut poli | kayi holige is one of the traditional dish from Udupi which is most commonly prepared during Shraddha (a Hindu ritual performed for one's ancestors, especially deceased parents).  A key point in this sweet is that it can be prepared and stored the previous day of the ceremony itself.
In my childhood it was a great fun watching the cooks making this coconut poli or puran poli or laddu or any sweet for that matter, the previous evening of such ceremony. The cooking experts were so quick in stuffing, rolling and cooking the poli that I used to watch them without winking my eyes.  Later as I grew up I was a helping hand for my mother whenever she made them.
Coconut poli is a sweet stuffed pancake where fresh ground coconut is cooked in jaggery syrup and stuffed in maida flour dough, then rolled in to circular crepes. Bite in to these crispy, delicious sweet crepes topped with ghee and feel the heavenly taste.  I have brought this recipe to this space on the eve of Hindu New Year Celebrations. Wishing you all a very happy and prosperous new year, read on the recipe.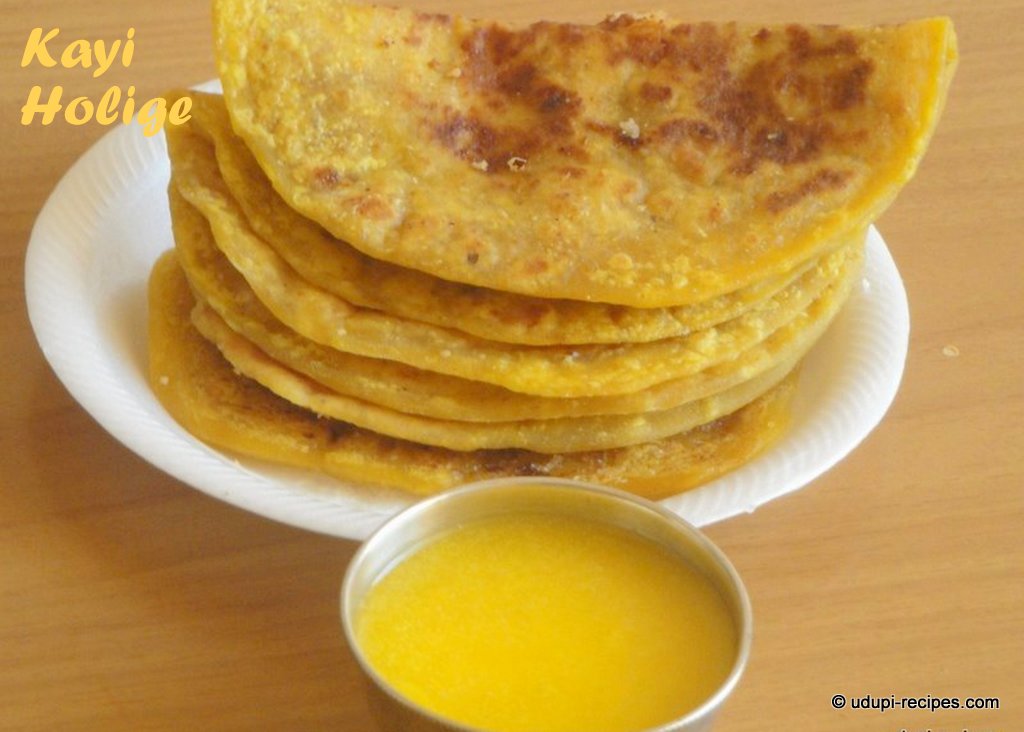 Coconut Poli | Kayi Holige Recipe
Ingredients
Ingredients for Dough

All purpose flour/Maida- 1 cup
Salt- 3/4 tea spoon
Turmeric powder- 1/2 tea spoon
Coconut oil- 3 tea spoon

Puran | Hoorana Ingredients

Freshly grated coconut- 3 cup(pressed)
Jaggery - 2.5 cups
Cardamom- 4 no.s
Instructions
Preparation

Add grated coconut in to mixer and grind it till soft without adding water. Set it aside.
Sieve all purpose flour and finely powder deseeded cardamoms. Keep them aside.

Method

Add sieved all purpose flour, salt and turmeric powder in to a bowl. Mix it in to pliable dough adding water little by little. Now add coconut oil and knead it well. Coconut poli dough is ready. Let it rest for about 15 to 20 minutes.
Heat a heavy bottom wok(kadai) adding jaggery and 1/2 cup of water. Jaggery dissolves in water and starts frothing in few minutes. Keep stirring till you get soft ball consistency jaggery syrup. (Check jaggery syrup consistency like this. Keep a separate plate ready filled with little water.Take a drop of jaggery syrup and put it in water, it should stand firm and not dissolve. You should be able to make ball out of it as shown below.)
At this stage add ground coconut in to jaggery syrup. Stir it well till it thickens and switch off the flame. Coconut puran(stuffing) is ready. This pooran should be thick as to make balls out of it.
Now add cardamom powder to the puran and make oval shaped balls out of it. Puran balls are ready to stuff.
Similarly make balls out of coconut poli dough that is prepared in step 1. Hold the kneaded dough in left hand and just pull out big lemon sized balls from the dough.
Now hold one of the dough ball in your left hand and take coconut puran ball in your right hand. Stuff puran in to dough just by enlarging the dough with the movement of your fingers. When the dough covers puran completely, seal it on top.
Dusting enough all purpose flour, roll it very slowly. You can roll it in to medium thickness. Heat a skillet and transfer the rolled puran on to skillet carefully. In medium flame, let it cook. When small bubbles form, just flip it over to cook the other side. Remove when it is cooked.
Repeat the process with rest of the dough and puran.
Coconut poli is ready to serve with ghee. Yummy............ You can store these polis for two to three days without refrigeration.

Note:

Coconut puran should be of the right consistency, if it is watery then it is not possible make balls, stuff and roll. So make sure you get that right consistency after adding ground coconut to jaggery syrup.
You can keep stuffing done for few. And then rolling and cooking can be done in parallel.
When preparing in bulk, you need helping hands for stuffing and cooking.
You can also pat these polis on oil greased plastic sheet, but I prefer rolling with dust of maida.
https://udupi-recipes.com/2014/03/coconut-poli-kayi-holige-recipe.html
All the content in this website are © Copyrighted to – Udupi-Recipes
Meet you all with one more interesting recipe. Till then bye.