Let me tell you a truth of  my cooking which seems so appropriate with this post.  This strong astringent veggie i.e radish hasn't seen much of experiments in my kitchen. It may be because my food life with radish is not probably long enough for a good assessment. But let me honestly confess that radish is deliciously juicy and way too healthy to be part of my food. While I am typing this, I quickly digged in to my archives to see how many radish recipes are actually in place. There are just two!! I mean only 2. This number signify the fact that I have to put this pretty simple veggie in to more trials and tests so that I can enjoy it in multiple ways. In this regard radish raita is going to be in my food department for quite some time. Because it's extremely wonderful and yummy.
Radish raita can serve dual purpose like it can pair a simple, plain steamed rice as side dish or it can accompany pulao or other rice recipes too. Don't make weird faces now!! I can see you twisting nose on my statement above saying how can a raita accompany plain rice. Of course it can. Let me make that clear for you.
Suppose you are cooking radish raita for pulao, slit the green chillies and use it up. Which keeps the spice level minimal. On other hand if you want the raita to be a side dish for meal, then certainly you have to grind the green chillies. This will kick up the spice level and perfectly blends with plain rice. Trust me, I had the raita the latter way and it completely satisfied my taste buds just like radish chutney did a year back. Henceforth radish no longer feels sharp flavored !!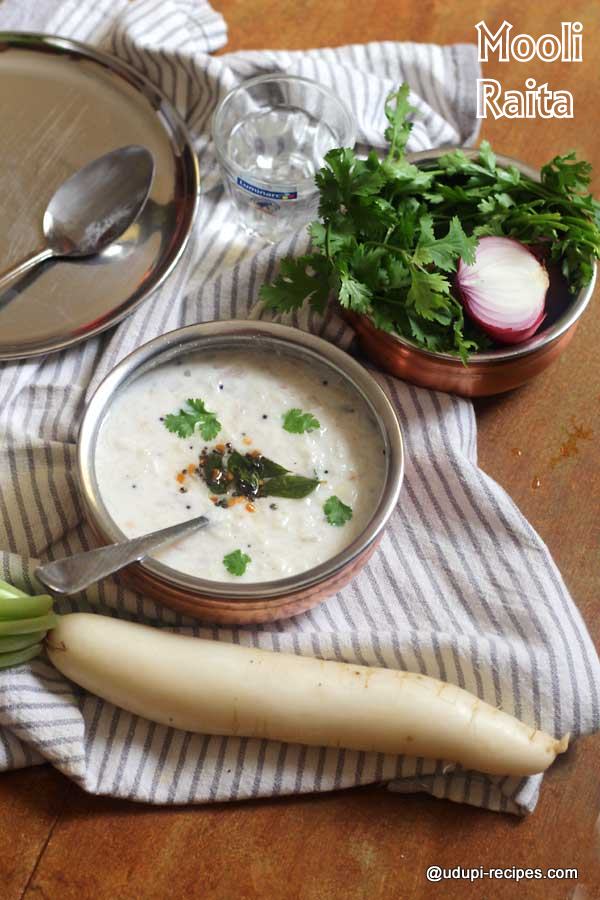 Radish Raita Recipe | Moolangi Mosaru Bajji
Ingredients
Radish (mooli)- 1 no.
Yogurt- 1/2 cup
Fresh grated coconut- 1/4 cup
Green chillies- 2 nos.
Onion- 1/2

Seasoning ingredients

Cooking oil- 2 tsp
Mustard seeds- 1/2 tsp
Split black gram lentils- 1/2 tsp
Curry leaves- Few
Instructions
Preparation

Wash and clean the radish under running water. Peel the skin off and grate it using a fine grater. Also keep the onion ready by chopping it finely.
Take grated coconut and salt in mixer and grind to fine puree adding water as required. In a bowl whisk the yogurt and mix it with coconut puree.
Next in a pan heat cooking oil. Add mustard seeds followed by lentils and curry leaves. As the mustard seeds sizzle add chopped onion and saute for few minutes. As the onion turn translucent include grated radish and slit green chillies. Continue sauteing for few more minutes and switch off.
When the radish mixture cools down to room temperature combine it yogurt plus coconut mixture in the bowl. Very healthy and comforting radish raita is ready to serve with rice or paratha.

Notes

Sauteing radish along with onion helps to reduce the strong astringent flavors of radish.
If you like raita to be more spicy, instead of using slit green chillies grind it along with coconut.
Do not use sour yogurt which may turn the raita tangy. I would recommend fresh yogurt.
https://udupi-recipes.com/2017/02/radish-raita-recipe-moolangi-mosaru-bajji.html
All the content in this website are © Copyrighted to – Udupi-Recipes