The breakfast wonder of Udupi, this cottony soft neer dosa is very much easy, quick and flexible too. This ultimate Indian crepe looks paper thin, delicate while being velvety soft to eat. Neer dosa, authentically made up of raw rice and coconut. And it appears plain, milky white with lots of holes like a lacy textile. I had been eating the same, color-less crepe for years and never thought I could even change the color. Something pretty, gorgeous and vibrant colored dosa?? Obviously food stuff becomes more appetizing and appealing when they have color factor. This concept put me in actual trials of changing color and finally the mission accomplished. So I am here with cucumber neer dosa.
Cucumber, a summer veggie is so incredible that it can elevate the deliciousness in which it is present. When cooked, the cucumber wafts out a pretty good aroma which is so strong that anyone can feel hungry. When I say cooking cucumber, it doesn't mean in the form of curry  like we do with normal vegetables. Because that way it's not even tasty. I know.
But, but cucumber when integrated with batter, say dosa or idli, it's an absolute bliss. This has been proved in cucumber sweet idli, savory idli and sweet dosa as well. Cucumber neer dosa has once again proved it right and it's a complete WIN for me.
The gorgeous green batter that is very thin, just like water is simply poured over the griddle like a layer. You can visualize it as a lacy textile with plenty of holes when on the griddle. But after cooking, the neer dosa turns delicate and soft with infused aroma of cucumber. Which is a true breakfast heaven.
My kindergartner son loved the dosa and appreciated me for making such an awesomeness. Proud Me!!!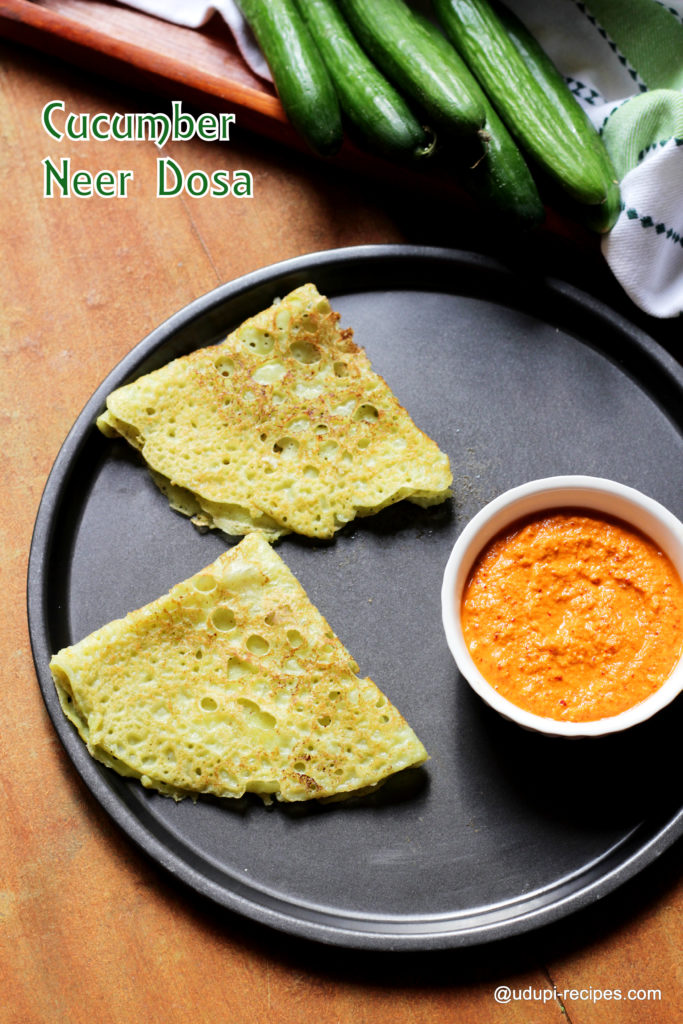 Cucumber Neer Dosa | Easy Breakfast
Ingredients
Dosa rice- 1 cup
Fresh grated coconut- 1/4 cup
Tender cucumber- 3 nos.
Salt- 1 tsp
Instructions
Preparation

Rinse the rice with enough water and soak it for about 2 hours.

Method

Under running water wash the cucumber well and chop it in to big chunks. If the cucumber is mature, scoop out all seeds and discard. Otherwise you can use the seeds too.
Next, in a blender take the drained rice, cucumber and grated coconut. Grind them together to fine puree adding water as needed. Transfer it in to a wide bowl.
The neer dosa batter should be very thin in consistency, so add some more water to get it right. When the batter is ready, heat a dosa griddle.
Grease the griddle with enough oil and as it is hot enough, pour the neer dosa batter so that it covers entire griddle. Pouring the batter as thin layer over the griddle is what makes neer dosa unique. Close the lid and let the dosa cook for about few seconds. As the edges of cucumber neer dosa loosen, using flat spatula carefully fold it in half and remove from griddle.
Continue the process with rest of the batter. Cucumber dosa is ready to serve with coconut chuntey and sambar of your choice.

Notes

Tender or immature cucumber is best suited for this recipe. If using matured ones, do not forget to discard the seeds.
The cucumber has lots of water content, so I did not use water to grind.
After grinding the batter to fine puree, include water to make it thin. The consistency should be like butter milk.
I prefer Iron griddle for neer dosa, if you are using the same grease it well with edible sesame oil.
If you are finding it difficult to remove the dosa from griddle, try greasing it with sesame oil. Because this oil helps to loosen the dosa from griddle.
Resting the batter for 20 minutes makes the neer dosa softer and softer.
https://udupi-recipes.com/2017/01/cucumber-neer-dosa-easy-breakfast.html
All the content in this website are © Copyrighted to – Udupi-Recipes