Though it's Saturday (weekend),  I am showing up with this quick post on radish chutney because it's delicious in best possible way. Weekend cooking sometimes extends till evening and I get access to my loving laptop and blog late in the evening like what is happening right now.
If you are a food blogger like me, you understand my situation. Like I usually never cook blog food on weekends as many other household chores like grocery shopping, special multi course meal for family and kids would take up all attention. And it is important too. But there are some exceptional cases like the food that I am planning to cook needs some helping hands either in kitchen or in photography, in that case cooking, clicking continues beyond the weekend break.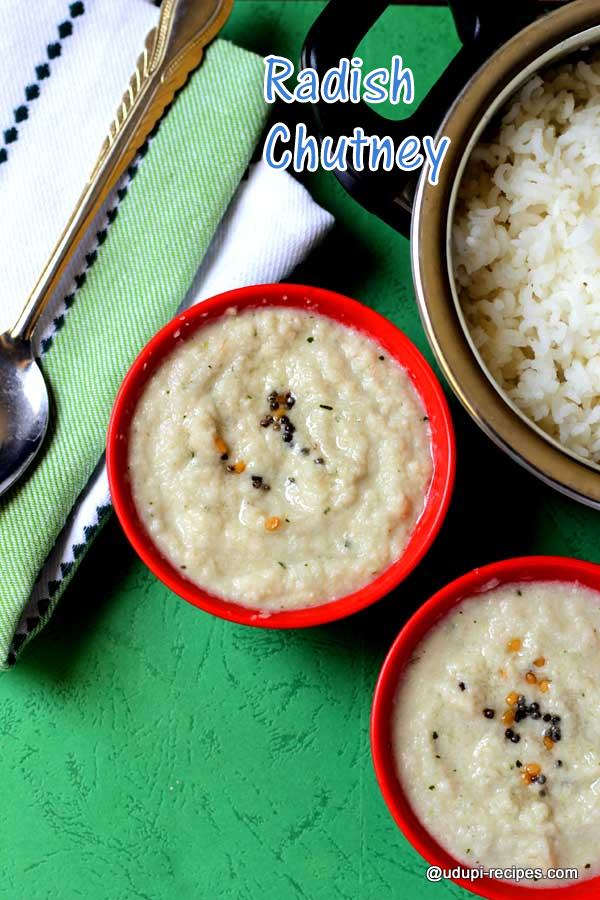 It's all fun and love towards cooking that drives me crazy some times to make a multi course meal on weekends that includes curry, stir fry, chutney plus some dessert like moong dates payasa. When everyone in the family enjoys meal, it's the warm, happy feeling that satisfies my soul and mind boosting energy for the week ahead.
Radish chutney was part of one such weekend lunch which I adore a lot because of it's delicious taste and texture. On top of that chutney never disclose what it is made of. Meaning the strong odor of veggie is almost hidden or it's so minor that you will not even notice.
When a single radish is left in the fridge and you are in a hurry to cook, this radish chutney can be very handy with no compromise in taste.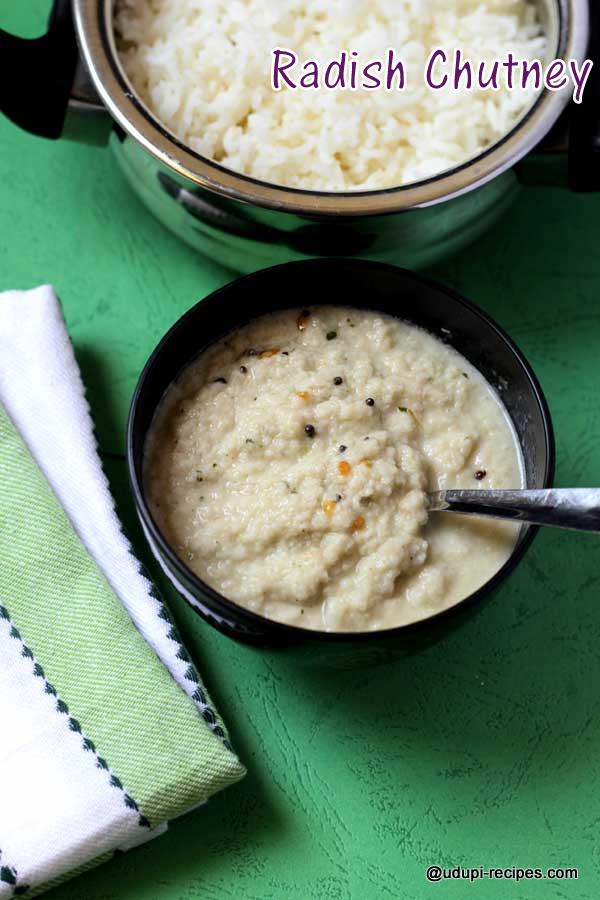 Radish Chutney | Moolangi Chutney Recipe
Ingredients
Radish slices- 1 cup (heaped)
Fresh grated coconut- 1/4 cup
Green chillies- 1 no.
Ginger- 1" piece
Tamarind- Marble sized
Salt- 1/2 tsp
Cooking oil- 2 tsp

Seasoning ingredients

Cooking oil- 1 tsp
Mustard seeds- 1/2 tsp
Split black gram lentils- 1/2 tsp
Curry leaves- Few
Instructions
Method

Heat a pan with oil, curry leaves, radish slices, green chilly and tamarind. Saute in medium flame for about 5 minutes. You will notice the radish slices turning pale, at this point switch off the flame.
Add in grated coconut to the same pan just to warm it up by the heat from pan. As it cools down to room temperature transfer it to a mixer and grind to coarse paste along with salt and little water. Transfer the chutney to a bowl.
Heat a seasoning pan with all seasoning ingredients in the order and as the mustard seeds sizzle pour it over chutney. Wonderful radish chutney is ready serve as rice side dish.

Notes

The roasting of radish slices reduces the strong odor of the veggie considerably. So saute them till they are cooked halfway.
Adjust green chillies as per your taste.
You can add asafoetida while seasoning for additional flavor.
https://udupi-recipes.com/2016/04/radish-chutney-moolangi-chutney-recipe.html
All the content in this website are © Copyrighted to – Udupi-Recipes