Let me take a moment to see how many beverage recipes I have posted in the journey of this food blog? it's just minimum. Do I really don't prepare enough drinks at home?? Have to think over. Actually everyday my super kiddo demands a juice that is plain, watery without any pulp in it like lemon juice. At least once, some times just before going to bed he remembers he didn't have his portion of juice for the day. So I always stock a dozen of lemons in my fridge to quench his thrust that can peep in at any point of time. Today I made this blissful watermelon juice to surprise him after school and he loved it very much.
Actually the laziness in me wakes up whenever delicious, naturally sweet fruit has to be converted in to juice. I hate to peel, chop and de-seed the fruits in a way to make them drink-able. But some times the fruits tend to be bland with no sweetness, which was the scenario today. I had to blend the melon with some sweetener like sugar or honey to clear the fruit off from my refrigerator shelf.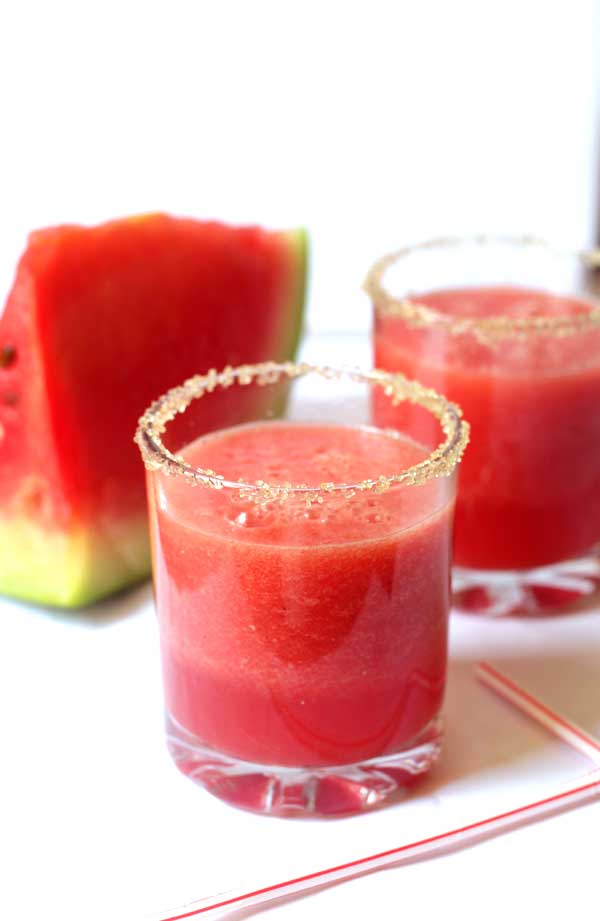 A pinch of salt and pepper enhanced the taste of this summer cooler and I truly enjoyed it as mid day drink. Watermelon juice helped me to beat the heat of summer and I completely forgot the pain of de-seeding melon. So it's worth the effort.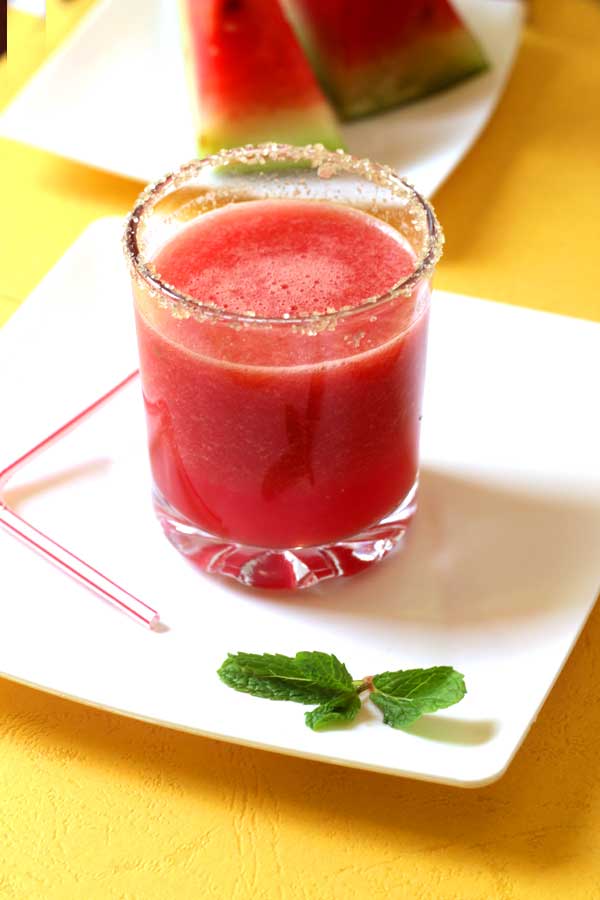 Watermelon Juice Recipe | Summer drink
Ingredients
Watermelon- half sized
Sugar - 4 tsp
Salt- 1/4 tsp
Black pepper- A pinch
Instructions
Method

Chop watermelon in to cubes and remove the seeds. Put them in a blender along with sugar, salt and pepper. Blend everything well in to fine puree.
Add some water and adjust sugar as per the desired sweetness. Pour in to glasses and serve the juice topped with ice cubes. Watermelon juice helps to beat the heat from SUN.

Notes

You can include some mint leaves while blending to enhance the flavor.
A pinch of chaat masala also gives nice twist to the juice.
https://udupi-recipes.com/2016/05/watermelon-juice-recipe-summer-drink.html
All the content in this website are © Copyrighted to – Udupi-Recipes