This ultra creamy and sugary sweet dessert named uniquely in Udupi as appi payasa or appi kheer was whipped up a couple of days ago intending to fulfill my valuable reader's request.
I sometimes drain out of idea to cook something for blog (though million things do exist in pipeline) like nothing strikes to mind as I proceed to kitchen. Like I feel no suitable veggie or fruit or ingredient or sometimes I feel a recipe doesn't really fall in to specific season/occasion. In such a dilemma,  time just flies on and I cook for REAL LIFE blaming myself for improper planning, scheduling of blog food. In such cases my dear readers whom I appreciate from the bottom of my heart are real BOON to me. Through email, Facebook and comment you readers keep in touch with me suggesting, appreciating, criticizing and requesting recipes. I owe you for all this. This post of appi kheer has emerged as reciprocal of your request.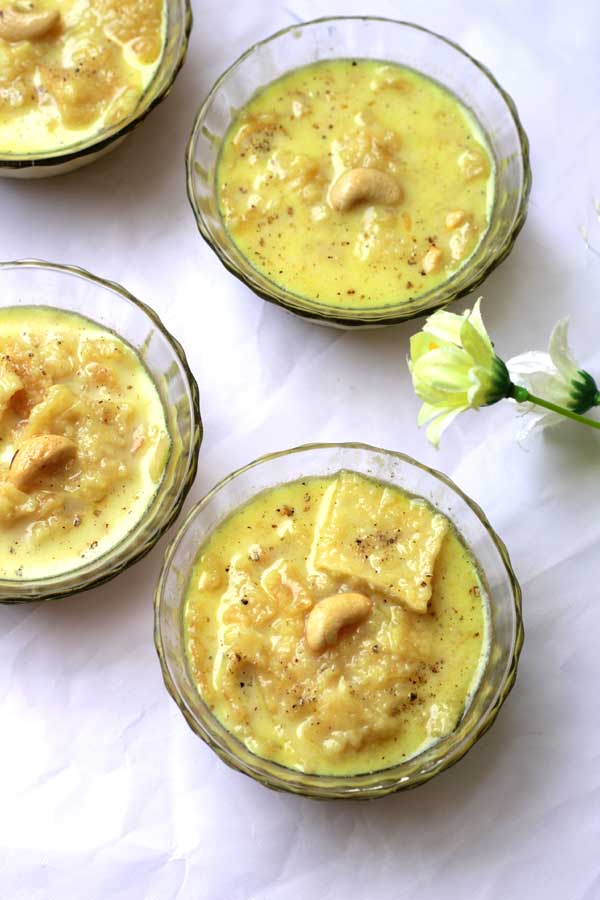 The key ingredient for this appi kheer is poori or maida biscuit prepared from scratch using maida or rava. I referred an authentic recipe book and made it using maida but you can take liberty of preparing it through rava with little or no maida flour. Either you can roll thin poori out of dough, deep fry, then crush to make bite sized pieces. Or you can directly make bite sized biscuits out of dough, deep fry and then dunk in to milk. I followed the latter.
Those who love dairy products and milk based desserts would surely fall in love with appi kheer like my daughter did. The ULTRA creamy and luscious kheer was overwhelmingly delicious and lip-smacking. Do try yourself to believe it.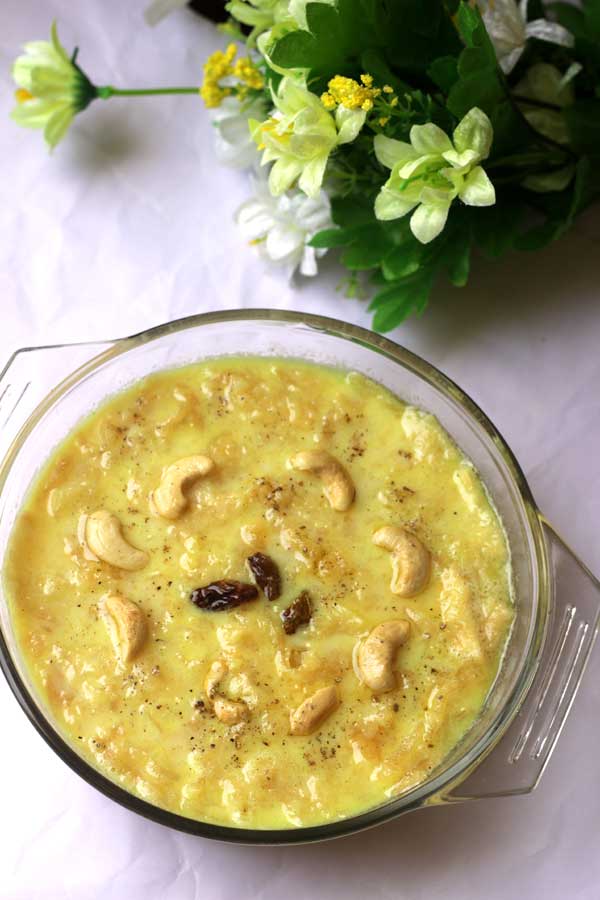 Appi Kheer | Appi Payasa | Poori Payasa Recipe
Ingredients
All purpose flour (Maida)- 3/4 cup
Milk- 1.5 litres
Sugar- 1/2 cup
Saffron strands- Few
Cardamoms- 3 no.
Salt- A pinch
Cashew + Raisins- Few
Ghee- 2 tsp (to fry dry fruits)
Cooking oil- Enough to deep fry
Instructions
Preparation

De-seed cardamoms and powder them in to fine powder.
Sieve all purpose flour and take it in to a bowl with salt. Adding water incrementally knead the flour to stiff dough. Let it rest for 15-20 minutes.

Method

Divide the dough in to 4 equal parts and roll them between your palms in to round shape. Take a dough ball and dust with enough flour, then using rolling pin roll it thin like chapati. Using biscuit roller or pizza cutter cut the maida poori in to bite sized biscuits.
Remove the maida biscuits in a plate. Meanwhile heat oil in a heavy bottom wok and deep fry the maida biscuits. Let the maida biscuits do not turn brown, remove from oil before they change color.
Next heat a pan. Add milk and let it boil over medium flame. Simmer and continue boiling till the milk reduces and becomes thick. Keep stirring every once in while to avoid . Soak saffron strands in some milk for few minutes and add it to the boiling milk. Include sugar and continue cooking.
Next crush the maida biscuit with you hands and add them to the boiling milk. Let the maida biscuits soak in cook well in milk which may take 5 minutes. Switch off.
In a seasoning pan add ghee and fry the cashews plus raisins. Garnish the appi kheer with dry fruits and cardamom powder.

Notes

You can include some chiroti rava too with maida to make the biscuits.
You can also roll the dough in to small poori and deep fry them. Later you can crush them in to small pieces to add in to kheer.
The milk should thicken and reduce through boiling itself. After adding sugar it will be bit thin.
For extra flavor and taste you can use ghee itself to deep fry the biscuits. If you are calorie conscious then switch to oil.
https://udupi-recipes.com/2016/05/appi-kheer-appi-payasa-recipe.html
All the content in this website are © Copyrighted to – Udupi-Recipes