Pancharatna Halwa <= Gorgeous, Unique  and Genuine sweet thing from Udupi.
As you open the browser window today you are welcomed by this awesome, bright looking squares that have five super foods harmoniously united with jaggery and sugar. With all the goodness of nuts this halwa tastes amazing and you hardly mess up things here.
Let me justify how this pancharatna halwa is Unique : Have you ever heard of any sweet thing that infuses two dissimilar sweeteners ( like sugar and jaggery) together in one?? It's quite uncommon to use both jaggery and sugar together right? But this halwa has both of these sugarcane products inducing their own graceful flavor and making the halwa stand out.
If you haven't noticed yet,  just look up and see the name of this dessert guys. Doesn't it sound royal and gorgeous? "Pancharatna" literally means FIVE GEMS where we are referring five nuts as gems. I appreciate the person who has named it so thoughtfully because the nuts like Cashew, Almond, Raisin, Dates and Coconut are GEMS of food world offering all the plant goodness to human.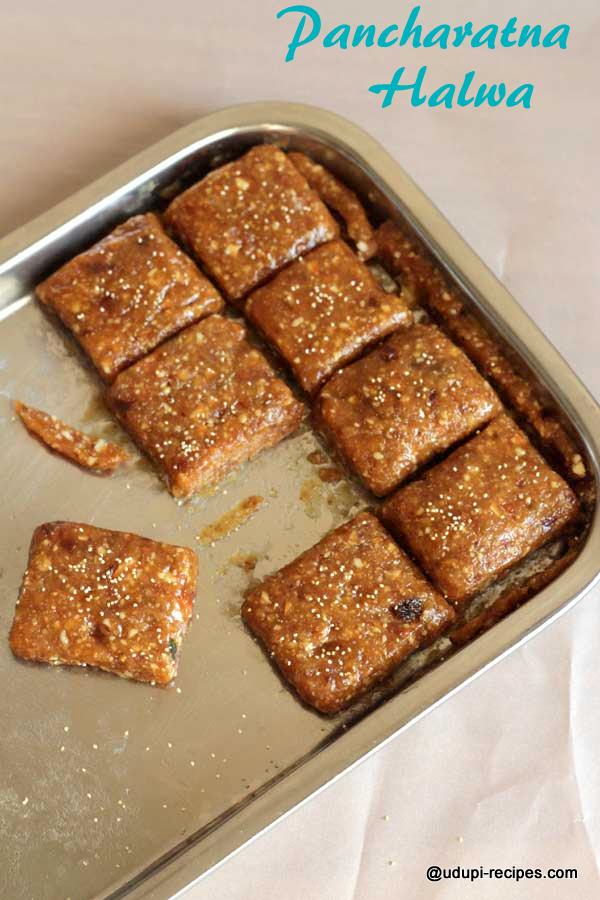 When we practically get in to pancharatna halwa situation, it starts with cooking pitted dates and raisins together with little water till they turn mushy. They are then minced to absolute puree using a mixer. Going forward it is key step of the recipe that is making syrup where we cook jaggery and sugar together with few tea spoons of water. When the syrup is of soft ball consistency (Check Notes for detailed explanation) adding dates puree, cashew+almond powder, coconut and cooking to perfection is dessert's final stage.
These golden colored cuties were so adorable, tasty and they rocked my world of desserts. It surely gets the best halwa of Diwali 2016 award and I am going to recreate this magic many times this month.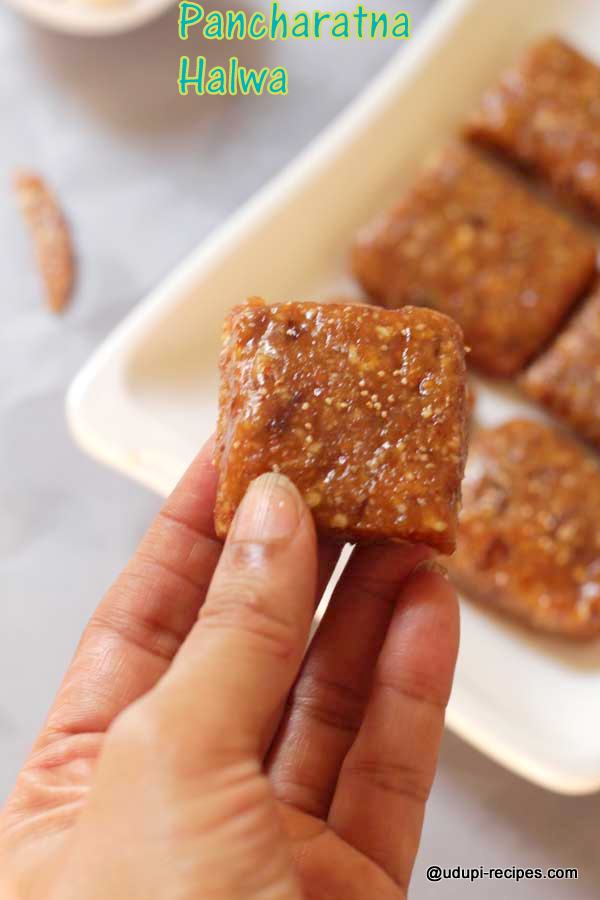 Pancharatna Halwa | Unique Recipe of Udupi
Ingredients
Dates- 15 nos.
Raisins- 1/4 cup
Jaggery powder- 1/2 cup
Sugar- 1/8 cup
Almond+Cashews- 1/3 cup
Fresh grated coconut- 1/2 cup
Ghee- 4 tsp
Poppy seeds- 2 tsp (optional)
Instructions
Preparation

Keep the dates ready by de-seeding and cleaning. Put them in a vessel along with raisins and some water. Cook them together till they turn soft and mushy. Switch off once done and let it cool.

Method

Meanwhile add almonds and cashews in to a mixer and powder them coarsely. Let there be some small chunks of nuts and do not make it fine powder. Transfer it to a plate and add cooked dates+raisins to the mixer. Grind them to fine puree.
Now all the things are ready and lets proceed to make syrup. In a cooking pan add both jaggery and sugar together. With 2 tsp of water, cook it to make syrup of soft ball consistency. The jaggery and sugar dissolve in few minutes and it starts bubbling. Keep checking the consistency by letting a drop of syrup in some water. If the syrup in water is firm and you can make soft ball out of it, then proceed to next step.
Next include coconut and cooked dates and raisins. Stir everything well and cook for few more minutes.
Then include almond plus cashew powder and stir to combine everything. Continue cooking till the mixture gathers, add ghee in between and when the halwa mix leaves the pan, switch off the flame.
Transfer the mix to ghee greased tray and let it cool down to room temperature. Later, using sharp knife mark the pieces and remove from tray. Garnish the pieces with poppy seeds if using.
Overwhelmingly delicious pancharatna halwa is ready to serve as special Diwali treat.

Notes

You can use pressure cooker to cook dates and raisins. I cooked them over stove top.
Syrup consistency is very important. If the consistency is less than soft ball, then the halwa won't hold the shape. On the other hand if it is overcooked after soft ball consistency, halwa turns little hard.
You can use almond and cashews in any proportion. I used them in the ratio of 75%:25%.
This recipe calls for more jaggery compared to sugar. Dates and raisins too contribute sweetness, so the above measurements made the halwa perfectly sweet.
https://udupi-recipes.com/2016/10/pancharatna-halwa-unique-udupi-recipe.html
All the content in this website are © Copyrighted to – Udupi-Recipes