This awesomeness of Mysore pak wouldn't have recreated in my own kitchen if not this blog. Let me be honest with you, guys. It's true. If I were a normal home maker or any other professional for that matter I wouldn't have preferred making this treat for Diwali 2016. But being a food blogger I had to face the challenge of preparing some new, skillful dessert to keep my food quest on fire.
We are almost a week away from the gorgeous light festival and from past two weeks I have been on a kick of mastering this multi-shaded, traditional Mysore pak recipe. This palatable sweet thing is quite tricky demanding basic to comprehensive cooking skills.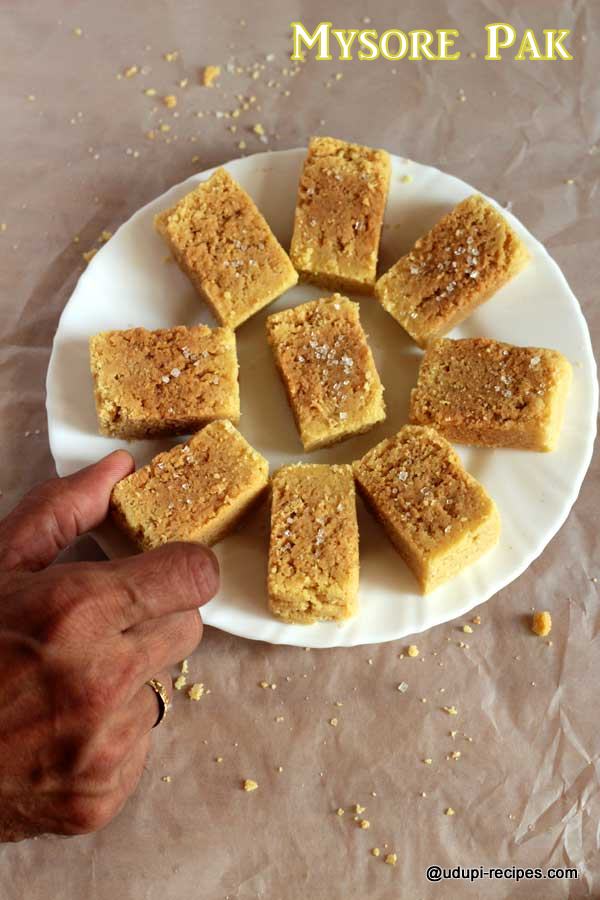 In my first trial, this wonderful dessert had turned soft like a normal burfi which doesn't even had the looks of traditional mysore pak from any angle. My own quality controlling self, didn't let me to call it with that name.
Lesson learnt: Never compromise with quantity of sugar and ghee while making Mysore pak because the gram flour requires good amount of liquids to get cooked to the perfection. And that in turn would deliver the authentic texture and color to the sweet. So no BARGAIN.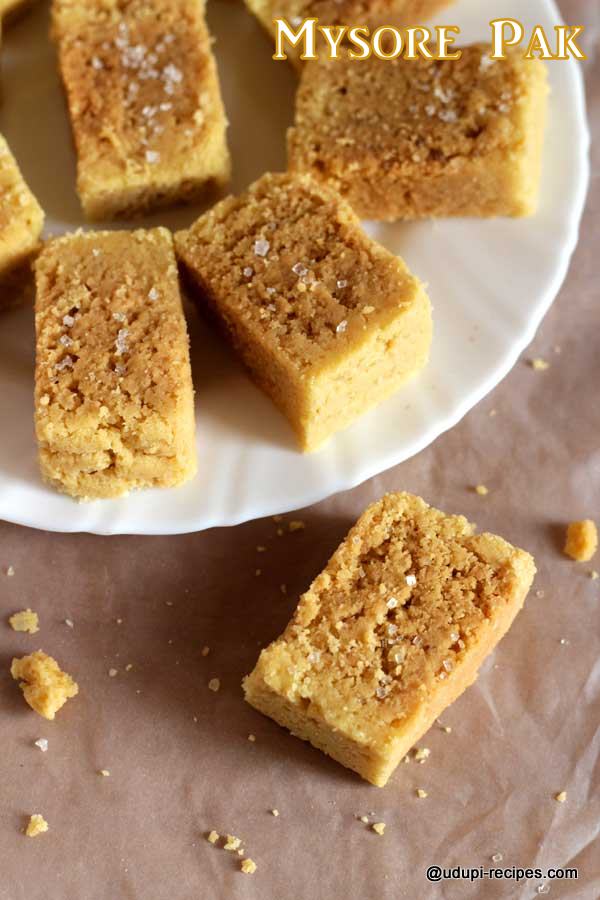 Lesson learnt from previous experience is adapted in my next attempt. So I was all set with gram flour, sugar and ghee in 1:2:2 ratio. I was just 5 minutes away from my success, it was crucial time when I had to transfer the mixture from pan to tray. But I let it cook further and it was a disaster all together. You can look below, the Mysore pak crumbled and powdered. It could never hold the shape. 🙁 . It can only be consumed in a bowl with a spoon.
Lesson learnt: When the gram flour mixture froths to the maximum and leaves extra ghee, it's right time to pour over tray. If you miss that single minute, you'll end up crumbled Mysore pak.
Takeaways from two previous trials had made me extra cautious and in the third attempt it was minute early that I poured gram flour plus sugar mixture to the tray. Though the sweet was perfect in taste, the dark shade in the middle was missing. I couldn't let this tiny mistake pass the filter of quality check. And finally decided to make a last attempt in which I succeeded to get the traditional, porous textured, multi shaded Mysore pak . Yeyyy. 🙂 🙂
Video below helps you to better understand the process. Check it.
Traditional Mysore Pak Recipe
Ingredients
Gram (Chickpea)flour- 1/2 cup
Sugar- 1 cup
Ghee - 1 cup
Water- 1/4 cup
**I have used 1 cup flour and doubled other ingredients accordingly.
Instructions
Preparation

Grease tray with ghee and keep it ready before you begin.

Method

Sieve the gram flour and keep it ready. In a heavy bottom wok add sugar and water, dissolove sugar in water and let it cook in medium flame.
As the sugar syrup cooks, it bubbles up. Keep stirring this mixture and check the consistency. Swipe the back of ladle with your finger and find out if it forms a string between thumb and index finger. If not continue cooking and checking.
When the sugar syrup reaches one string consistency, slowly add sieved gram flour. Stir, stir and stir to break lumps. Thin batter of gram flour with sugar would be formed now.
Meanwhile, take ghee in a vessel and heat it up in another stove. Include a ladle full of hot ghee in to gram flour mixture which is still cooking. The mixture froths and bubbles.
Continue the process of adding ghee and stirring. The mixture froths everytime and finally it becomes porous lump. Ghee starts separating at this stage.
Without wasting a minute, transfer the mixture in to ghee greased tray. After 5 to 10 minutes, using sharp knife, mark pieces of mysore pak. You can separate the pieces as it cools down.
Traditional mysore pak with porous texture is ready to distribute on Diwali.

Notes

Don't compromise with sugar and ghee quantity as it leads to burfi and not mysore pak.
Sugar syrup consistency is very very important, if you miss it mysore pak turns very soft like burfi.
Quality of sugar also plays vital role. Ensure the sugar gets dissolved in water first and then start cooking it. Some sugar doesn't get dissolved easily and you go wrong in deciding the one string consistency.
As you add the gram flour to syrup, it may have lumps in it. Don't worry, stir constantly to break lumps.
Ghee should be hot enough while adding to the gram flour mixture. So it's wise to keep ghee for warming up when you start cooking sugar. Do not turn it off and let it be in simmer till you finish.
It's the 30 seconds crucial time when you need to transfer the gram flour mixture to tray. If you miss that, whole mixture crumbles and it never holds shape.
A 2" depth tray is recommended for this sweet. Because when the mixture is poured in to tray, the middle portion continues to cook and it will turn to darker shade. Top and bottom portion remains in same orange shade.
https://udupi-recipes.com/2016/10/traditional-mysore-pak-recipe.html
All the content in this website are © Copyrighted to – Udupi-Recipes