Millets, tiny cereals of goodness has been in my food life since a year. I tried to cook them in most amazing and delicious form of breakfast and was super successful. My most staple food of the morning=> dosa, idli, upma, pongal can even incorporate these grains which makes me more than happy. (Warm welcome to Barnyard millet idli !!). But what disappoints me is lack of availability of millets in most supermarkets of UAE. For me, I have to drive to the grocery shop which is bit out of the way and sometimes I end up to see "Out of Stock" board hanging at the millet counter there.  So on some full moon day with best chance of luck, my trip to grocery shop ends happily with loads millet packets of all kind. I would be happy like a kid holding some unusual, rare chocolate in it's hand.
For those of you who live in India, buying millets isn't going to be difficult. It's likely to be available in most grocery shops and super markets. Ease of access to most favorite groceries is what makes our cooking life simple and straight forward. Otherwise the food love and cooking interest takes back seat.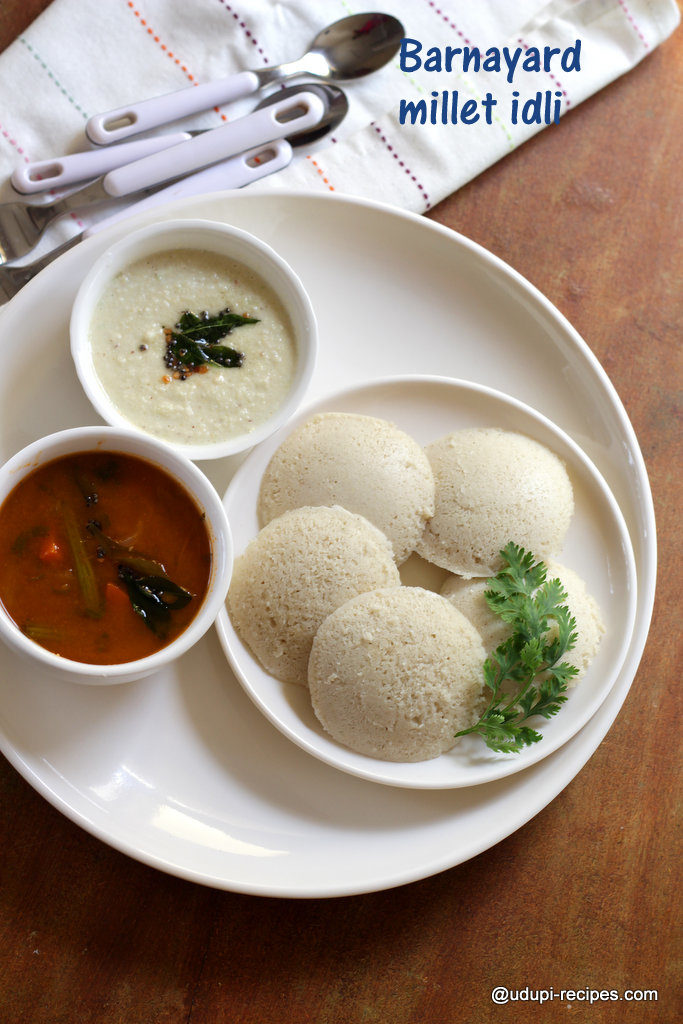 Barnyard millet idli has everything basic like it's counterpart. Lentils, fenugreek seeds and millet (as a replacement to rice). The key step in making really soft idli is grinding the lentils to perfection. When you grind the pre-soaked black gram lentils the batter should be airy, fluffy and light. Not runny!!
When rice is being replaced by millets in breakfast like this dosa and idli, it becomes diabetic friendly. So all members of the family under a roof can share and enjoy the same food with same love and affection. Food really connects family and roots become strong and solid.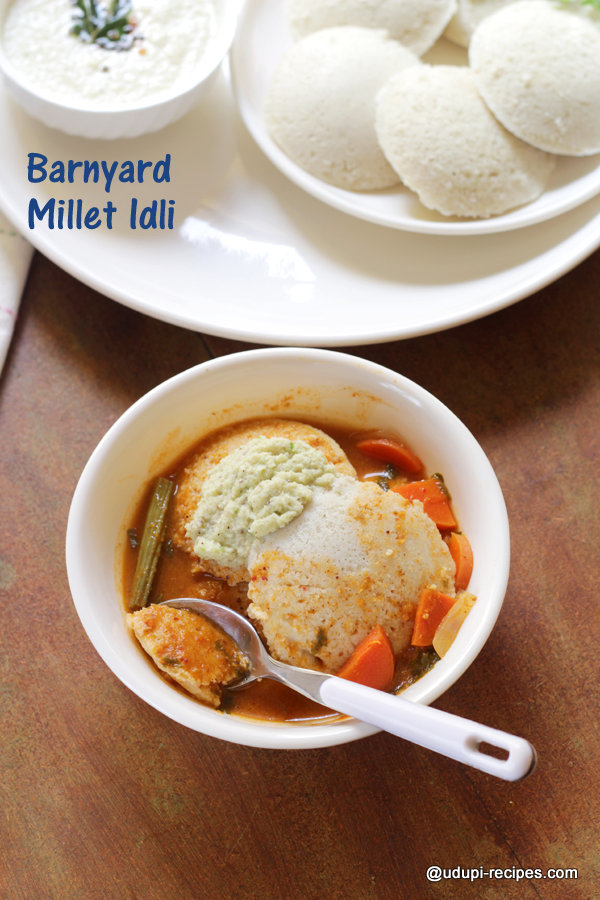 Barnyard Millet Idli Recipe | Diabetic friendly
Ingredients
Barnyard millet- 2 cups
Split black gram lentils(urad dal)- 1 cup
Fenugreek seeds- 1 tsp
Instructions
Preparation

Soak split black gram lentils and fenugreek seeds together in enough water for about 3 hours. Similarly soak the millet separately with water till immersing level for 3 hours.

Method

Rinse and drain water from soaked lentils and take them in a mixer/wet grinder. Adding water little by little incrementally grind it to fine batter. The batter should be light and airy but not runny. Use water as per the requirment of lentils.
Next, rinse and drain water from millets and add in to the mixer/wet grinder. Add little water and grind it in to bit coarse batter. Do not add much water. Mix this with lentil batter and keep it covered in warm place for about 8 to 10 hours or overnight. The batter should get fermented well.
Next day, in the morning the batter would have raised up in volume, add salt and mix it well. Grease the idli plates with oil and pour the batter in each depression and steam cook it for 20 minutes.
You can either use steamer or pressure cooker for steaming idli. If you are using cooker, then do not put whistle. Once done, keep the idli stand out for few minutes and then carefully remove it using a spoon.
Serve this healthy barnyard millet idli along with coconut chutney and tiffin sambar.

Notes

I recommend the use of wet grinder for making idli batter because it gives perfect airy batter with good volume.
I ended up using around 1.5 cups of water which varies based on the quality of lentils.
Do not use too much water to grind the millets. And grind it coarsely.
Rest the batter for good 8 to 10 hours for fermentation. Well fermented batter gives soft idli.
https://udupi-recipes.com/2017/05/barnyard-millet-idli-diabetic-friendly.html
All the content in this website are © Copyrighted to – Udupi-Recipes