Summer life and cooking doesn't seem to be a good pair. Since the day official summer has begun, my cooking seems to be not in groove. It's hard to spend hours inside the kitchen, in front of burning stove in order to structure the meals. So it's wise on my part to shorten the kitchen time to the extent possible without compromising on variety and number in food-menu. Hence my food-intelligence instructs me to choose simple, quick recipes that aren't too much time consuming but taste deliciously delicious. Like this chapati side dish potato semi gravy that I prepared today for breakfast. It was an absolute feel-good thing which relaxed and comforted me from staying inside the kitchen for long.
And it's potato, my favorite veggie. Actually potato falls in the category of defaulter veggie. Meaning, when there seems to be no veggie to cook, then cook  some potato is the option. But I don't consider it as defaulter. In fact in most of my curries I put in potato for the extra deliciousness. My little son is so fond of potatoes that every day he wants his tiffin (either dosa or chapati) to be wrapped with cooked potato stuffing. That defines my family => a true potato lover.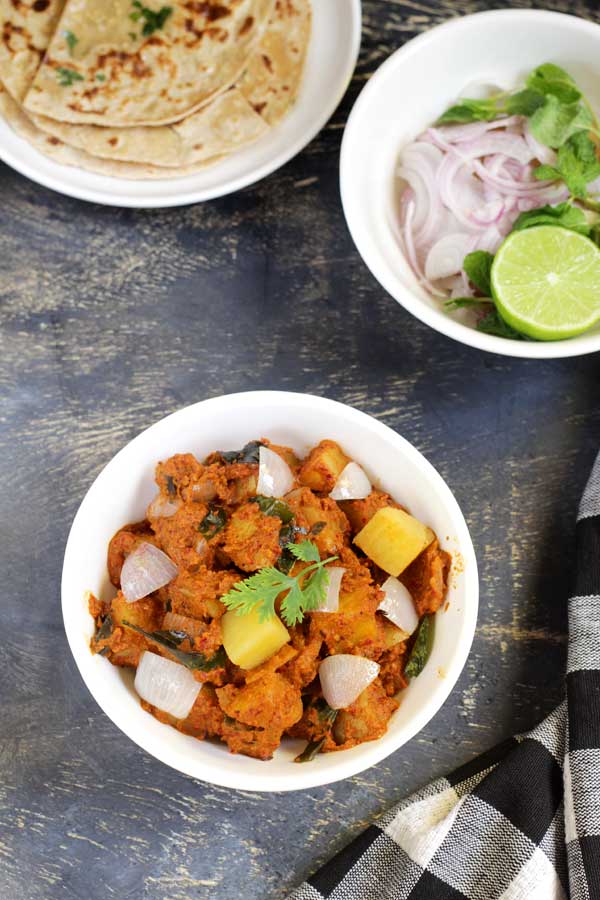 Potato semi gravy is thick, mild and pretty easy to make. It doesn't have over powering spice mix and only cinnamon, cloves and red chillies do the magic. The crunchy potato cubes dunked in spicy paste infuse the flavors and taste amazing. Overcooking the potatoes till soft isn't my way of gravy preparation. I love to feel the crunch in every bite with chapati which is just awesome feeling. I even liked the leftover gravy as a side to pair with rice-rasam.
If you are a potato lover, try it on any lazy day. You would be rewarded by yummy taste.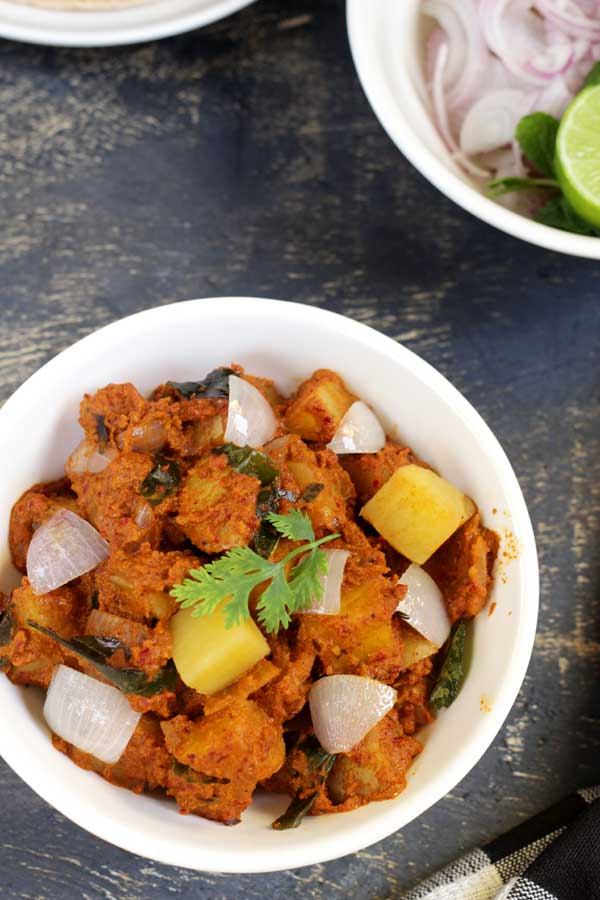 Potato Semi Gravy Recipe | Chapati Side Dish
Ingredients
Potatoes(medium sized)- 3 nos.
Onion- 1 no.
Fresh grated coconut- 1/2 cup
Chopped coriander leaves- 1/4 cup
Red chillies- 3 nos.
Cinnamon- 1" stick
Cloves- 3 nos.
Lemon- 1/2 or 1 tsp juice
Salt- 1.5 tsp or to taste
Cooking oil- 3 tsp
Instructions
Preparation

Rinse the potatoes thoroughly under water and chop in to cubes. Cook them till soft in enough water along with salt. Keep aside for later use.

Method

Peel off the onion and chop in to cube sized pieces. Next heat a pan with 2 teaspoon of oil, cinnamon and cloves.
Add in red chillies, chopped onion and saute till the onion turn translucent. When the onions are done include grated coconut and chopped coriander leaves. Saute for a while and switch off. After cooling take these ingredients in a mixer.
Grind everything together to fine puree. Heat the pan again with oil, cumin and curry leaves. Saute till the curry leaves wilt, then include ground puree.
Cook it for couple of minutes with little salt. You can include little water too at this stage, then include cooked potatoes and combine everything well. Let the potatoes absorb spices. Finally squeeze some lemon juice.
Easy and quick potato semi gravy is ready to serve with chapati or roti.

Notes

Do not cook the potatoes till very soft. Let them have the crunch.
The water to grind the spices should be minimum. Otherwise the semi-gravy turns gravy.
https://udupi-recipes.com/2017/05/potato-semi-gravy-chapati-side-dish.html
All the content in this website are © Copyrighted to – Udupi-Recipes