Today something authentic from the roots of Udupi.  A breakfast that is made from some basic ingredients like rava and rice flakes. You would find no one in Udupi who isn't aware of this unique breakfast. Because it is very popular, widespread food of the town. "Sajjige bajil" isn't a single food, it's a combination of two. Pairing the upma along with poha and calling it with it's twin name, sounds very weird right? But this combination used to be a common breakfast during ceremonies and events in the early 90's.
Today as I was plating this yummy breakfast, I had been literally transformed to my childhood. In those days whenever I had been part of marriage or thread ceremonies, I relished this unique "sajjige bajil" as morning tiffin. It used to be so much filling and scrumptious that we as kids never felt ourselves hungry till afternoon. To feed mass attendees of any celebration, cooking upma and poha was considered to be easy than any other food. It was absolutely true and real.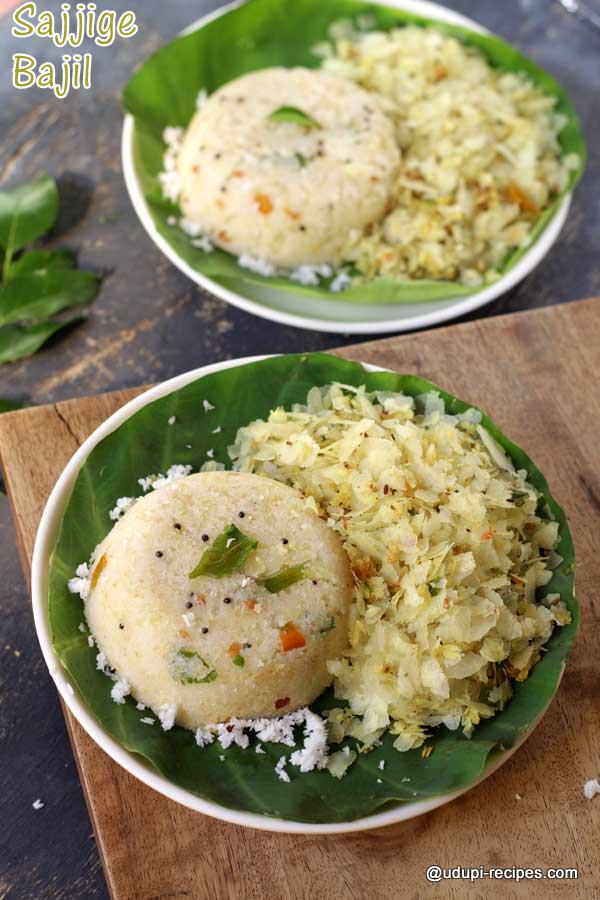 But now things have taken drastic turns. The new era of breakfast has begun. Instead of hanging on the same "Sajjige bajil" as a breakfast during celebrations, people think of some interesting idli, dosa kind of stuff. So the old tradition is obsolete. It's considered as old-fashioned and outdated one now.  The only way to be nostalgic now is to cook the traditional sajjige bajil at your home and find yourself being transformed to those days. I enjoyed the nostalgia of good old days, the memories and the feelings associated with this food. How about you? If you are like me who adores the childhood memories, then I can see you heading towards kitchen right this moment. Happily rejoicing the good memories. We are twins in this regard.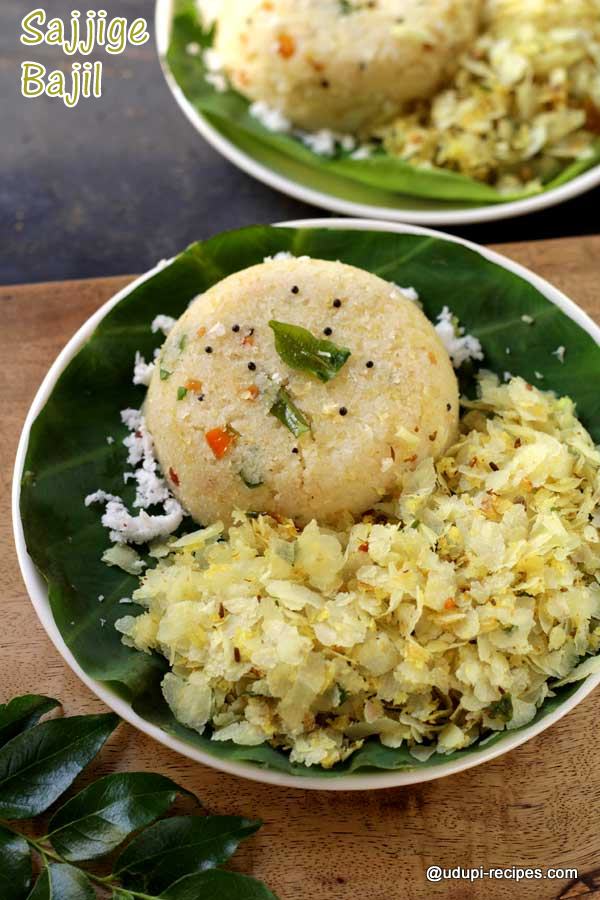 Sajjige Bajil Recipe | Upma with Poha Combo
Ingredients
Ingredients for Bajil

Thin rice flakes- 2 cups
Fresh grated coconut- 3/4 cup
Green chillies- 1 no.
Coriander seeds- 1 tsp
Cumin seeds- 1 tsp
Salt- 1/2 tsp
Jaggery- 2 tsp
Turmeric powder- 1/4 tsp

To Temper

Coconut oil- 2 tsp
Mustard seeds- 1 tsp
Split black gram lentils- 1/2 tsp
Curry leaves- Few

Ingredients for Sajjige

Medium rava- 1 cup
Green chillies- 2 nos.
Ginger- 2" piece
Salt- 1 tsp
Sugar- 1/2 tsp
Grated coconut- Handful

To temper

Cooking oil- 6 tsp
Mustard seeds- 1 tsp
Split black gram lentils- 1/2 tsp
Split chickpea lentils- 1/2 tsp
Curry leaves- Few
Instructions
Preparation

Take coriander, cumin seeds and green chilly in mortar and pestle. Crush them together coarsely and keep it aside.

Method

Next heat a pan with mustard seeds, lentils and curry leaves. Saute till the mustard splutter, then include crushed ingredients from above step. Saute for few minutes and switch off.
With pan being off the stove, add salt, turmeric powder and grated coconut. Mix well with your fingers. Then add jaggery and give a quick mix.
Finally include rice flakes and combine eveything well. Bajil is ready.
To make upma(Sajjige), heat a pan with oil, mustard seeds, black gram lentils and chickpea lentils. Saute till the lentils turn brown. Next add finely chopped ginger, green chilles and saute.
Next add rava(sooji) and roast it in medium flame for about 5 minutes. When done add salt and sugar.
Keeping the flame at low, include 2 cups of boiling water and let the rava cook. Finally garnish with fresh grated coconut and switch off.
Very popular breakfast of Udupi, sajjige-bajil is ready to serve along with a cup of hot coffee.

Notes

Sauteing the crushed spices in tempering helps to increase shelf life of bajil(poha).
The rava upma(sajjige) is prepared in it's basic form with just ginger and green chillies. If you prefer, you can include some veggies too.
https://udupi-recipes.com/2017/05/sajjige-bajil-recipe.html
All the content in this website are © Copyrighted to – Udupi-Recipes