My vision for summer delights haven't yet come to an end. Because I am living in this world of SUN i.e UAE and Summer would any way continue here till September. And we the expats living here never find shortage of scorching heat, in fact it's overly excess. So positively  I can utilize the SUN to prepare fryum and papad in most months of the year. But having said that, I wouldn't be able to post those recipes as and when I make them. Because with the interests of my audience who are majorly from India, I choose to post summer treats only during APRIL and MAY to be appropriate with the weather of mother-land. This is what expected from a food blogger from audience's perspective. Isn't it guys? After those pretty rava fryums, I made these vibrant carrot papad that need no words of awesomeness. The picture defines itself.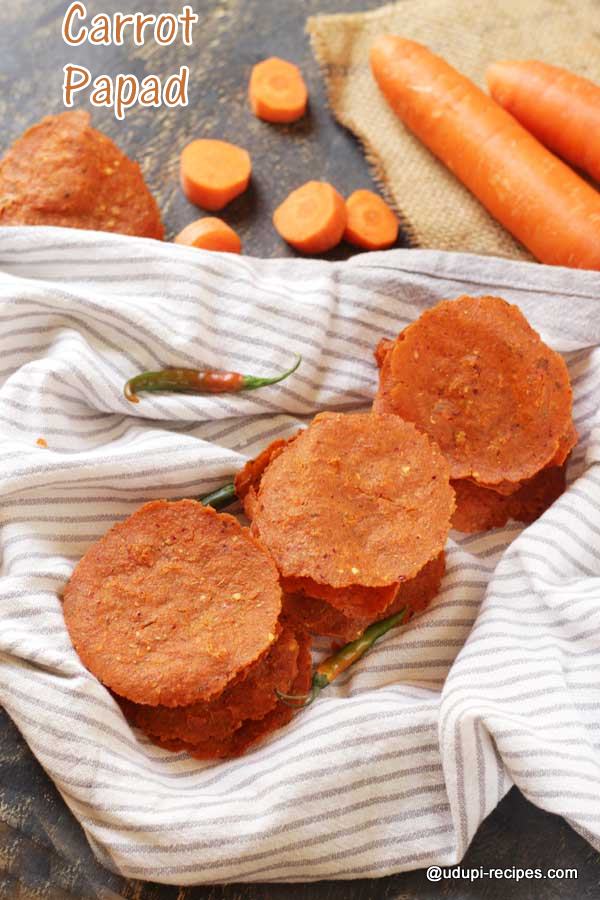 The beauty of vegetable is from it's color and carrot infuses it's color to any stuff that it's in. You can make your meals colorful and appealing through such veggies. It makes us appetizing and offers all the goodness too. I soaked up uncooked rice and ground it to fine puree. The veggie chosen is carrot which is cooked and ground too. The carrot puree along with few spices mix up with smooth batter of rice. As you cook the batter it comes together like a mass and takes dough form. Which is nothing but carrot papad dough.
The papad maker comes to picture when you press balls of dough in to papad. It comes out like a clean, pretty disc which you can dry up outdoors for few days. And you are all done with a batch of carrot papad which helps to serve a colorful, appetizing platter for your family.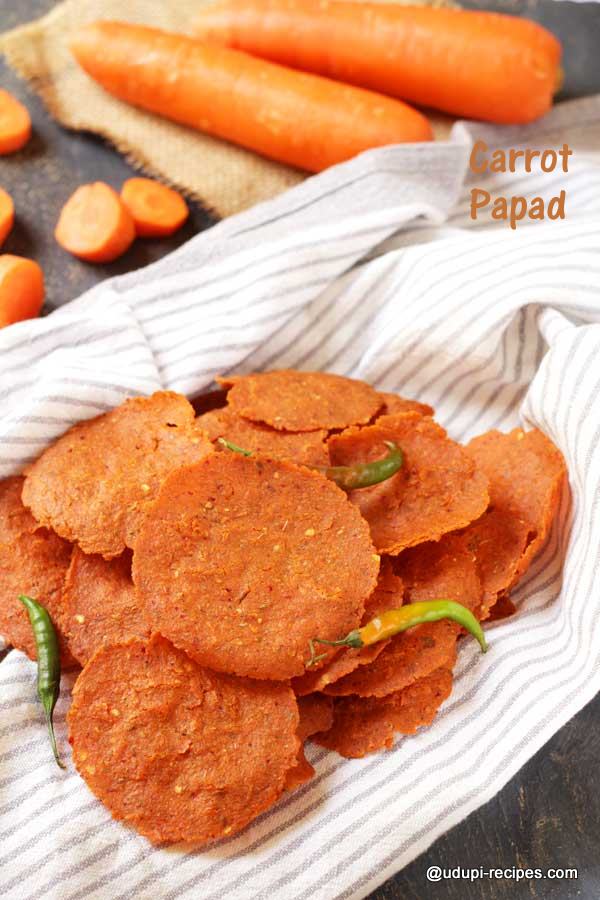 Carrot Papad | Carrot Happala Recipe
Ingredients
Uncooked rice- 1/2 cup
Carrot- 2 nos.
Salt- 1 tsp
Cumin seeds- 1 tsp
Red chillies- 3 nos.
Curry leaves- Few
Instructions
Preparation

Rinse and soak rice in enough water for about 2 to 3 hours. And pressure cook the carrots for about 3 whistles and in simmer 5 minutes.

Method

As cooked carrots cool down to room temperature, cut in to pieces and grind to fine puree. Add water for ease of grinding.
Next grind the soaked and drained rice along with half cup of water to very smooth paste. Transfer it to a wide pan. Add salt and mix.
Next it is the turn of spices to be powdered. Take red chillies, cumin and curry leaves in a mixer and grind together to coarse powder. Transfer it also to the same pan.
Pour the ground carrot puree as well to the pan and start cooking the same in medium flame. Keep stirring as you cook and after few minutes the batter comes together as dough. Switch off the flame.
When your palm can bear the heat of dough, make lemon sized balls. Keep oil greased polythene sheet over the papad making press with a dough ball and cover it with one more polythene sheet. Then press to get evenly rolled papad.
Transfer the rolled papad from polythene sheet to a clean cotton cloth. Repeat the process till the dough gets over. Sun dry these papad for at least 2 to 3 days or till they are absolutely moisture free.
As papad dry up, store them in airtight container and deep fry them as needed to relish it as side with your favorite rice.

Notes

Grind rice very finely and it should be very thin too.
When you mix rice batter with carrot puree, the consistency should be like dosa batter. So adjust water accordingly.
These papad don't stick over cloth, you can easily remove them as they get dried up.
https://udupi-recipes.com/2017/05/carrot-papad-carrot-happala-recipe.html
All the content in this website are © Copyrighted to – Udupi-Recipes