Summer and mangoes are just synonym to one another. Which is why I get to have loads of mangoes at home when sunshine is steaming through my window. While most of the mangoes find their way in to my kids tiffin box as snack, I keep few for innovative desserts. Remember mango vermicelli kheer? Mango always takes the dessert in which it is in to the next level of deliciousness. And the king of fruits work amazingly awesome in color department. Meaning the food with mango looks beautifully awesome in the eyes of camera. Do I need to have any more reasons to cook a dessert using mango? Nope. The creamy mango rice kheer happened just like that to get hold of such an photo friendly, mouth watering dessert.
Mango rice kheer is all about milk, mango and rice. Rich flavors of basmati rice always gives me dessert-y feelings and I love it in this kheer. The rice gets cooked to the perfection in full fat milk until almost mushy in pressure cooker. I give credits to pressure cooking in this regard because on stove top you need to stir till it cooks otherwise rice can easily stick to the bottom and burn. Even subtle amount of smok-y flavor can ruin the taste of this kheer.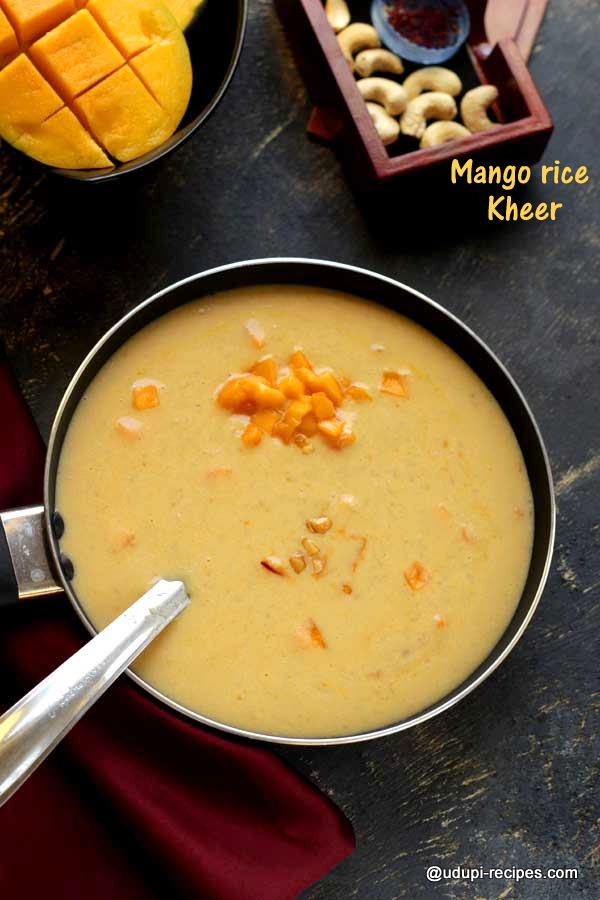 Mango which is less fibrous and lusciously sweet would be best for this dessert because it is this fruit that makes the kheer drool-worthy sweet. Otherwise you may have to use more sugar in order to bring sweetness in it. A word of caution is not to add mango puree to the kheer when it is still hot. Because little tang in mango can curdle the milk. So relax and wait for the kheer to cool down before tossing mango in it.
The perfectly cooked rice infuses richness of milk, sweetness of sugar plus mango and flavors from saffron, cardamom powder. Absolutely scrumptious dessert of the season!!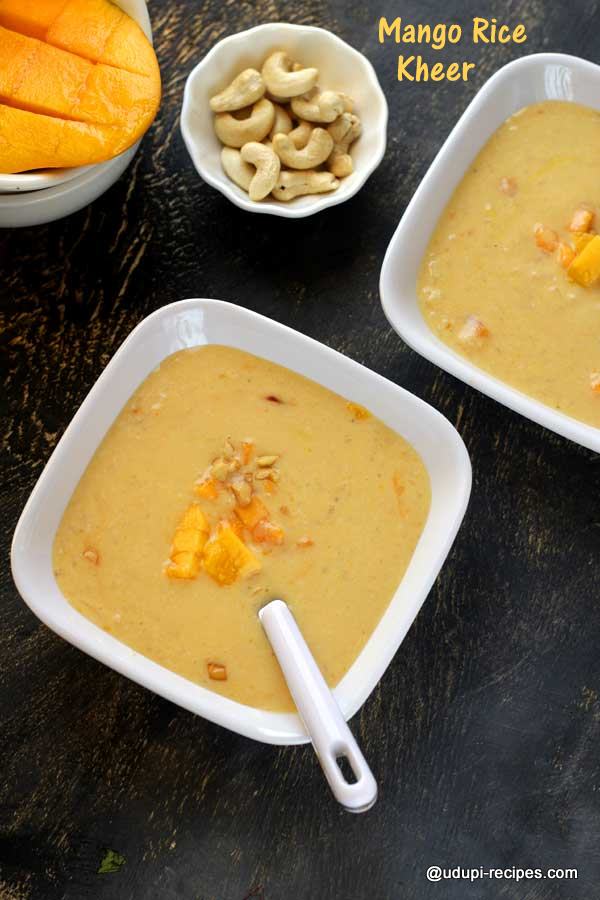 Mango Rice Kheer Recipe | Wonderful Dessert
Ingredients
Ripe mango- 1 or 1/2 cup pulp
Uncooked basmati rice- 1/8 cup
Milk- 2 cups(1/2 litre)
Sugar- 1/8 cup or to taste
Saffron strands- Few
Cardamom powder- 1/8 tsp
Cashews- Few
Ghee- 2 tsp
Mango cubes - Few to garnish
Instructions
Method

Heat a teaspoon of ghee in a pan and saute the rice in it for few seconds. Do not overdo, let the rice infuse the ghee. Transfer it to a vessel.
Add a cup of milk to the rice and also keep a spoon inside the vessel. This prevents milk from overflowing.
Cover the vessel with a plate and place it inside the cooker. Pressure cook for 3 whistles and 5 minute in simmer.
Meanwhile peel off the mango and chop it in to chunks. Grind them in mixer in to fine puree. Measure half cup and keep aside.
When pressure from cooker subsides, the rice would have cooked soft in milk. Now remove the spoon and transfer it to a cooking pan. Add rest of the milk and let it cook in medium flame.
Soak saffron strands in little milk for few minutes and add it to the kheer. Let the kheer thicken in simmer.
Next add sugar, cardmom powder and continue cooking in simmer for few more minutes. Switch off once done. When the rice kheer cools down to room temperature, add mango puree and mix.
Finally garnish mango rice kheer with ghee roasted cashews and mango cubes. Serve hot or cold.

Notes

While roasting rice, ensure it's not burnt. It may ruin the taste.
Adjust sweetness according to mango. If the mango itself is more sweet, then less sugar is sufficient.
Do not add mango puree when the kheer is still hot. Let it cool down. Otherwise it may curdle the milk.
The kheer would turn thick with time, so switch off when the kheer is still in running consistency.
When serving if it is thick, add some warm milk and serve.
https://udupi-recipes.com/2017/05/mango-rice-kheer-recipe.html
All the content in this website are © Copyrighted to – Udupi-Recipes