It's life at the mid of May 2017. It's that time of the year when you find heaps of ripe mangoes in the super market with no traces of raw ones. Even though you happen to get few raw mangoes, they seem to be raw from outside. But internally they would have already ripened meaning turned sweet. So such raw mangoes wouldn't be appropriate for long lasting pickle. But believe me, life has thrown some really good, sour raw mangoes at me right in the middle of May. You can see happy me. As the mangoes got in to my shopping cart, my mind began scheming for some yummy recipes. I had to suppress the ideas that were pitching in just because there was a real demand for pickle. This instant mango pickle has been whipped up to fulfill the pickle emergency.
I usually stock pickles of various kind just to meet the year-long needs of pickle. Most of these would be from my mother and Aunt who lovingly pack those precious stuff for me. Mother gifted tender mango pickle which was in stock for the last 9 months has been cleared off recently. So these sour raw mangoes had to be transformed in to cut mango pickle that can last at least for a month. Before the long lasting one, I made this instant one in real quick pace.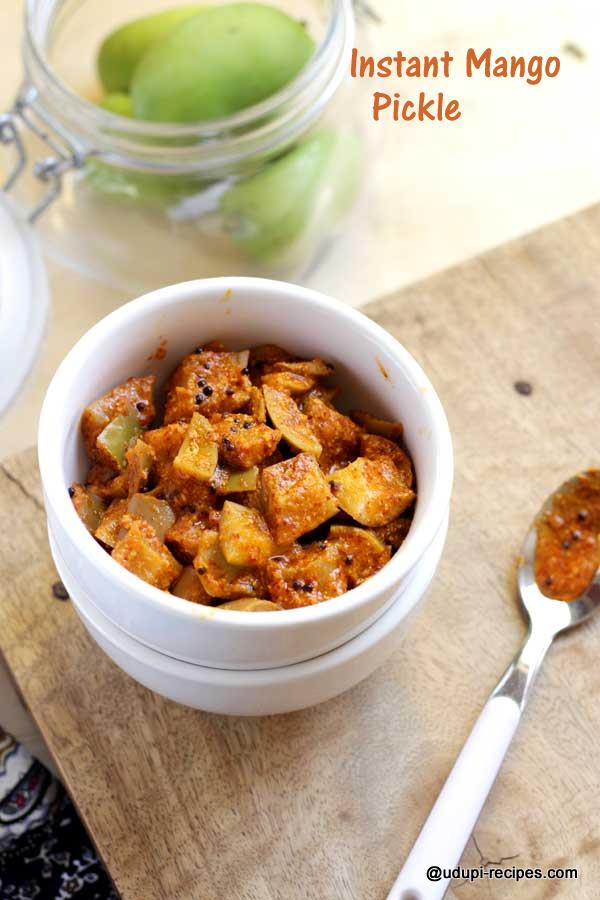 Instant pickles have always been a boon when you have no time for prolonged pickling process. When your every day meals do not part from pickle and your stock of pickle is no longer available, then instant version works at it's best. I loved this instant mango pickle which happened in just 20 minutes with minimum ingredients. Though it's instant, I recommend keeping the pickle jar under SUN for a day or two. SUN makes the mango cubes absorb all the spices and turn soft.  Try this version of pickle if you are a real pickle lover.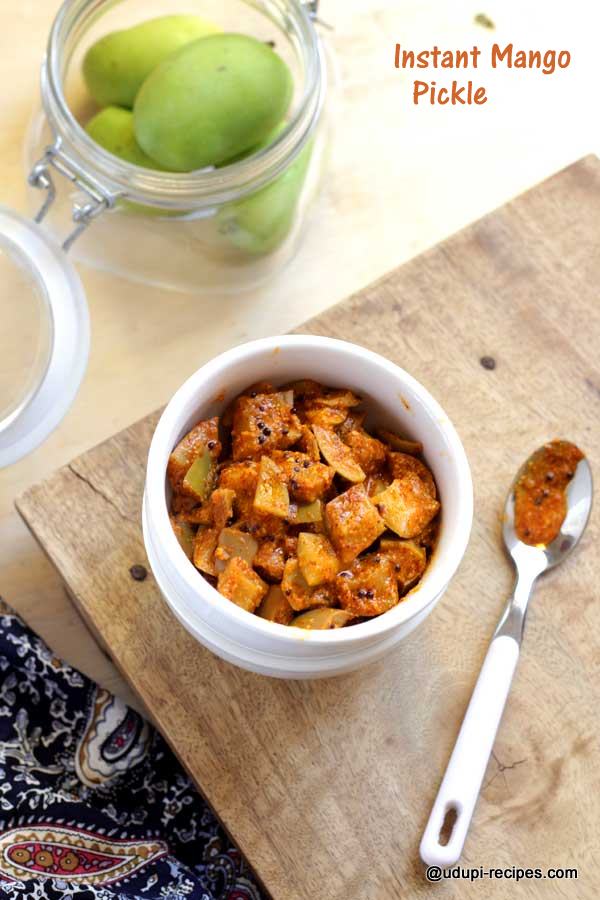 Instant Mango Pickle Recipe
Ingredients
Raw mango(medium sized)- 4 to 5 nos.
Salt- 2 to 2.5 tsp
Mustard seeds- 1.5 tsp
Fenugreek seeds- 1/2 tsp
Red chilly powder- 3 tsp
Instructions
Method

Wash and pat dry the mangoes using kitchen towel. Any moisture left out can reduce life of the pickle. So it is important to ensure that the mangoes are completely dry. Then cut them in to medium sized cubes discarding the seed. Take mustard and fenugreek seeds in a mixer and powder it together.
Next heat a pan with tempering ingredients (oil and mustard seeds), as the the mustard seeds crackle, include mango cubes. Saute for few minutes.
Mango cubes turn pale and soft. Now add powdered mustard plus fenugreek seeds, salt and chilly powder. Combine everything well so that spices coat the mango cubes. Switch off and let it cool down.
Rest this pickle in air tight container for a day or two and then start consuming. The pickle lasts for a week.

Notes

The first word of caution while preparing pickle is all the utensils, spoon, knife, container, cutting board should be completely dry and moisture free. Even a bit of moisture may spoil pickle.
If handled properly this pickle can last for a week.
You can add little asafoetida and turmeric powder too.
Do not cook the mangoes till mushy. It doesn't taste good.
After pickling, you can keep the pickle-jar under SUN for better taste.
https://udupi-recipes.com/2017/05/instant-mango-pickle-recipe.html
All the content in this website are © Copyrighted to – Udupi-Recipes