Sweet corn is my family's best friend and so we store a pack of it in the freezer on most days. The sweet and juicy corn has all the potential to be a wonderful snack like this sweet corn chaat. And it happens every time my little kindergartner asks for "something to eat" intermittently. Because my mom-y mind always schemes for some healthy things as snack for kid's such untimely hunger craves. Just boiling sweet corn in water for few seconds and seasoning it with salt and pepper with a dollop of butter would also serve the kids as after school snack. Sounds so much good, wonderful and healthy. Isn't it? Thank you sweet corn for being so generous just like that. But today I am presenting sweet corn kurma which is equally wonderful as a side dish with chapati.
When creativity runs wild in your mind, making variations and bringing in kurma in new form is very much enjoying. Like the way I did here. Sweet corn kurma has fennel seeds as most flavor infusing spice. It is ground with coconut, tomato, green chillies in a smooth puree form. This forms the basic thickening agent of this kurma. You can either use fresh grated coconut or desiccated one, both taste equally good.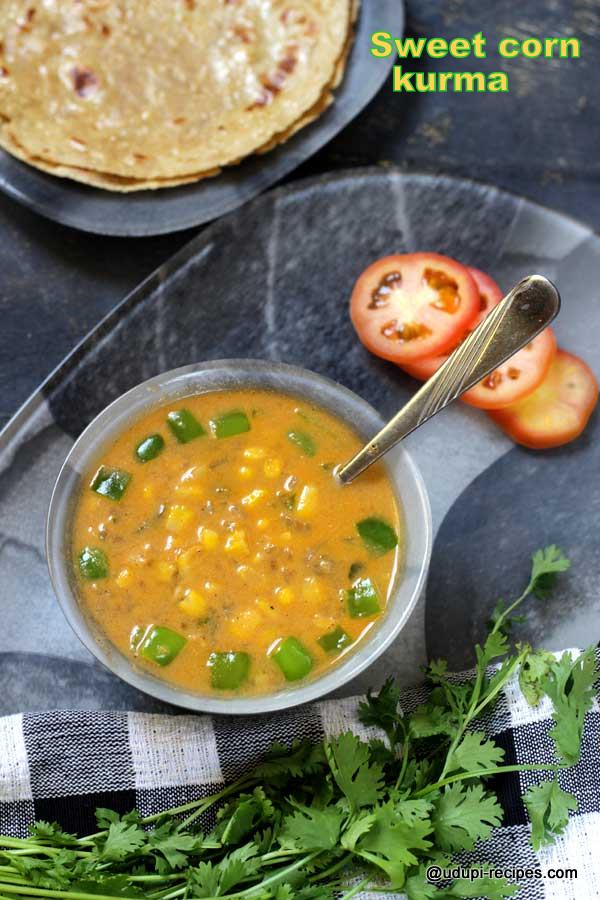 The sweet corn, which is sweet by nature has to harmoniously combine with other tastes like sour, spice and salt. Which is why I have used tomato and green chillies plus red chilly powder both. Because after all it is a chapati side dish which is suppose to be little spicy to my mouth. I cannot wind up without the mention of capsicum here. Capsicum which is simply roasted in pan for few seconds and topped over the kurma is absolutely delicious. Because it still has the crunch and hasn't turned soggy. Amazing!! Try yourself to believe.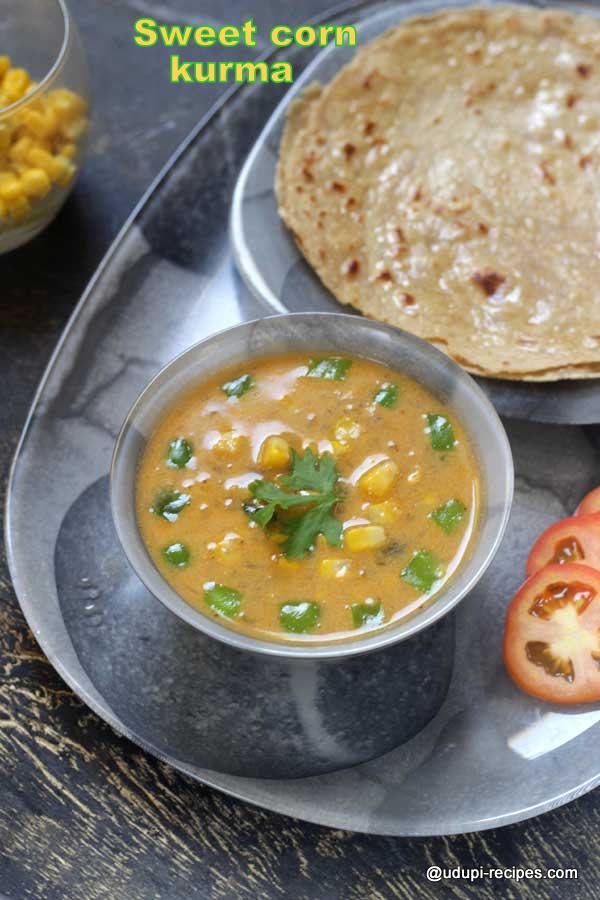 Sweet Corn Kurma | Easy Chapati Side Dish
Ingredients
Sweet corn- 1 cup
Coconut or desiccated coconut- 1/2 cup
Onion- 1 no.
Tomato- 1 no.
Capsicum- 1 no.
Salt- 1 tsp
Fennel seeds- 1/2 tsp
Chopped ginger- 1 tsp
Chopped garlic- 1/2 tsp
Garam masala- 1/2 tsp
Red chilly powder- 1/2 tsp
Instructions
Preparation

Take sweet corn in a pan adding water till immersing level. Bring it boil and cook for few seconds. Strain them using a fine strainer and keep it ready till use.
Peel off the onion and chop it finely. Similarly chop the tomato and capsicum in to medium sized chunks. Set aside till use.

Method

Heat the pan again with desiccated coconut and roast them in medium flame till it gets bit warm. Transfer it to a plate. Heat the pan back with chopped tomatoes and green chillies. Roast till the tomatoes get mushy.
In a mixer grind the roasted desiccated coconut, tomato, green chilles along with fennel seeds. Add water for ease of grinding and make fine puree. Put the pan back on stove with little oil and chopped capsicum. Saute for few seconds and transfer it to plate.
Next heat pan with oil, cumin seeds and curry leaves. Saute for a while. Next add chopped onion and continu sauteing till they turn translucent. Add chopped ginger, garlic and saute them too.
Include ground puree from step 2. Add some water, red chilly powder, garam masala and salt. Mix and bring it to boil. Finally add cooked sweet corn.
Let the sweet corn cook and absorb all the flavors. This may take another 5 to 6 minutes. As a last step top the kurma with roasted capsicum.
Sweet corn kurma is ready to serve with chapati or roti.

Notes

Sweet corn should cook till soft but not mushy. As it gets cooked fast, ensure it doesn't turn mushy.
You can use either desiccated coconut or fresh coconut. Both taste good.
Adjust spicy-ness, as both green chilly and red chilly powder are used.
Capsicum tastes good when it is still crisp. Do not cook the kurma for long after adding capsicum.
https://udupi-recipes.com/2017/07/sweet-corn-kurma-easy-chapati-side-dish.html
All the content in this website are © Copyrighted to – Udupi-Recipes