This jackfruit seeds rasam or halasina beejada saaru is going to be master recipe of the year. Because it is too magical in taste department. Even the absence of lentils in this recipe doesn't make you feel like something is missing. Jackfruit seeds has got the properties to make the rasam rich creamy and thick. An authentic taste, look and feel is what I appreciate much in this rasam. In fact, the deliciousness stands out bringing in the rustic taste from the land of Udupi I would say.  Otherwise I wouldn't have cooked it for two days in a row.
Yesterday when I made it for the first time as accompaniment with rice, everyone became big fan of it. Everyone licked clean their plates and the rasam cleared off in the afternoon itself. Nothing left for the dinner. But I felt the longings or desire to relish the jackfruit seeds rasam hasn't reached satisfying level. So the next day (i.e today) it started all over again but this time with camera held ON the recipe. Yes, it became food for blog.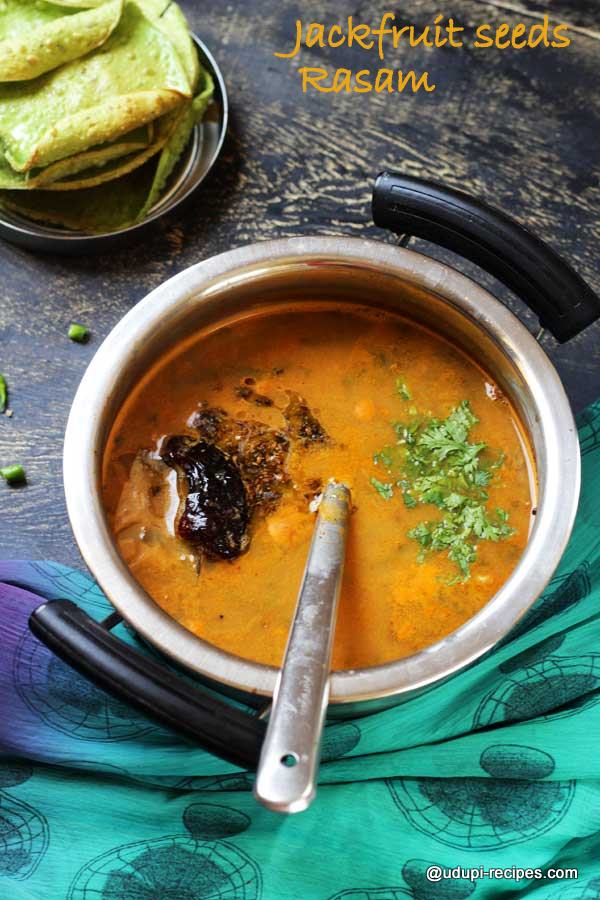 If I pause for a while and look back, how the mere thought of converting jackfruit seeds in to rasam would have emerged in our ancestor's mind? I feel amazed. It must have been Monsoon season when this rasam must have taken birth. Because in coastal Karnataka, rain is too terrific on some days with gushing water on roads. Probably all social activities would come to a stagnant and still pace on such days. But the home maker has the responsibility to feed all the men and kids at home with a satisfying meal. That is when she finds jackfruit seeds stored at the counter and decides to convert it in to rasam. And it turns out extremely delicious. I salute our ancestors for such cooking intelligence.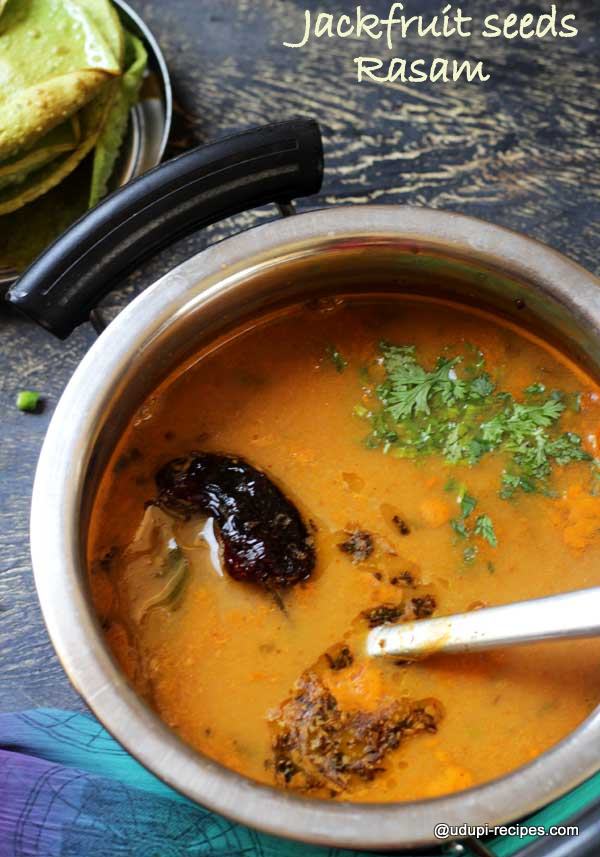 Jackfruit Seeds Rasam | Genuine Recipe
Ingredients
Jackfruit seeds- 15-20 nos.
Tamarind- Lemon sized
Turmeric powder- 1/4 tsp
Green chillies- 2 nos.
Jaggery- Marble sized
Rasam powder- 4 tsp
Fresh grated coconut- 1/4 cup
Fresh coriander leaves- Handful

To temper

Cooking oil- 3 tsp
Mustard seeds- 1/2 tsp
Cumin seeds- 1/2 tsp
Red chilly- 1 no.
Curry leaves- Few
Asafoetida- a pinch
Instructions
Preparation

Soak tamarind in 1/4 cup of water for about 15 minutes. Extract it's juice and discard the residue.
Peel off the white skin from jackfruit seeds, pressure cook them till soft adding water as necessary. I cooked them for whistles. Let the pressure subside.

Method

Next, peel the brown skin from cooked jackfruit seeds. Take them in a blender/mixer jar.
Initially, whirl up the mixer so that jackfruit seeds blend to paste. Then include a cup of water and grind them in to puree of pouring consistency. Transfer this puree in to a cooking pan.
Next add tamarind extract, slit green chillies, turmeric powder, curry leaves and enough water. Combine well and cook this in medium flame.
Meanwhile, take the fresh coconut in a mixer along with 1/4 cup water and grind to fine puree. Strain and squeeze this puree to get a cup of coconut milk.
Add this coconut milk, salt and rasam powder to the boiling rasam.
Let the rasam boil for few seconds and infuse all the flavors. Throw in some finely chopped coriander leaves now.
Finally heat a seasoning pan with oil, mustard seeds, cumin seeds, red chilly, curry leaves and asafoetida. Let them sizzle and then transfer it over rasam.

Notes

If the jackfruit seeds are old and hard, soak them in water for few hours or overnight. So that they turn soft to cook.
Discard the seeds that are black which may make the rasam taste bitter.
Make sure the cooked jackfruit seeds are pureed evenly with no lumps.
Coconut milk takes the rasam to next level of deliciousness. So do not skip it.
I have used home made rasam powder, you can use any store bought one.
https://udupi-recipes.com/2017/07/jackfruit-seeds-rasam-genuine-recipe.html
All the content in this website are © Copyrighted to – Udupi-Recipes