The history of uniquely making halbai  using a new ingredient every year has been my passion. If you are following me since few years, then you would definitely know this. Wearing a creative hat and bringing in some fresh look and taste to the traditional recipes is quite fascinating. And it is how my life pattern looks like. So as festival lines up, it's indication for me to get serious about finding new ways to make the authentic recipes in new avatar. For the upcoming festival that is Nagarapanchami, I am presenting this intense brown ragi halbai. This year finger millet is replacing the traditional ingredient i.e Rice in the process of making halbai. How does that sound to you? Trust me it's super fantastically delicious.
The pictures below justify the fact that, ragi halbai is just like halwa in food appearance and photography department. Though I am not able to let you taste the deliciousness of this halbai right away, I am trying to convince you the same through pictures. The intense brown color, sharp edges and the texture of this sweet thing is captured beautifully to the extent possible to convince you the worthy-ness. Because as you make them, your mouth would thank you for the amazing sweet gift.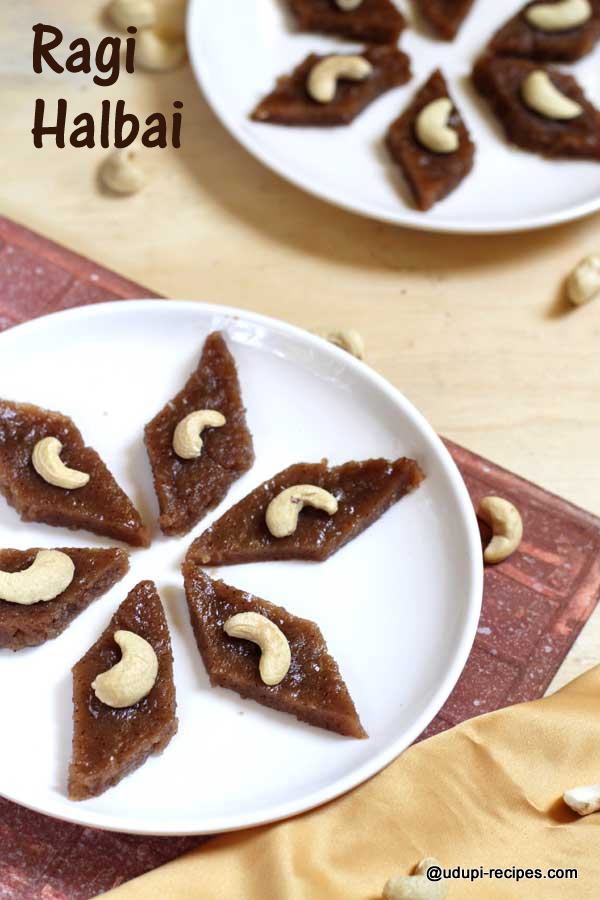 Plan for this genuine halbai on the upcoming festival and feel the difference. I mentioned "plan" because you have to pre-soak finger millet for some good hours. Minimum 3 to 4 hours is quite essential or you can soak it overnight too. The well soaked millets then ground to perfection, squeezed to extract it's milk. This extracted milk then gets over stove to cook with jaggery. In this cooking process the finger millet milk thickens to glossy dough. Finally the dough is flattened and cut in to pieces. My stock of ragi halbai pieces emptied in a day. How about yours? Let me know.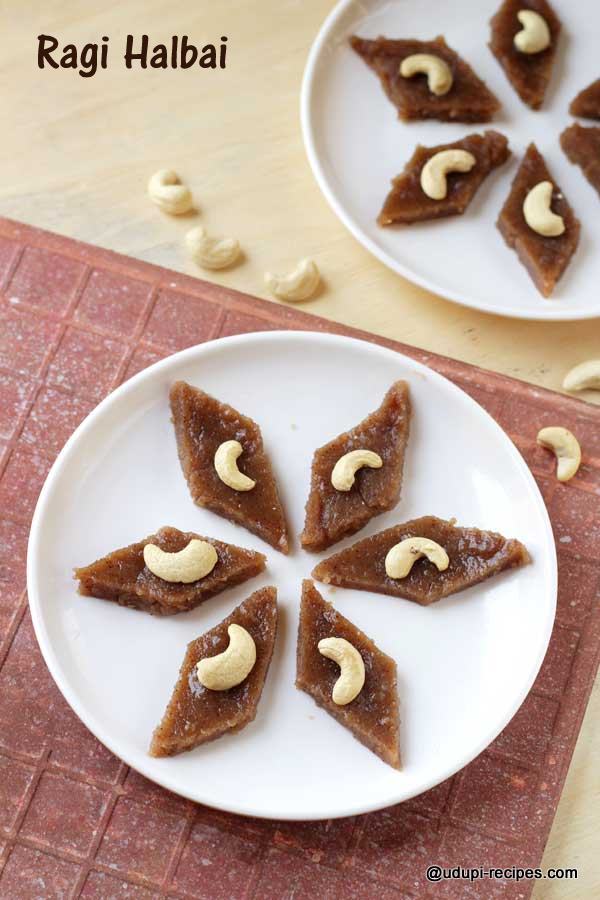 Ragi Halbai | Finger Millet Halbai Recipe
Ingredients
Finger millet (Ragi)- 1/2 cup
Jaggery- 1/2 cup
Fresh grated coconut- 1/2 cup
Cardamoms- 2 nos.
Ghee- 4 tsp
Water- 1.5 cups
Instructions
Preparation

Soak finger millet in enough water for about 3 to 4 hours.

Method

Drain the water from finger millet and rinse well using fresh water. Take it in mixer along with grated coconut and grind together to fine puree.
Strain the ground mixture over a strainer and squeeze well.
Next include the squeezed mixture along with water and grind again. Strain this mixture as well. Repeat this process once again and discard the residue. I have used up 1 cup of water in this grinding process.
Next heat a pan with jaggery and 1/2 cup of water. In medium flame cook this till jaggery dissolves completely.
If the jaggery syrup has impurities, strain it at this stage. Next include finger millet milk which is collected in step 3.
With constant stirring, cook this till the mixture thickens. This step may take up 10-15 minutes.
While stirring the mixture, add ghee at random intervals. After few minutes, the dough leaves the pan and becomes glossy, then switch off the flame.
Transfer the ragi halbai on a ghee greased tray and spread it evenly using flat spatula. Let it cool down completely. Then mark the pieces and separate them.
Very delicious and melt in mouth textured ragi halbai is ready to serve.

Notes

The water quantity to be added is very important factor to obtain the perfect textured halbai.
The water ratio remains 1:3, meaning for one cup of finger millet you need to use 3 cups of water.
While cooking, you cannot leave the pan unattended. It can easily stick to the bottom. So keep stirring till done.
https://udupi-recipes.com/2017/07/ragi-halbai-finger-millet-halbai-recipe.html
All the content in this website are © Copyrighted to – Udupi-Recipes