Halbai – Halbai is one of the wonderful sweets prepared in Udupi during Nagarpanchami festival. It tastes very good when consumed with ghee. Though the Halbai recipe seems easy, unless the ingredients are taken as per proportion it turns to be very sticky. My grandmother used to prepare this rice halbai with all her enthusiasm whenever we grand children used to visit her place.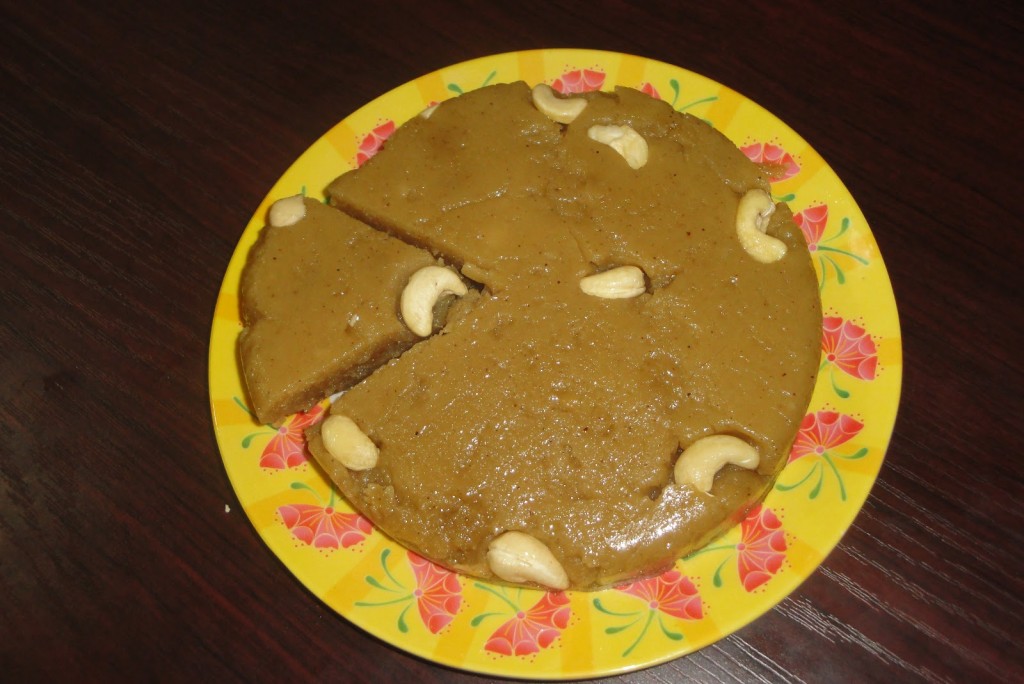 Check the video here:
Halbai Recipe | How to prepare Halbai | Akki Halbai
Ingredients
Rice - 1/2 Cup
Grated coconut - 1/2 Cup
Jaggery- 1/2 Cup
Ghee - 6 tsp
Cardamom-3
Cashew nuts-7 to 8 (optional)
Instructions
Preparation

Soak rice for 2 hrs. Dosa rice or normal rice can be used.( I have taken dosa rice.)

Method

Grind the soaked rice along with coconut and cardamom to a fine paste adding 1/4 cup of water.
Heat a thick bottom kadai, add 1.5 cup of water, 2 tbsp of ghee and jaggery to it.Once the jaggery gets completely dissolved in water lower the flame.
Now add the rice-coconut paste from step 1 above to the boiling jaggery water. Keep on stirring the mixture ensuring no lumps are formed.
Add another 3 tbsp of ghee while stirring the content. Once the mixture cames together and leaves the sides of kadai, Halbai is done. This step may take around 10-15 mins.
Take a plate, grease ghee over it and spread cashews on it. now pour the halbai paste to this plate and spread evenly.
Let it cool and then cut the halbai to your favorite shape.

Note:

Rice to water ratio is 1:3. I have taken 1/2 cup rice so added 1.5 cups of water.
Halbai can be refrigerated and stored for 3 days.
https://udupi-recipes.com/2012/07/halbai-recipe-how-to-prepare-halbai-akki-halbai.html
All the content in this website are © Copyrighted to – Udupi-Recipes
Meet you all again with one more interesting Udupi recipe, till then bye.