When you eat a gulab jamun and feel like you have been transformed to another world of palate? Are you a hard core lover of such extremely sweet tasting balls? Then this unconventional sweet potato jamun is for you. You may wonder why isn't there any conventional gulab jamun recipe in this space till now. I perfectly honor your quest, let me make it clear for you. It's because I am not fond of overly sweet things and jamun tastes too very sweet in my mouth. I just cannot withstand the sweetness. That is the reason ready made gulab jamun mix package doesn't appear in my grocery list often. Unless kids make exclusive demand for it.
Sweet potato jamun is with us today to mark the 5th anniversary of this blog udupi-recipes.com. For those of you who follow me, it may seem that the years passed super fast but in reality the blog has taken shape in very slow and steady motion. One cannot erupt a blog with good and quality content in a day or two. Insane amount of work goes behind the scenes and it demands passion and persistence towards the work. Thanks to all of you who stop by to like, comment, email and check in the blog from time to time. I feel the deepest gratitude for everything.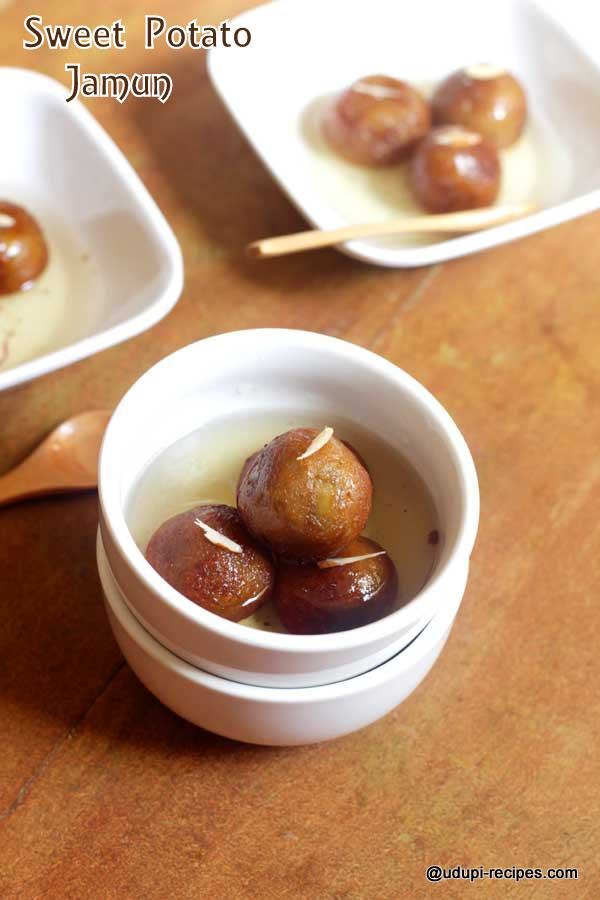 While celebrating the blog-anniversary, I wanted to remark the milestone with a overly sweet recipe. And you know what I mean by "Overly sweet", it's nothing but Jamun. Instead of ready-made mix, I made them using sweet potato. In absence of unhealthy flour, the balls are prepared using an awesome veggie. And they very well soak up in the sugar syrup that you'll never notice the taste difference. My kids justified this fact by clearing off all the sweet potato jamun soon after the photo shoot 😛 .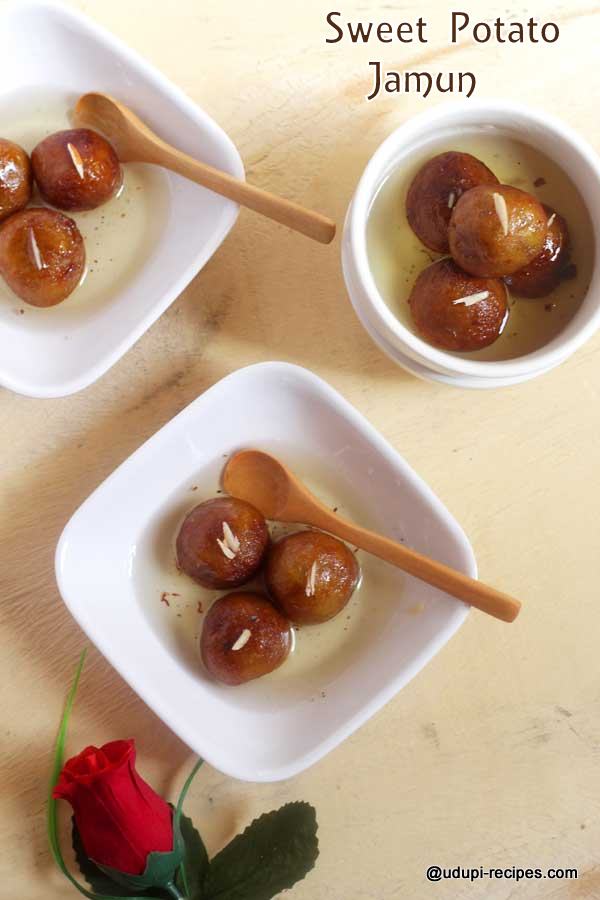 Video:

Sweet Potato Jamun Recipe
Ingredients
Sweet potato - 2 medium sized
All purpose flour (maida)- 3 tsp
Sugar- 1.25 cup
Water- 1 cup
Cardamom powder- 1/4 tsp
Saffron strands- Few (optional)
Cooking oil- Enough to deep fry
Instructions
Preparation

In a pan add sugar and water together and bring it to boil in medium flame. When it becomes thick, add cardamom powder and saffron strands. Switch off and let it cool down.

Method

Wash the sweet potato under running water scraping the mud sticking on it. Cut it in to half and then in to quarter. Keep them immersed in water to avoid discoloration. Drain the water completely and pressure cook for 3 whistles.
Let the pressure subside and cool down to room temperature. Next peel the skin off from sweet potato quarters and mash well so that there are no lumps left. After mashing, I got around 1.5 cup of sweet potato. Next, add maida to the mashed sweet potato .
Maida makes the sweet potato dough non-sticky and stiff. If you feel the dough is still loose, add few more tea spoons of maida to keep it stiff. Portion the dough in to equal sized balls and keep aside.
Heat a wok with enough oil. When the oil gets heated up, carefully drop the jamun balls and deep fry them till they turn little brown. Remove them using a slotted ladle and drain over kitchen tissue.
Finally immerse the deep fried sweet potato balls in to the sugar syrup. Let it sit for 20 minutes.
Relish the sweet potato jamun to hearts content.

Notes

Mash the cooked sweet potato such that there are no lumps in it. Otherwise you may end up having lumps in jamun.
It's not necessary to cook the sugar syrup till it reaches some consistency. Let the sugar dissolve and syrup turn little thicker.
Oil should be moderately hot in order to deep fry the sweet potato balls. Very hot oil can turn the jamun brown outside but remains uncooked inside.
Both the sugar syrup and sweet potato balls should cool down to room temperature before immersing. Otherwise sweet potato balls can lose their shape.
https://udupi-recipes.com/2017/07/sweet-potato-jamun-recipe.html
All the content in this website are © Copyrighted to – Udupi-Recipes