Spending 15 minutes on something which lasts for lots of breakfasts is a REAL time steal. This is how I feel lately whenever I have to rush for some real quick side dishes in the morning. When minutes and second counts make a huge difference of your routine or you feel stressful about running out time,  then sesame seeds chutney powder can be the practical solution. It can be any other chutney powder for that matter like the flax seeds chutney powder.
Let me clear some of my view points about sesame seeds here. Nutty, black sesame seeds aren't expensive nuts like cashews or walnuts. But they do have all the goodness and nutrients that our physical body needs. Besides, sesame seeds are actually reasonable and affordable to any normal person. But you cannot eat them as it is?  You either need to convert them in to pretty yummy laddu or as chutney powder which you can eat on daily basis to indulge it's goodness. I thought latter seems good fit for me and my family and hence this sesame seeds chutney powder.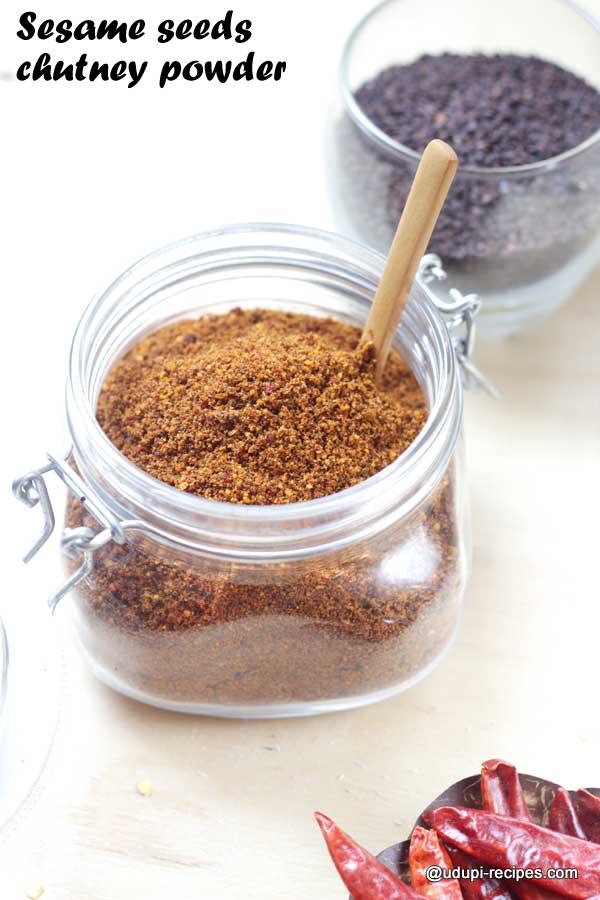 When you have a jar full of sesame seeds chutney powder in stock, then you have always a replacement or alternative for dosa, idli side dish. I keep the spice levels to moderate so that it can find it's place on kid's plate too. This chutney powder has lentils, tamarind and few garlic cloves along with sesame. Garlic which is roasted makes the powder aromatic too. But if you aren't a person who enjoys the flavor of garlic then just skip it up. The red chilly, salt and tamarind harmonize all the basic tastes together so you feel nothing less or more. Are you ready to dig in to the jar full of nutty wonderfulness? Let's go.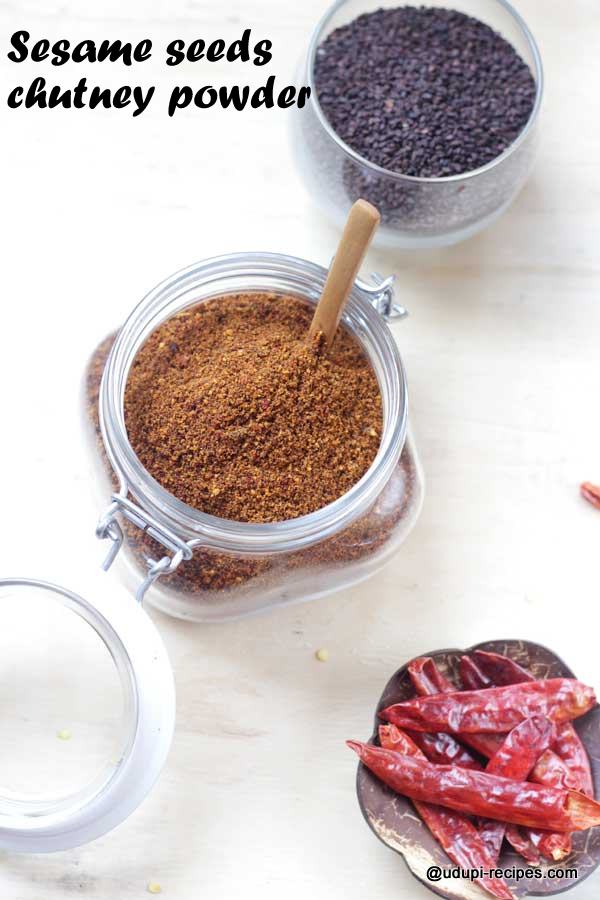 Sesame Seeds Chutney Powder | Easy and Quick
Ingredients
Black sesame seeds- 3/4 cup
Split chickpea lentils- 1/2 cup
split black gram lentils- 1/4 cup
Tamarind- Marble sized
Red chillies- 8 to 10 nos.
Salt- 1 tsp
Garlic cloves- 3 nos.
Asafoetida- 1/4 tsp
Curry leaves- few
Instructions
Method

Heat a pan adding chickpea lentils and with constant stirring dry roast them. When it turns little brown, transfer them on to plate and put the pan back on stove adding sesame seeds. They pop up as get roasted, transfer to the same plate.
Next, heat the same pan with black gram lentils followed by red chillies, curry leaves, tamarind and garlic. Roast in medium flame. The lentils change in color and red chillies puff up. Transfer and switch off the flame. Let all the roasted ingredients cool down to room temperature.
Take roasted ingredients in a blender along with salt and asafoetida and powder them together coarsely.
Very healthy and nutty flavored sesame seeds chutney powder is ready to serve as side dish with idli, dosa.

Notes

Keep the flame medium while roasting and ensure the ingredients aren't burnt.
Adjust red chillies and salt according to your taste.
You can use even white sesame seeds. In that case color differs.
https://udupi-recipes.com/2017/07/sesame-seeds-chutney-powder.html
All the content in this website are © Copyrighted to – Udupi-Recipes