Real quick pumpkin curry!!
Dear friends of the internet, please gather around to witness an easy pumpkin curry that has no coconut and lentils. But the flavors are too overwhelming honestly. And I couldn't resist to taste it just when it was still on stove bubbling and boiling. This yellow gold pumpkin veggie is good enough to be in this recipe because it tastes slightly sweet. Besides, the veggie is so soft that it needs minimum of minimum time to cook. The grated ginger and fennel seeds make this pumpkin curry a flavor bomb and they perfectly match with the texture and taste of veggie.
The golden yellow pumpkin with tough skin wasn't my kind of veggie in my growing up years. I shared a love and hate relationship with it. This is a kind of veggie which I loved based on what is cooked out of it. I like the taste of sweet pumpkin idli where as pumpkin curry using coconut fail to even salivate me.  So basically this veggie can precariously fall under either "like" or "dislike" list of my favorite vegetables.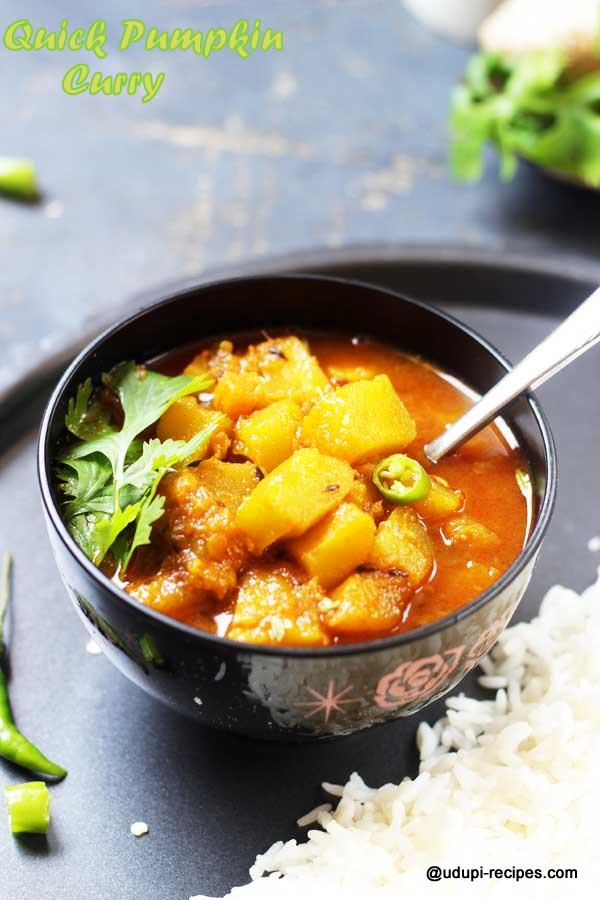 But after tasting this pumpkin curry which is little sour and sweet can probably tempt me to buy the veggie more often. And if you check your pantry right at this moment, you must be having all the ingredients available right there. By saying this, I assume you do keep stock of some fennel seeds in your kitchen. Because you cannot skip this particular ingredient which makes lot of difference taste-wise. The chunks of pumpkin in this curry absorb the tang from tamarind and flavors from spices and herbs. It accompanies hot steamed rice very well and you would end up licking your fingers for sure. So next time when you buy this veggie, try it yourself to believe.
Quick Pumpkin Curry | No Coconut, No Lentils
Ingredients
Pumpkin cubes- 1/5 cups
Tamarind- Small lemon sized
Jaggery- 2 tsp
Grated ginger- 1 tsp
Turmeric powder- 1/4 tsp
Red chilly powder- 3/4 tsp
Salt- 1 tsp

To temper

Cooking oil- 3 tsp
Fenugreek seeds- 1/2 tsp
Cumin seeds- 1 tsp
Fennel seeds- 3/4 tsp
Broken red chilly- 1 no.
Instructions
Preparation

Soak tamarind in 1/4 cup of water and extract it's thick juice discarding the residue.

Method

Peel off the pumpkin and scoop out the seeds. Then chop the kernel in to medium sized cubes. Measure 1.5 cups and keep aside. Heat a pan with oil, cumin, fenugreek, broken red chilly and fennel seeds.
When the cumin seeds pop, include grated ginger and saute for few seconds. Add red chilly powder, turmeric powder and continue sauteing for few more seconds.
Next include pumpkin cubes and mix with spices. Add salt and 1 cup of water.
Cover the pan with lid and cook till the pumpkin cubes are soft but not mushy.Once done add tamarind extract.
Finally add jaggery and cook for few minutes and switch off.

Notes

This pumpkin curry is prepared really quick because it has no lentils and no coconut.
The fennel seeds and ginger are key spices which take the delicious-ness to next level. So don't skip them.
Adjust the sour and sweet taste for the perfect curry.
https://udupi-recipes.com/2017/08/pumpkin-curry-no-coconut-no-lentils.html
All the content in this website are © Copyrighted to – Udupi-Recipes