This no-pretty looking black sesame seeds laddo is an easiest delicacy to be offered to Lord Krishna on the day of Janmashtami. And with this post on the last day of August, I am back to my REAL LIFE.
I mean after two months of restful days away from my very professional home office of UAE, I'm back in action at the keyboard this afternoon to post a festive sweet.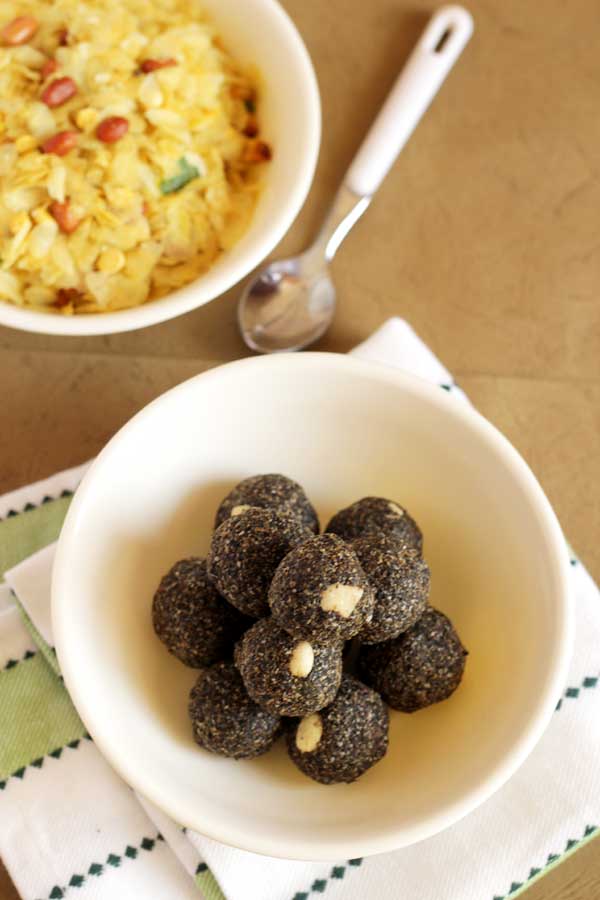 Over the course of my vacation, the most important things I did were: designing and sewing my own clothing, shopping, visiting people who are part of my life and relishing multi course meals to the full. Also important: I averaged a lovely ten hours of sleep a night and it was pretty much EVERYTHING. Black sesame seeds laddo is prepared today with a hangover of motherland and mother who filled pretty happy moments to my vacation.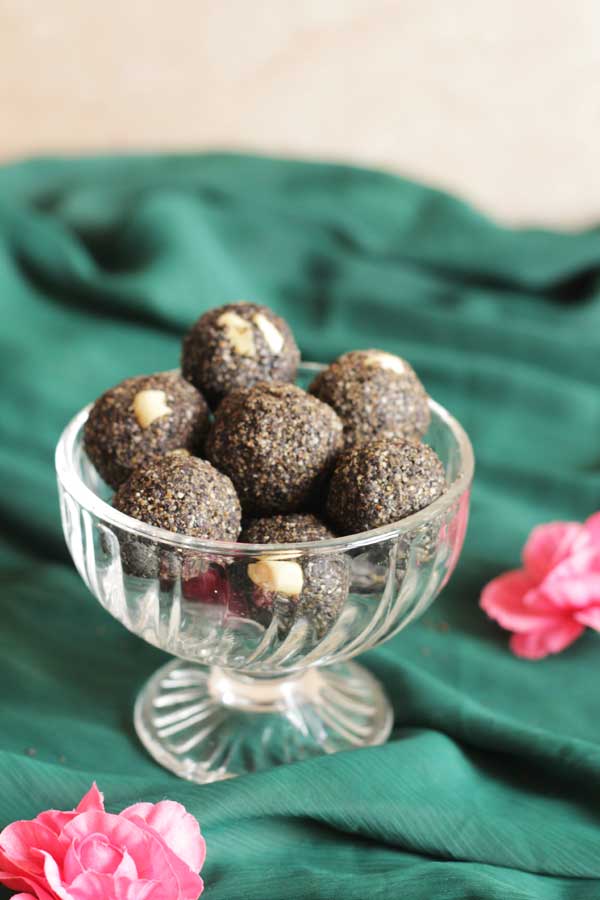 This Shri Krishna Janmashtami recipe is so simple and easy. There is no hassale of making jaggery syrup and you need to spare only 30 minutes.
These nutty flavored black sesame seeds are roasted in medium flame till puffy and aromatic. This is the only cooking process involved all in all. Next thing, you need to half powder the sesame seeds only to include jaggery in between. Running them together gives you a damp oily laddo mix which you can roll to laddo shape.
Black Sesame Seeds Laddo | Shri Krishna Janmashtami Recipe
Ingredients
Black sesame seeds- 1 cup
Jaggery powder- 3/4 to 1 cup
Broken cashews- Few
Cardamoms- 3 to 4
Instructions
Preparation

De-seed the cardamoms and powder them finely.

Method

Clean the black sesame seeds and make sure it is free from husks and add it to a a wide wok. In medium flame dry roast the sesame till they puff up and nutty aroma wafts around.
Let the roasted sesame seeds cool down a bit, then add it in to mixer and powder it coarsely. As the sesame seeds ooze out oil, the powder becomes stiff. Include jaggery powder and grind together till the jaggery combines well with powdered sesame seeds.
Transfer this laddo mix to a wide bowl. Include broken cashews and cardamom powder.
Take handful of laddo mix and roll in to laddo shape.
Easy black sesame laddo is ready. Offer it to Lord Krishna and relish.

Notes

Make sure the black sesame seeds are roasted well otherwise the raw smell may ruin the taste of laddu.
Only after half grinding the sesame seeds include jaggery so that jaggery combines evenly with sesame.
For extra crunchiness you can add few roasted and broken ground nuts.
If you are making in large quantity then, you can roast them together but the process of grinding and rolling laddos should be done in batches.
The oil oozed out from sesame seeds is enough to tie the laddos. If you feel it is dry then you can include some ghee.
https://udupi-recipes.com/2015/08/black-sesame-seeds-laddo-shri-krishna-janmashtami-recipe.html
All the content in this website are © Copyrighted to – Udupi-Recipes