I am just popping in quickly today to post a savory nippattu recipe that can enhance the food glory on this Gokulashtami festival. We have some really delicious things going on in the food department right now as we are just 12 days away from Lord Krishna's birthday celebrations. Starting from listing out all the super delicious condiments to prepare, making many trips to grocery shop in order assemble all the required ingredients, cleaning them out and setting up extra space in the kitchen counter to the preparations. So it's all excitement and over-excitement to welcome the BIG DAY.
I can no longer live without this blog thing, so I am posting back to back savory-sweet posts on the eve. The basic nippattu recipe has flours, nuts and spices. Combining the flours, spices and crumbled nuts with required water you end up with a dough that can be shaped in to discs.
You have two ways to shape nippattu. You can scoop lemon sized dough and pat on your palm and then arrange them on a plate to get them deep fried. Second way is to rolling big lemon sized dough to medium thick chapati and marking discs on it by pressing a sharp edged lid on the same. (You can refer the step-wise pictures.) I used this method because as a food photography freak, I love the uniform shaped nippattu than it's counterpart.
Stack of nippattu one over the other stored in a transparent glass jar would empty in no time when kids are around. So snacking time is ON.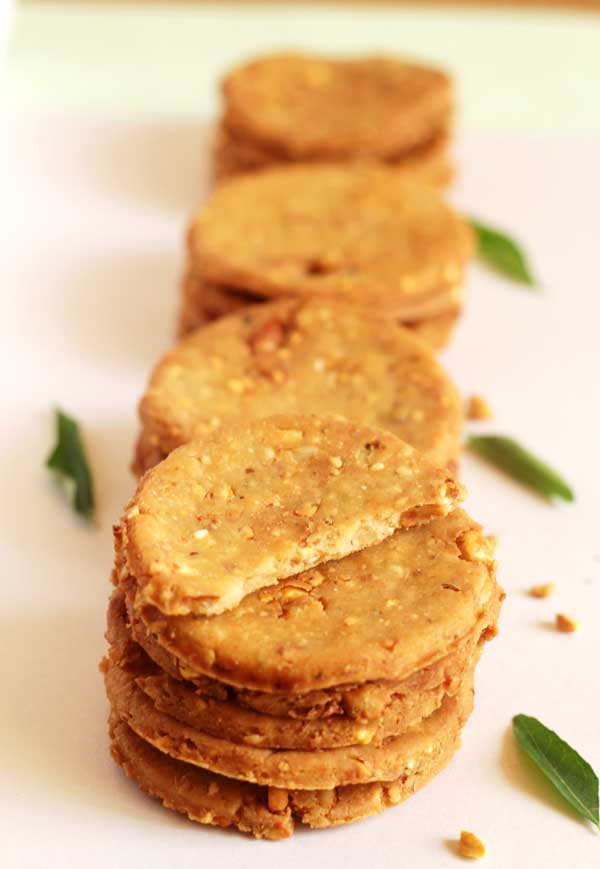 Ingredients
Rice flour- 1 cup
Maida- 1/4 cup
Roasted gram- 1/4 cup
Peanuts- 1/4 cup
Grated copra- Handful
Cumin seeds- 1 tsp
Salt- 1 tsp
Red chilly powder- 1 tsp
White sesame seeds- 1 tsp
Curry leaves- Handful
Cooking oil - Enough for deep frying.
Instructions
Preparation

Sieve the rice flour and maida using a fine sieve and keep them ready.

Method

Coarsely powder the peanuts using mixer and transfer them to a wide bowl.
Add roasted gram to the same mixer and powder it as well. Transfer it to the same bowl.
Next grind grated copra, cumin and curry leaves together to a fine powder. Add it to the bowl. Combine all other ingredients like rice powder, maida, salt, red chilly powder and white sesame seeds with already transfered powders in the bowl.
Adding some hot oil to the contents of bowl mix everything together. Knead it to thick, pliable dough adding water as needed.
Taking a big lump of dough roll it to thick, circular shaped disc. Using a circular lid of any bottle mark 2 to 3 inch discs. Separate each disc like this and arrange on a plate.
Heat enough cooking oil in a wide wok, as it gets heated carefully drop the nippattu in to oil. Fry them till they turn deep brown fliping to other side after a while.
Using slotted ladle remove the nippatu from oil and drain them on kitchen tissue.
Crispy and crunchy nippattu is ready to serve as tea time snack.

Notes

The dough should not be too running which will make rolling difficult.
Roasted gram and peanuts are key ingredients in enhancing the taste of nippattu.
You can crush the peanuts and add instead of powdering.
https://udupi-recipes.com/2015/08/easy-nippattu-recipe.html
All the content in this website are © Copyrighted to – Udupi-Recipes