After worshiping snake deity with all the devotion and enthusiasm, now we are headed towards the celebration of Lord Krishna's birthday which is going to be September 5th this year. Gokulashtami or simply Ashtami is what we call this festival brings a remarkable joy and excitement in our lives. The glory of this festivity lasts longer for a week to fortnight as the delicacies like murukku (chakkuli) and Laddu would be lined up in rows of steel jars. Every bite of these snacks and sweets would cherish the memories of this festival.
I planned the recipe of Kodubale ahead of Gokulashtami festival this year so that all festival recipe searchers can mentally get ready to make these crunchies. Kodubale or ring murukku is one of the essential delight of this glorious day which is crisp and hollow inside, crunchy and flavorful outside.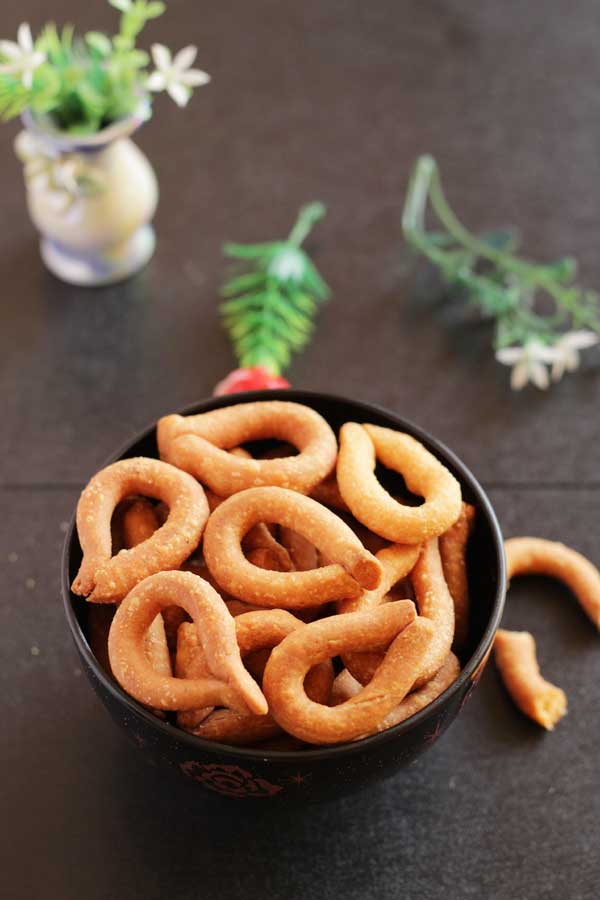 Kodubale preparation is easy and bit time consuming where you have to hand roll a portion of dough between your palms and join the ends to give them a shape. There is no handy press that can do the similar job, so you spend most of the time in shaping the dough in to kodubale. The best way is to get them ready in batches and deep fry them before the next batch, which will save you from monotonous process.
Handful of kodubale with a cup of tea when rain drops are still pitter-pottering is the way I love to have them.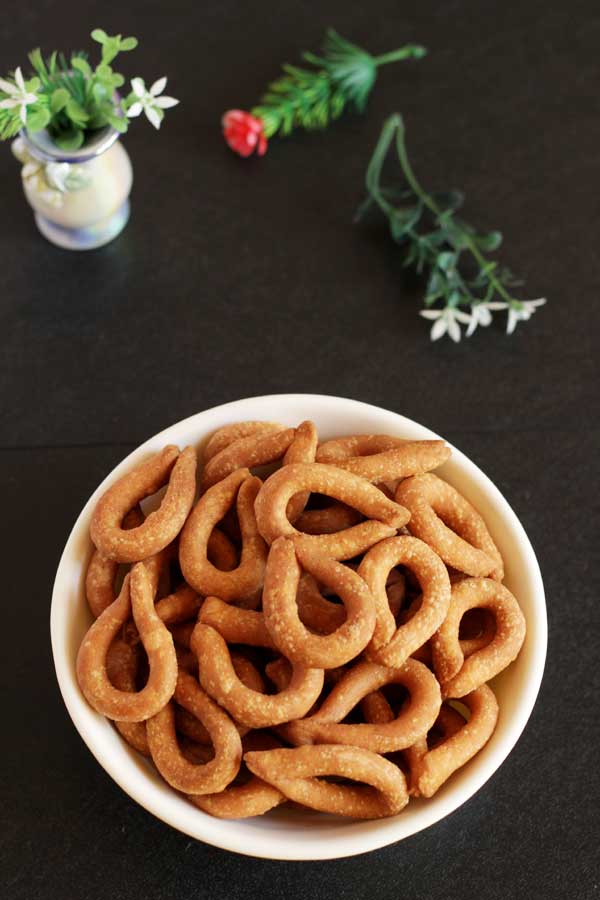 Kodubale | Ring Murukku Recipe
Ingredients
Rice flour- 1/2 cup
Maida flour 1/2 cup
Chiroti rava- 1/2 cup
Salt- 1.5 tsp
Red chilly powder- 1.5 tsp
Ghee- 3 tsp
Cooking oil- Enough to deep fry.
Instructions
Preparation

Sieve all the flours and keep it ready.

Method

Take a wide bowl and add rice flour, maida, rava, salt, red chilly powder and ghee. Give a quick stir.
Adding water in intervals combine everything well in to soft dough. Add some hot oil to this mixture and knead in to pliable dough. Let the dough rest for 20 minutes.
Take a big marble sized dough and roll it between your palms in to thick rope.Break the rope in to approximately 2 inches length and join both ends and press gently to obtain the ring murukku shape. Arrange all the ring murukkus on a plate.
Heat oil in heavy bottom wok and as the oil gets rightly heated drop few kodubale in to oil. Fry them till they turn golden brown. When the shh...sound seizes and bubble stop remove from oil using slotted ladle and drain them on kitchen tissue paper.
Let them cool down to room temperature and store in airtight container. Crispy kodubale is ready to munch as tea time snack.

Notes

The dough should not be neither too thick nor too thin. You cannot shape them and they will turn soggy if the dough is not perfect.
Chiroti rava gives nice crispiness to the murukku. Do not skip it.
You can add a pinch of cooking soda too for a good crunch.
When a batch of kodubale is getting cooked, you can prepare the next batch. Or make all the kodubale together and fry batchwise.
https://udupi-recipes.com/2015/08/kodubale-ring-murukku-recipe.html
All the content in this website are © Copyrighted to – Udupi-Recipes