In the marathon of posting wonderful recipes that make my meal and soul of food life, sometimes I derail myself. Which means, in my attempt to feed exceptional, extra special food to my readers, I forget simple ones. Unless notified by some of my awesome readers or followers of this blog, I would be in insensible state. I don't even realize which is that awesome meal that I am leaving behind. This is true and it has happened so many times till now. And today I am actually making the simple, yet very soulful rice which we call "Kayi Saasive chitranna (in Kannada). Because, you have raised your voice for it and I am up here to fulfill the same.
If you happen to feast on a celebration meal in Udupi or nearby region, then you would have definitely tasted this rice. Probably you are unsure to guess what the rice is been made of? I am damn sure, the taste is so unique that your food-mind doesn't let you think what ingredients actually make this up. Unless you know how "Mustard seeds" actually taste in food other than pickle. Yes. the secret ingredient that makes the rice flavorful and delicious here is tiny, black "MUSTARD"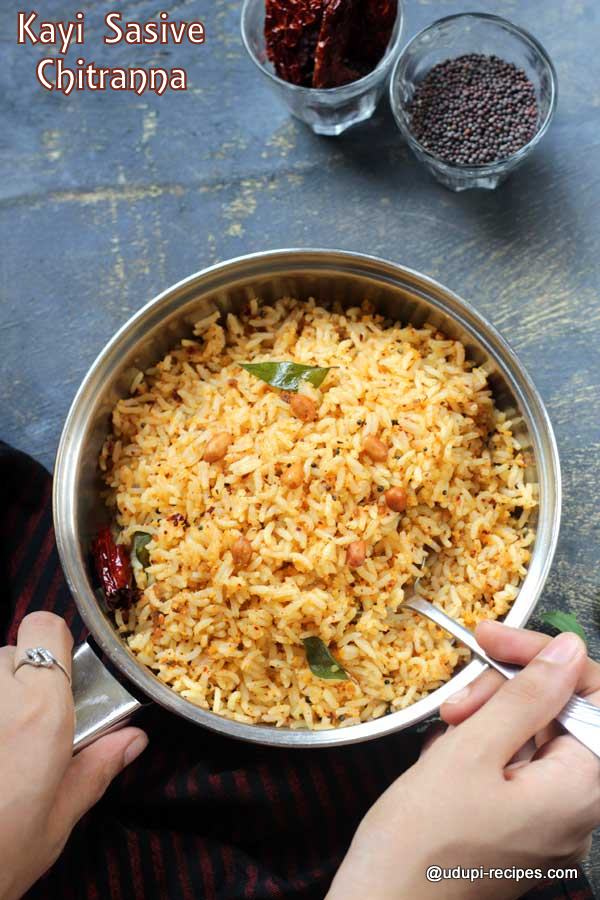 The rice that is perfectly cooked as grain separated and fluffy gets a nice coating of coconut plus mustard plus spices masala and owns the name "Kayi saasive chitranna". The tamarind, jaggery and salt are harmoniously combined with coconut to give a balanced taste to rice. And the peanuts..the nicely roasted peanuts obviously add the real crunch that is desired in rice like this.
If you happen to be like me who strives for some twist and variation in regular meal, then you should probably try your hands on this. I bet you would love.
Kayi Saasive Chitranna | Udupi Style Rice
Ingredients
Ingredients

Uncooked rice- 1/2 cup
Fresh grated coconut- 1/4 cup
Red chilly- 1 no.
Mustard seeds- 1/4 tsp
Powdered jaggery- 1/2 tsp
Tamarind paste- 1 tsp
Turmeric powder- 1/4 tsp

To temper

Coconut oil- 1 tbsp
Mustard seeds- 1 tsp
Split blackgram lentils- 1/2 tsp
Curry leaves- few
Broken red chillies- 2 no.
Peanuts- Handful
Instructions
Preparation

Cook rice as you do normally. The rice should be grain separated and not mushy. I pressure cooked 1/2 cup rice with 1.25 cup water for 3 whistles and in simmer for 5 minutes.

Method

In a mixer take grated coconut, mustard seeds, red chilly, salt, turmeric powder, tamarind paste and jaggery together. Grind them together to coarse paste without adding water.
Heat a pan with oil, mustard seeds, lentils, broken red chillies and curry leaves. Saute till the mustard seeds sizzle and splutter. Throw in peanuts and saute till slightly turn brown. Next include ground coconut masala.
Stir the coconut masala with tempering for few minutes. Then switch off. Spread the cooked rice on a wide plate and let it cool down. Include this rice to the pan and mix well.
Flavorful and delicious kayi saasive chitranna is ready to serve.

Notes

Do not include mustard seeds more than mentioned quantity. It can turn bitter.
Include chillies as per your preference. You can include one green chilly too along with red one for more spicy-taste.
https://udupi-recipes.com/2017/09/kayi-saasive-chitranna-udupi-style-rice.html
All the content in this website are © Copyrighted to – Udupi-Recipes