This humble and bitter tasting veggie hasn't showed it's face in this space since quite a while. Probably this gourd is one of the underrated veggies at my home where it's hard to make everyone eat it. And I alone should clear off the leftovers kept in the refrigerator. Hence the bitter-beautiful veggie hasn't found in my pantry since few months. But I was keen on finding something out of this veggie which doesn't taste bitter or that never seems like bitter gourd or tastes yummy. It's a quite a bit of challenge for myself from my inner mind. And the result is this pretty and creamy bitter gourd raita (or say mosaru bajji) which won in all levels.
The recipe is more or less similar to radish raita but I never knew I could recreate it using bitter gourd. Believe me I have never made anything in combo of bitter gourd plus yogurt. My mindset with this veggie is that tamarind and jaggery would be two ingredients which can compensate the bitterness. And nothing else can replace it. So in all my bitter gourd recipes, these both would exist. This bitter gourd raita has broken my conception of cooking in a true sense.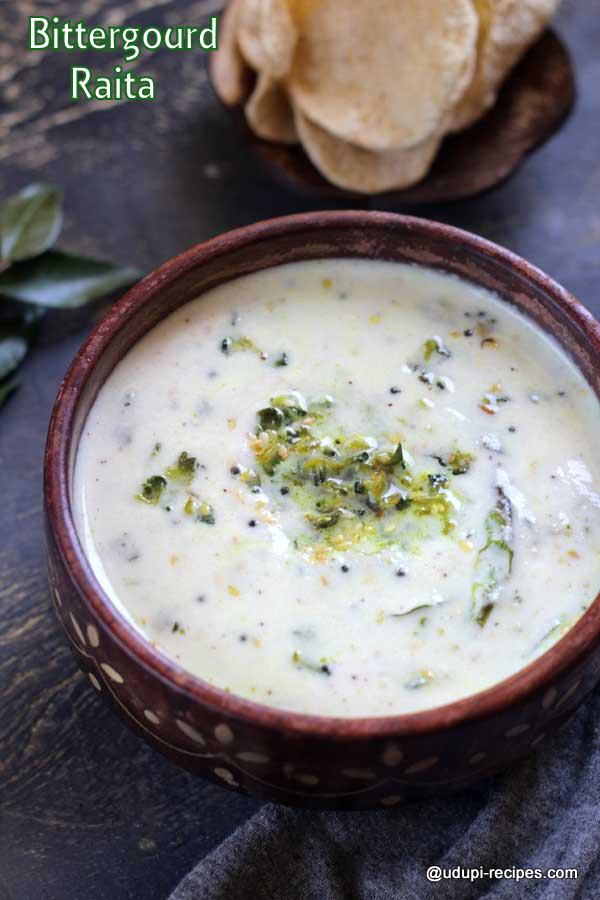 The universe knows, the trick to reduce bitterness of bitter gourd which is simple marination of salt and turmeric. Besides I would say, roasting the thin slices of veggie in the tempering for long (say 10-15 minutes) would definitely help. It makes the veggie crisp and dry, in such case you can never make out the presence of bitter gourd. Which is what I look for. The white sesame seeds added in the tempering just pop out and look so pleasing with the green veggie.
My dear food friends, please resist the temptation to think that this doesn't taste good. I'm telling you, it's too good and I look forward to eat the leftovers also.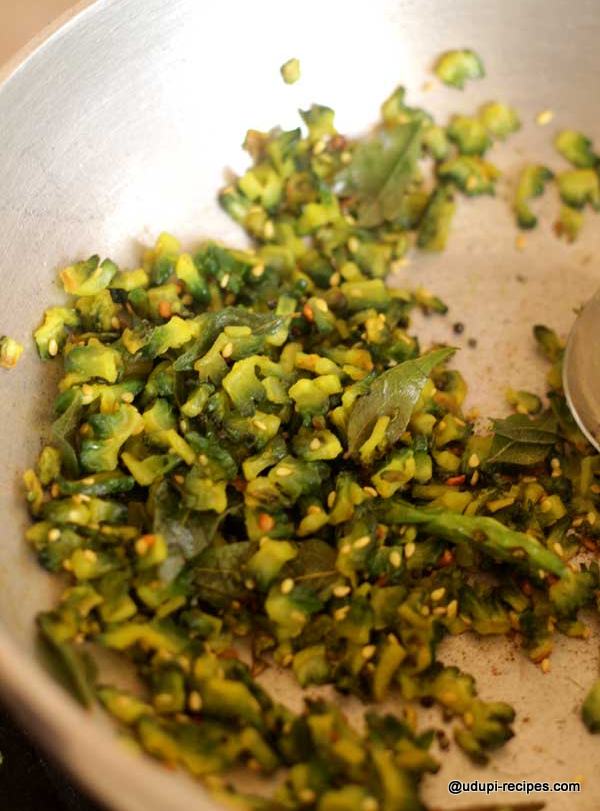 Bittergourd Raita | Bittergourd Mosaru Bajji
Ingredients
Bittergourd (small) - 1 no.(3/4 cup chopped)
Yogurt- 1/4 cup
Fresh grated coconut- 1/4 cup
Slit green chillies- 2 nos.
White sesame seeds- 2 tsp
Turmeric powder- 1/2 tsp
Salt- 1/2 tsp + 1/2 tsp

To temper

Oil- 3 tsp
Mustard seeds- 1/2 tsp
Split blackgram lentils- 1/2 tsp
Curry leaves- Few
Instructions
Preparation

Rinse the bittergourd well, cut in to half and discard the seeds. Chop it in to fine and thin pieces. Marinate it in salt and turmeric powder for about 20 minutes.

Method

The marinated bittergourd pieces would have oozed out water now. Squeeze and keep it aside. Next in a cooking pan add all the items under "To temper" list and saute till the mustard sizzles. Add sesame seeds, slit green chillies and saute for few minutes.
Next add the squeezed bittergoud pieces to the pan and continue sauteeing. The bittergourd would turn crisp and dry, switch off the flame now. Let it rest and cool down to room temperature.
Meanwhile grind coconut with little water to fine puree. Mix thie puree with whisked yogurt and ensure the consistency is thick.
Add salt and roasted bittergourd to this and mix well.
Tasty and comforting bittergourd raita or mosaru bajji is ready to serve.

Notes

Marinating the bittergourd in salt and turmeric is necessary to reduce the bitterness.
The yogurt that is bit sour in taste would be best for this raita.
You can add green chillies as per the spice desired.
https://udupi-recipes.com/2017/09/bitter-gourd-raita-mosaru-bajji.html
All the content in this website are © Copyrighted to – Udupi-Recipes