Here's the thing: We are halfway through the holy nine days of Dasara and now when I glance my previous posts, it reminds me something. Am I compatible with this festival as a food blogger? Don't I need to post some desserts that has sugar and milk? Because milk based dessert is what usually offered to Goddess and how can I forget about it? When such food thoughts were arising apparently in my mind, I just looked at my overcrowded food idea board. Which has this "Kheer" scribbled at the corner to my surprise. Which means I am on track!! It pacified and directed me on the meal preparation for the day. So this little millet kheer magic has happened for lunch and I along with kids indulged in the deliciousness.
One of the advantages of listing your ideas is: looking at all the things you haven't done yet which in turn forces you to follow through. I have started this "Note down the food idea" kind of practice lately and I am happy I have done. Because it is this list that pushes me through which otherwise can become justification for not posting recipe on schedule. So this is very important at least for kind of bloggers like me.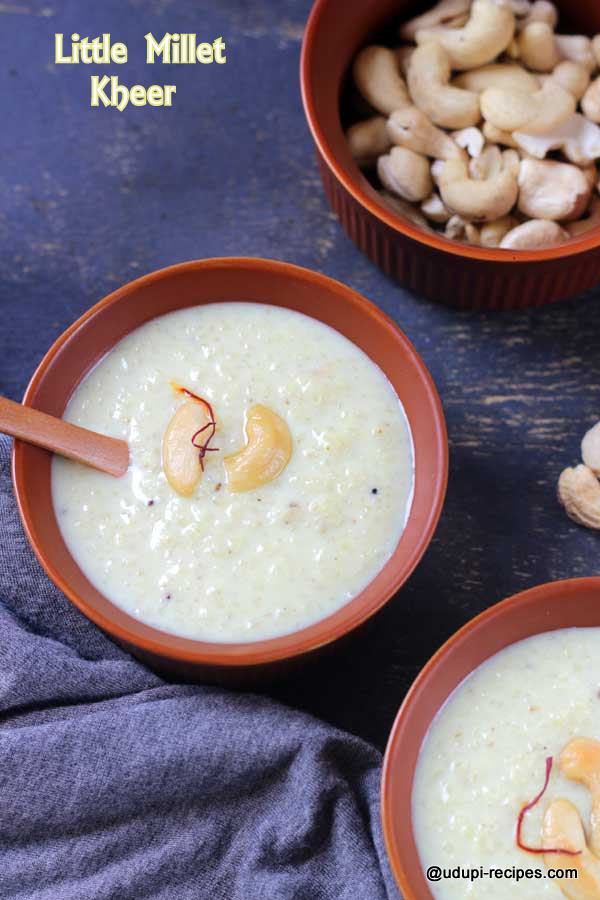 Little millet kheer is absolutely a dairy rich dessert in which these tiny cereal i.e millet is soft, creamy, sweet and flavorful. I cooked the millet in water initially and then included milk for further cooking. But you can initially cook in milk itself for more rich and creamy taste. The little millet being very tiny, cooks fast like in 5 to 6 minutes on stove top. And to bring in rich creaminess, you need to cook it in milk and sugar till you get the right consistency. With a bowl of dessert in hand, I wish you all happy Dasara. May Goddess bless you all.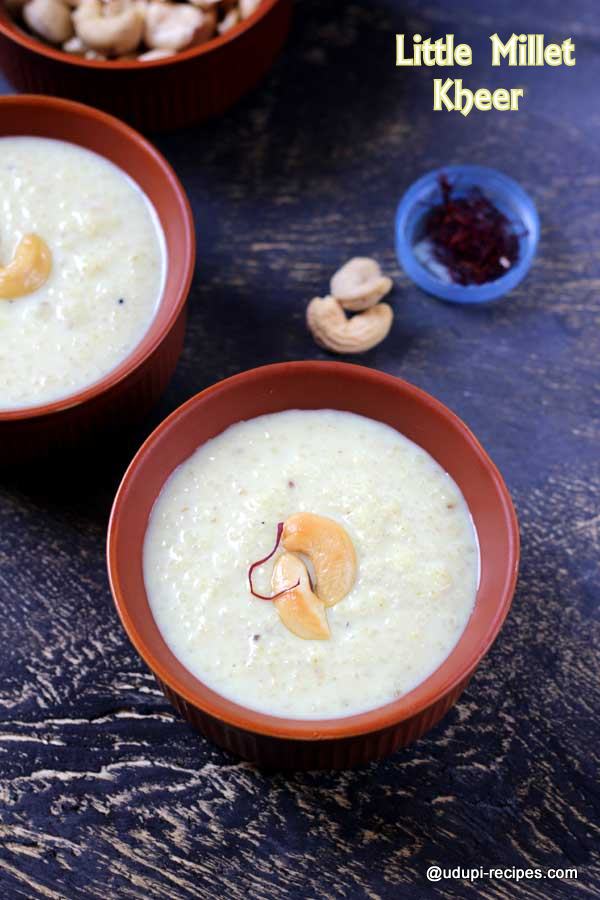 Little Millet Kheer | Saame Kheer
Ingredients
Little millet (Saame)- 1/4 cup
Boiled Milk- 1.5 cups
Sugar- 1/4 cup
Ghee - 1 tsp
Cashews- 5 to 6
Cardamom powder- 1/4 tsp
Water- 1 cup
Saffron strands - Few
Instructions
Preparation

Heat ghee in a pan and roast the cashews till golden brown and remove. Add rinsed little millet to the remaining ghee and roast for few seconds. Take care millet doesn't change color.

Method

Include a cup of water to the millet and let it cook till soft. You can simmer and close the lid for few minutes. When the millet turns soft and mushy, add milk.
With constant stirring let the millets get cooked in milk. Milk reduces and becomes creamy and thick after few minutes. Meanwhile soak saffron strands in a teaspoon of milk for few minutes.
Add saffron soaked milk and sugar to the pan and continue cooking till everything combines in to creamy kheer. Finally sprinkle cardamom powder and garnish with roasted cashews.
Milky and creamy little millet(Saame) kheer is ready to serve.

Notes

Little millet gets cooked very soon. So keep checking to avoid getting burnt at the bottom.
I have used 1.5 cups of milk, you can even cook the millet initially in milk itself.
Saffron strands are optional, you can skip it. In that case, the color of kheer is milky white.
You can add other nuts like almonds and raisins too.
https://udupi-recipes.com/2017/09/little-millet-kheer-saame-kheer.html
All the content in this website are © Copyrighted to – Udupi-Recipes