Let's talk about how awesome it is to eat vegetables in disguised form. Meaning, hiding the veggies in food such a way that while eating you never know what's been in to it.  This trick works pretty well for those who hate to eat at least minimum veggies in their everyday food life. For example my son who is absolutely a fuzzy eater who chooses what gets in to his plate. He doesn't have good friendship with most of the vegetables that go in to curry or stir-fry. So I always find ways to wrap or hide or disguise the veggies in his favorite food( like paratha?).  Cabbage paratha has proved it to be so true and effective. Because paratha is one of his favorite food in which I can incorporate palak or beetroot or potato and he probably have no reasons to reject the same. So it's  WIN-WIN situation.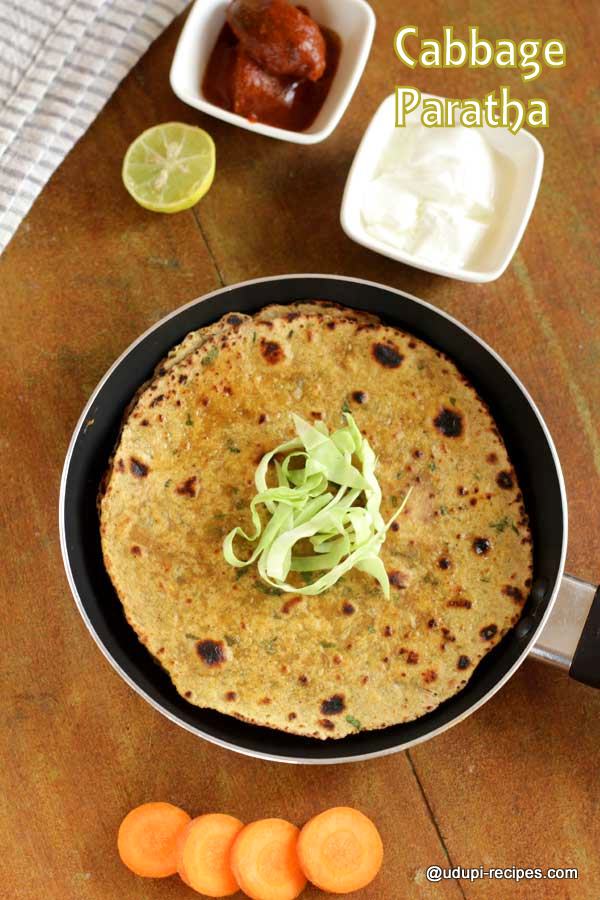 Cabbage, being a fiber rich veggie suits very well for curry and stir fries. But because of it's strong pungent smell, kids easily say 'NO' to it. But in this cabbage paratha, I sauteed the grated cabbage thoroughly so that raw smell subsides considerably. The spices like cumin powder and garam masala would completely change the flavor of the veggie and it can become part of your chapati. The best part of this recipe is you can add little of this and little of that according your liking. Say, if you like onion or ginger flavors, chop them finely and include while sauteing. Or say, if you like spicy paratha, add teaspoon of minced green chillies and you are there.
But, I recommend to grate the cabbage so that you have no hassles while rolling. Otherwise you would probably end up rolling weird shaped paratha. So see you at the other end with a plateful of paratha with yogurt and pickle.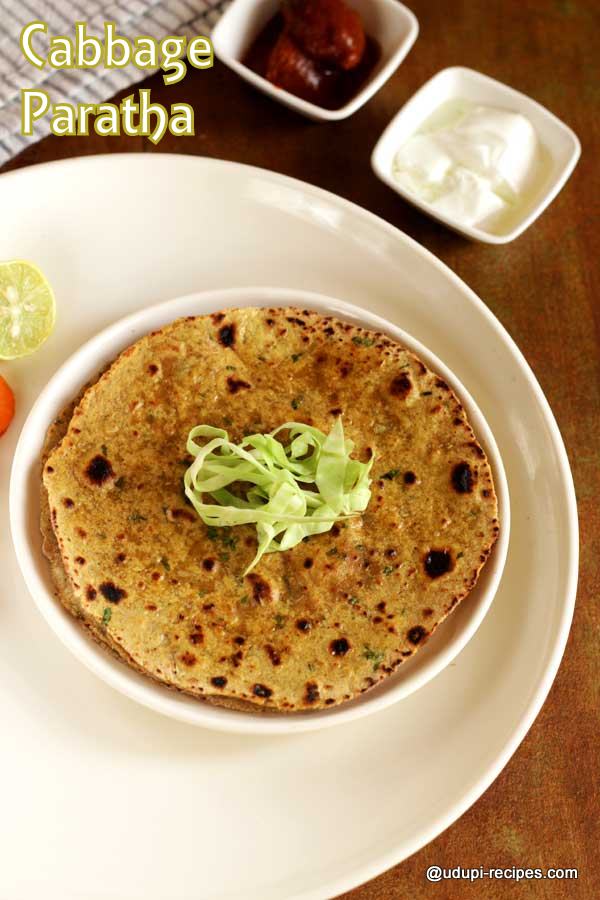 Cabbage Paratha | Cabbage Chapati Recipe
Ingredients
Wheat flour- 1.5 cups
Grated cabbage- 1 cup
Salt- 1 tsp
Roasted cumin powder- 1/2 tsp
Garam masala- 1 tsp
Red chilly powder- 3/4 tsp
Turmeric powder- 1/4 tsp
Mango powder- 1 tsp
Chopped coriander leaves- 1/4 cup
Ghee - 4 tsp
Instructions
Preparation

Wash the cabbage, cut it in to half and grate using a fine grater. Take the grated cabbage in a pan and saute in medium flame till the raw smell subsides.

Method

Next add the spices like red chilly powder, salt, turmeric powder, garam masala, mango powder and cumin powder. Saute till everything combines well. Add some coriander leaves and let it cool down. Sieve the flour in to a wide bowl.
Add sauteed cabbage also to the flour. Give a quick mix to get it in crumbled form. Then adding water in steps knead a pliable dough. Keep the dough covered with damp cloth for about 15-20 minutes. And then divide in to 6-8 equal sized balls.
Dust the rolling board with enough flour and keep a dough ball. Slowly roll it in a circular fashion to form a 5" disc. Meanwhile heat a skillet and transfer the rolled paratha over it. Apply ghee over the paratha and as bubbles form, flip and cook the other side as well till some brown spots appear.
Repeat the process with rest of the dough. Awesome cabbage paratha is ready to serve with some yogurt and pickle.

Notes

Sauteing grated cabbage is optional. If you like the raw smell of this veggie then you can add it directly to flour.
Adjust spice powders according to your taste.
Finely chopped coriander leaves make the cabbage paratha look attractive. So do not skip it.
The dough consistency is very important. It should neither be stiff nor too loose. The dough shouldn't have any cracks on it, if it has then sprinkle some more water and knead.
https://udupi-recipes.com/2017/09/cabbage-paratha-cabbage-chapati-recipe.html
All the content in this website are © Copyrighted to – Udupi-Recipes