Gorgeous beetroot in a flat bread!! Seems delicious isn't it? This gorgeously purple beetroot has some how lost love from kids. If beetroot curry happen to appear on my meal table, my kids try to escape from eating it up. The perfectly cooked soft beetroot cubes in the curry don't fascinate them any more. Because the color and earthy taste of this veggie isn't matching their taste buds. So it's been few months that I stopped including this veggie in my vegetable to-buy list. But being a food blogger, my inner self was insisting me to find a solution to turn the beetroot hatred in to love. So I made a potential list of kids friendly recipes using beetroot. Like beetroot cutlet, beetroot bonda, beetroot paratha and so on. As per me, all these food should get in to the favorites list of my kids. Because I know their palate.
So today I initiated my goal of feeding the beautiful veggie to my kiddos through this pretty beetroot paratha or beetroot chapati. When the wonderfully colored beetroot is pureed and combined with flour along with spices, the overpowering smell of beetroot is considerably suppressed. Which is why the paratha seems pretty good in color and tastes awesome too.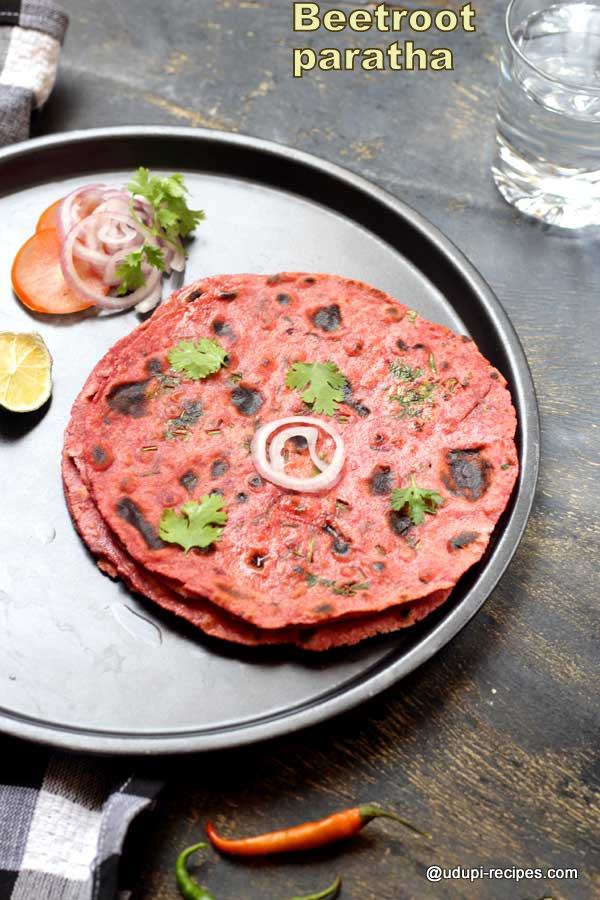 This beetroot paratha seems very basic and flexible because it is. I have used garam masala and cumin powder as major flavor element. But you can use any other flavors that you love and your kids adore too. Like some mint leaves? If you love spicy paratha, have some minced green chillies too. I paired it up with plain yogurt and home made mango pickle, believe me it was yummy. My daughter who hates beetroot asked for second and third servings. So I am thoroughly convinced on how to make the kiddos veggie friendly. How about you?
Beetroot Paratha | Beetroot Chapati Recipe
Ingredients
Wheat flour- 1.5 cups
Roughly chopped beetroot- 1/2 cup
Salt- 1 tsp
Roasted cumin powder- 1/2 tsp
Garam masala- 1 tsp
Red chilly powder- 3/4 tsp
Turmeric powder- 1/4 tsp
Chopped coriander leaves- 1/4 cup
Ghee - 4 tsp
Instructions
Preparation

Take the chopped beetroot in a mixer and grind the together to fine puree along with some water. Keep it ready.

Method

Sieve the flour in to a wide bowl. Add pureed beetroot, salt, turmeric powder, red chilly powder, garam masala and chopped coriander leaves. Give quick mix to get it crumbled form. Then adding water in steps knead a pliable dough.
Keep the dough covered with damp cloth for about 15-20 minutes. And then divide in to 10-12 equal sized balls.
Dust the rolling board with enough flour and keep a dough ball. Slowly roll it in a circular fashion to form a 5" disc.
Meanwhile heat a skillet and transfer the rolled paratha over it. Apply ghee over the paratha and as bubbles form, flip and cook the other side as well till some brown spots appear.
Repeat the process with rest of the dough. Gorgeous beetroot paratha is ready to serve with some yogurt and pickle.

Notes

Add just enough water to grind the beetroot otherwise it will turn very thin and watery.
Adjust spice powders according your taste.
Finely chopped coriander leaves make the beetroot paratha look attractive. So do not skip it.
The dough consistency is very important. It should neither be stiff nor too loose. The dough shouldn't have any cracks on it, if it has then sprinkle some more water and knead.
https://udupi-recipes.com/2017/06/beetroot-paratha-beetroot-chapati-recipe.html
All the content in this website are © Copyrighted to – Udupi-Recipes