This weekend accompanied itself a kind of  weird weather with a sand storm blowing fiercely at a crazy speed that has brought all outdoor activities to Nil. Such weirdly blowing wind is polluted, carries dust and sand blocking visibility to as low as 200 meters.
Wiping thick coated dust on dining table, chair and floor at every hour interval,  I had to spend a good amount of my morning in cleaning rather cooking. Unwillingly we had to lock ourselves inside the house to stay protected and safe from SAND. It's such a pathetic weekend with a inadequate weather. Sigh….
So cooking-wise it was a simple day instead of fancy, where I had to use the leftover pantry vegetables to whip up lunch.  I ended up with few beetroot and onions which I turned in to gorgeously pinkie beetroot curry.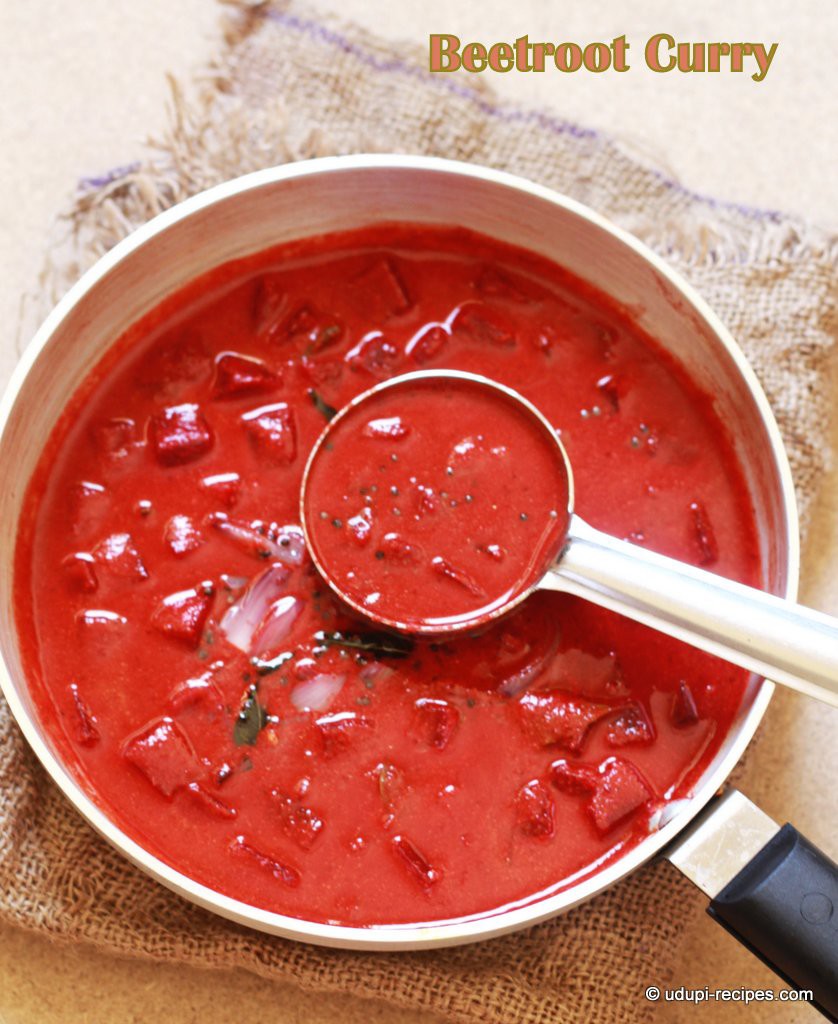 I love the bright purple color from beetroot when cooked as a coconut based curry in Udupi style.  Few selected spices are roasted on low flame with continuous stirring and then ground with coconut and that's the primary base for this beetroot curry. The beetroot cubes that are cooked with tamarind, jaggery and salt are combined with coconut mixture.  The final taste-changing event in curry is tempering. For the beetroot curry I tempered with sliced onions which would unanimously add extra aroma and deliciousness to the curry I believe. Those onion-haters out there can surely skip this but my mouth is so much addicted to beet-onion combination that I don't miss ever.
Beetroot Curry Recipe In Udupi Style
Ingredients
Medium sized beetroots - 2 nos.
Pigeon pea lentil(toor dal)- 3 tsp
Tamarind- Small lemon sized
Jaggery- Gooseberry sized
Turmeric powder- 1/4 tsp

To grind

Fresh grated coconut- 1/2 cup
Coriander seeds- 2 tsp
Cumin seeds- 3/4 tsp
Fenugreek seeds- 1/2 tsp
Chickpea lentil(chana dal)- 1/2 tsp
Split blackgram lentil(urad dal)- 1/2 tsp
Red chillies(Byadagi) - 3 to 4 nos.
Curry leaves- Few
Cooking Oil- 4 to 5 tsp

Seasoning ingredients

Cooking oil- 2 tsp
Mustard seeds- 1/2 tsp
Split black gram lentil- 1/2 tsp
Curry leaves- Few
Onion - 1 no.
Instructions
Preparation

Pressure cook the pigeon pea lentils till soft and slice onion in to thin wedges. Set aside them till use.
Soak tamarind in 1/4 cup of water and extract thick juice discarding it's residue.
Wash and peel the beetroots using vegetable peeler and chop them in to small cubes. Put them in a cooking pan adding a cup of water, jaggery and turmeric powder. Let it cook in medium flame.

Method

Till the beetroot cubes get cooked, we can get the masala ready. In a wok or pan add 2 tsp of oil and coriander seeds. Fry them on medium flame till the color deepens. Transfer them on to plate and roast the lentils followed by cumin seeds, red chillies and curry leaves adding oil as needed.
Transfer all the roasted ingredients in to mixer along with grated coconut. And grind them in to fine paste adding water appropriately. Coconut masala for the curry is ready now.
While the beetroot cubes are still cooking, add tamarind extract and little salt. Let them cook till soft.
Once the beetroot cubes are soft enough, include cooked pigeon pea lentil, salt and coconut masala from step 3. Combine well.
Add additional water to bring the curry to the right consistency, as the curry boils for 2 minutes then switch off the flame. Meanwhile heat a tempering pan add oil, mustard seeds, split black gram lentils, curry leaves. As the mustard seeds start popping include sliced onions and saute till they turn transparent. Transfer the tempering to the beetroot curry.
Gorgeous purple colored beetroot curry is ready to relish with rice.

Notes

Use of onion is completely optional. I like beetroot with onion as they bind well in curry. You can give normal tempering if you prefer.
Make sure the beetroot cubes are cooked enough before including coconut masala because the veggie doesn't cook afterwards.
As beetroot itself has some sweetness, do not add more jaggery than recommended.
https://udupi-recipes.com/2015/02/beetroot-curry-recipe-in-udupi-style.html
All the content in this website are © Copyrighted to – Udupi-Recipes