It's a day of ridge gourd dosa and I welcome this pretty Indian crepe on each day, every day and day by day. It's a wholesome,  super totally delicious and vegan crepe to start your day or to snack on along with main course. On top of that ridge gourd dosa doesn't need a side dish to pair with. Meaning you are free from putting together a chutney or sambar in the process of a complete breakfast. So enjoy those extra minutes of freedom dear ladies 🙂 .
When I photographed this ridge gourd dosa I can't tell you how much I was excited to see that because those peeping out green ridge gourd slices, the porous texture and dark brown spots on it were very attractively captured through the lens. It was COME-ON-EAT-ME kind of feeling in me, salivating and appetizing. So I decided to cut the ridge gourd dosa in to quarters and show the texture from inside as side view. See the last picture of this post for the same.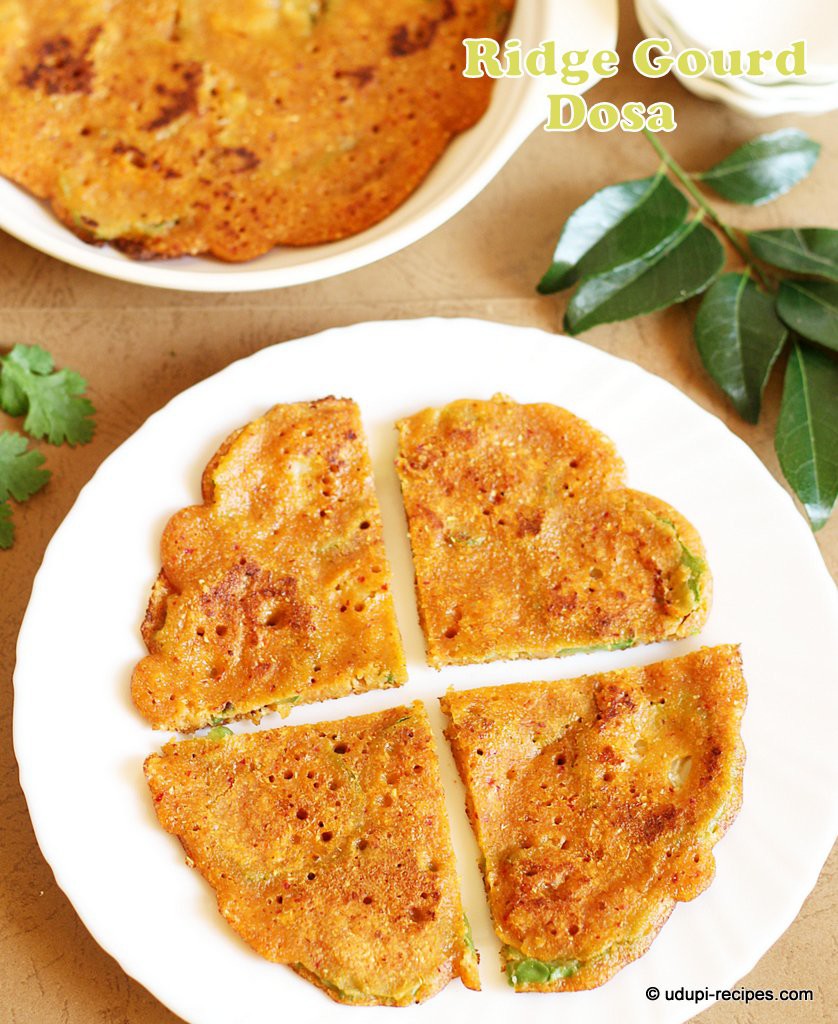 Note few things before you actually cook these pretty looking crepes.
1) First and foremost be selective on ridge gourds. They should be tender, bitter-less and the seeds are not chewy. When you buy and get them home, cut a piece on edge and taste it.  Then take a call either to proceed with cooking or not.
2) You need to soak rice+black gram lentil+fenugreek for 2 hours minimum. When you start grinding process, initially you have to grind coconut plus spices coarsely, then continue grinding with soaked rice included. Remember you don't have to FERMENT the batter. The instant ridge gourd dosa batter is ready, you initiate making dosa. Pretty cool.
3) Unlike regular ones, ridge gourd dosa requires dipping each ridge gourd slice in the batter and arranging in circular fashion on griddle. You can pour the batter along the edge of such arrangement to fill the gaps and bring it to round shape.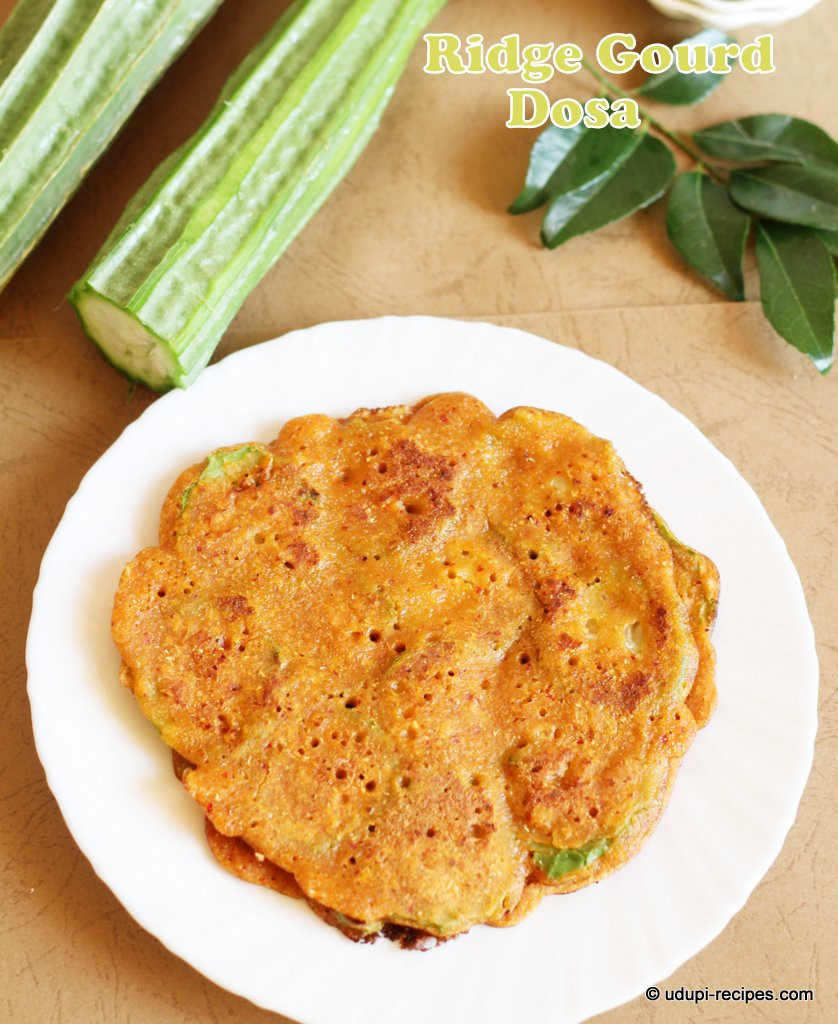 Ingredients
Dosa rice- 1 cup
Split black gram lentil- 1 tsp
Fenugreek seeds- 1/2 tsp
Fresh grated coconut- 1 cup
Coriander seeds- 6 tsp
Cumin seeds- 3 tsp
Red chillies- 4 to 5 nos.
Jaggery powder- 4 tsp
Tamarind- Gooseberry sized
Salt- 1 tsp
Ridge gourd- 2 medium sized
cooking oil - Enough to cook dosa
Instructions
Preparation

Soak dosa rice, black gram lentil and fenugreek seeds in enough water for about 2 to 3 hours (or overnight).
Soak tamarind in 1/4 cup of water and extract it's thick juice discarding it's residue.

Method

Put grated coconut, coriander seeds, cumin seeds, jaggery, tamarind extract and red chillies in a mixer grinder and grind them together coarsely adding water as required. Include soaked rice+lentil+fenugreek mixture to the same mixer and run for few minutes until you obtain a fine consistency dosa batter. Add water accordingly. Transfer the batter in to wide bowl (*No fermentation required*).
Now it's time to clean and slice the ridge gourd. Under running water wash the ridge gourd and carefully remove the ridges and it's thick skin. Slice the gourd in to thin, circular slices using knife or potato slicer.
Heat the dosa griddle and smear oil on it. Dip few ridge gourd slices in dosa batter such that the batter coats well on both sides and place a slice at the center of griddle. Arrange similar batter coated slices in circular fashion surrounding the center one. Pour some batter along the edge of thus formed dosa in order to bring the same to round shape.
Drizzle some butter or oil on it and cook it covered in medium heat for 2 minutes and then carefully turn over the dosa to cook the other side using a flat spatula. Remove it once done. Continue the same process with rest of the batter.
Amazingly delicious ridge gourd dosa is ready to serve as breakfast or snack.

Notes

Do not grind all the ingredients together to make batter, start with coconut and spices first, once they are done to coarse paste then include soaked ingredients.
This dosa doesn't require to ferment the batter. Instantly you can make the dosa.
Always choose tender ridge gourds but ensure they are not bitter before making dosa.
The ridge gourd slices not require to be too thin like you do for chips.
Cook the dosa in medium to low heat, so that the ridge gourd slices are cooked till soft.
https://udupi-recipes.com/2015/02/ridge-gourd-dosa-recipe.html
All the content in this website are © Copyrighted to – Udupi-Recipes