Sabudana or Sagu in a mild spicy, peanut flavored seasoning with crunchy cubes of golden potato was one of my dream snack in childhood. In fact I never had this at home, my mother never prepared it in her kitchen but I had a strong cravings for this wonderful deliciousness.
In my schooling days of North Karnataka every one of my classmates used to FAST on the eve of Mahashivaratri.  On that auspicious day many lunch boxes would have this light yellow or plain white tapioca pearls in a mild spicy peanut flavored tempering.  I firmly believed that there is no better pleasure than sharing my lunch box with others and hence I would get my part of lunch from theirs. It was an every day routine though.  On such a day of Shivaratri I had a chance to devour this Sabudana kichadi and since then I crave for it, dream for it and finally as a real home maker I prepare it in my kitchen with LOVE, PASSION and ENTHUSIASM.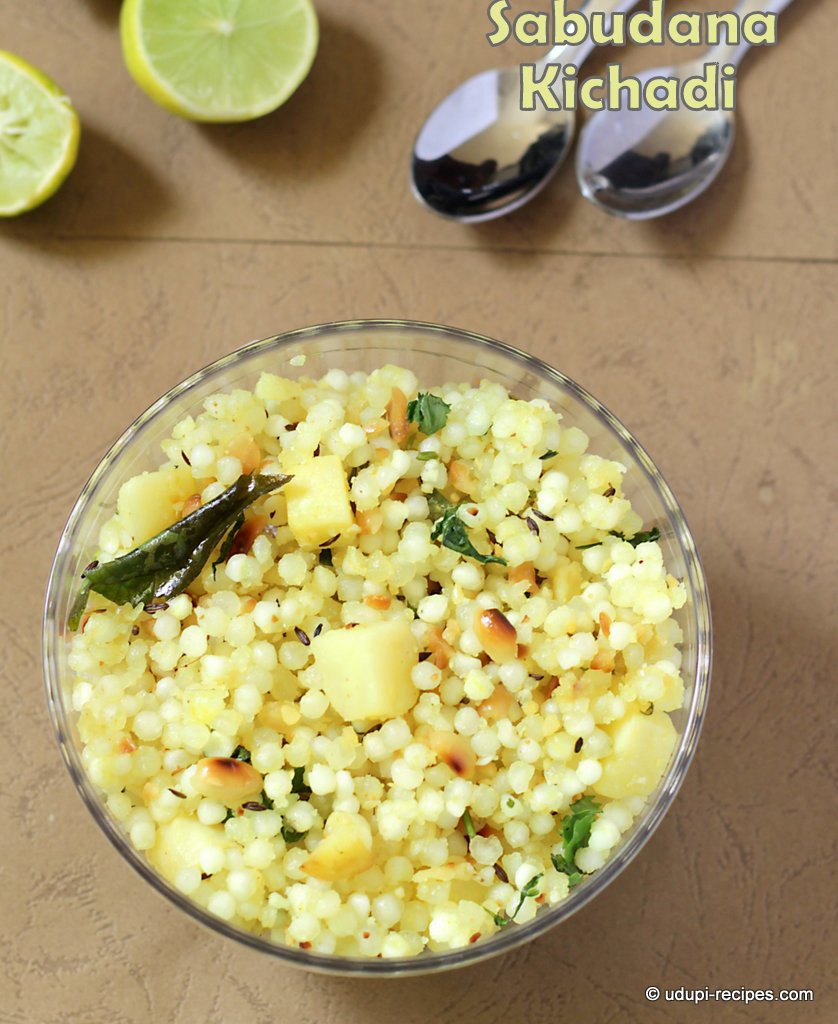 The sabudana kichadi recipe seems to be so very simple and it is,  provided you have the knowledge and technique to deal with these cute little sago pearls. Before they are cooked in to kichadi, they need to be soaked with water, water should be just up to the sago level. Not a centimeter above it.
After 3 hours of soaking you end up with puffed sago with no water to drain. The sabudana pearls are separate and non sticky at this stage. So sabudana is ready to cook in to an awesome fasting snack like this kichadi. The uniqueness of sabudana kichadi is inclusion of roasted peanut powder which blends very well with the sago. Potato cubes give some crunchiness and that lemon juice topping lets any one to DEVOUR  sabudana kichadi IN BLISS.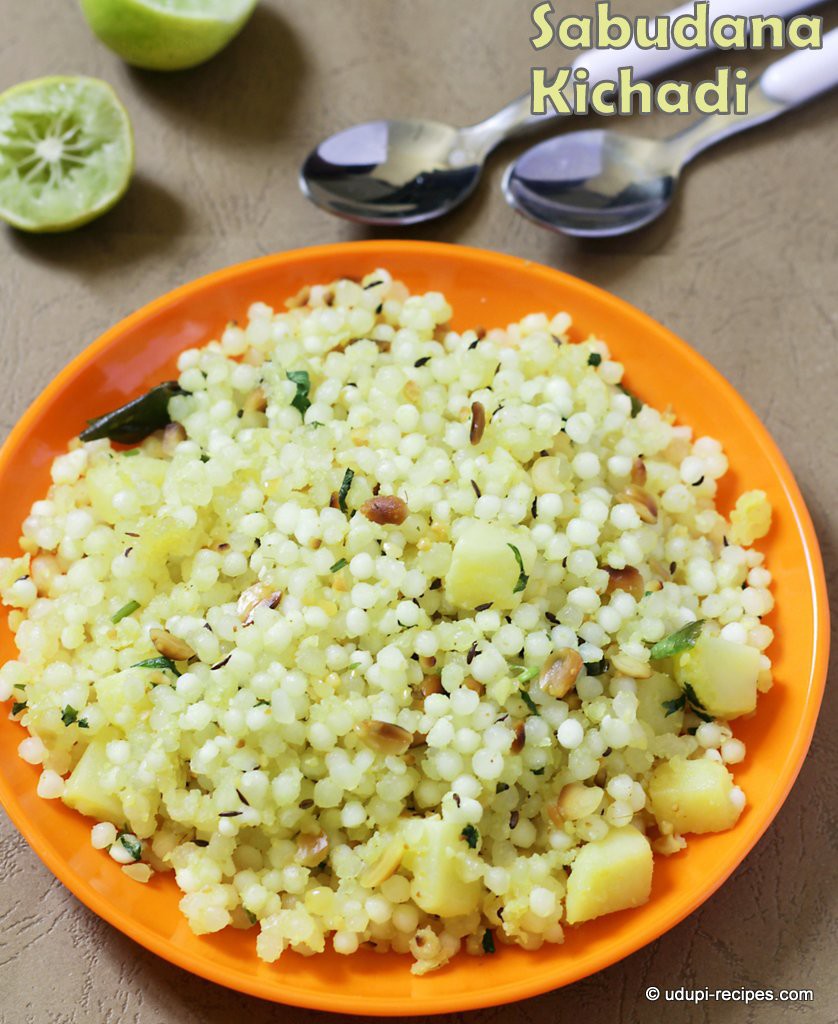 Sabudana Kichadi | Sago Kichadi Recipe
Ingredients
Sago | Sabudana | Tapioca pearls- 1 cup
Potato- 1 medium sized
Peanuts- 1/4 cup
Salt- 1 tsp
Green chillies- 2 nos.
Coriander leaves- Handful
Turmeric powder- A pinch
Lemon - 1/2 or 1.5 tsp(optional)

Seasoning ingredients

Cooking oil- 5 tsp
Cumin seeds- 1 tsp
Curry leaves- Few
Instructions
Preparation

Soak sabudana by adding water just to the immersing level for about 2 to 3 hours. Do not add much water because the sago turns mushy. After 3 hours the sagu would have puffed up, when you take them in hand sagu pearls look separated and not sticky.

Method

Dry roast peanuts in a wide pan till their skins come off. Let them cool and then remove their skin by rubbing between your palms.
Slightly crush these peanuts using mixer or blender. Do not grind it to fine powder. Pressure cook potato till soft, remove the skin and cube them. Chop green chillies and coriander leaves finely. Keep everything ready.
Now heat a cooking pan adding the seasoning ingredients one after the other, as the cumin changes color add cubed potatoes, little salt, turmeric powder and chopped green chillies. Saute for a while. Then include sabudana pearls draining water if any. Combine well and let it cook in low flame till the sabudana turns translucent.
Finally add crushed peanuts, chopped coriander leaves. Stir and switch off the flame. Squeeze half a lemon if you are using and mix well.
Sabudana kichadi is ready to feast on fasting day.

Notes

It's very important to soak sabudana with just immersing level water. Do not add too much water which may spoil the entire recipe being mushy.
Crushed peanuts give a unique taste to the kichadi. If you don't like biting them in between then you can make fine powder.
Though squeezing lemon is optional, I recommend it for slight tanginess in the dish.
https://udupi-recipes.com/2015/02/sabudana-kichadi-sago-kichadi-recipe.html
All the content in this website are © Copyrighted to – Udupi-Recipes